Advances in AV technology have emboldened many houses of worship to expand their ministries to satellite locations and increase their online presence with streaming video content. However, as these churches scale up their outreach, they find themselves facing a familiar problem that plagues many verticals in commercial AV—namely, a shallow talent pool from which to recruit experienced, professional AV personnel. This lack of available talent, combined with a desire to keep AV budgets in check, compels the majority of churches to make do with volunteers and part-time contractors. However, as systems become more ambitious and more complex, the limitations of this approach should be obvious.
Georgia-based Southside Church encountered that exact problem when it recently decided to upgrade the video capabilities at its Peachtree City campus. Southside Church is affiliated with North Point Ministries, a non-denominational Christian organization that provides its partner churches with recorded video messages from its senior pastor, Andy Stanley. Prior to the recent video upgrade, Southside Church's Peachtree City location would receive prerecorded hard copies of Stanley's teaching segments from North Point, and those video messages would be shown in the Peachtree City campus' auditorium during services in lieu of an in-person preacher. However, Southside wanted to start to carry Stanley's video messages live, and it needed to set up a system that would allow livestreaming of video content from North Point's central location to the Peachtree City location.
Of course, actually pulling off such an upgrade in video capabilities was more complicated than just setting up livestreaming. Southside already had a fairly large crew of video production contractors on staff, but it would have required additional personnel to monitor and produce the livestream. On top of that, Southside didn't just want to livestream North Point's content in the Peachtree City auditorium; in addition, it wanted to livestream its services on its website. That would necessitate dedicated personnel for two separate audio mixes—one for the live environment itself and another for the online webcast—in addition to dedicated personnel for the video streams. To that end, Southside had to find not only an integrator that could design a system that could handle what the church wanted to accomplish, but also a solution to its staffing problem.
With all that in mind, Southside Church selected Franklin TN-based integration company Mankin Media Systems to upgrade the Peachtree City campus' video capabilities, as well as making a few minor, but necessary, tweaks to its audio system. One of the major reasons that Southside selected Mankin for this project was that Mankin launched its Guardian Services offering earlier this year. Guardian Services comprises a suite of monitoring and control solutions that are designed to cover for staffing shortfalls in complex AV applications, particularly those in the house of worship market. As part of its Guardian Services, Mankin employs a group of AV personnel at its network operations center (NOC) to monitor its clients' systems, handle high-end video production tasks and serve as an on-call helpdesk to troubleshoot any problems that might arise.
Mankin already had a longstanding relationship with North Point Ministries, and had been in talks with North Point about adopting streaming video services. "North Point had chosen Mankin to handle livestream delivery of the Sunday messages, and it just so happened that we were going to use Mankin anyhow for our video control room installation," Nate Busch, Southside Church's Production Director, recalled. "Another big part of it was that their Guardian Services allowed us not to have to make a hire in our video department. We were able to get their expertise as a service, rather than having to make a hire."
Southside and Mankin had been involved in discussions about the Peachtree City project for about a year, so, by the time the project officially got off the ground, Mankin's Tim Corder was already very familiar with the expectations for the new system. "There had been conversation about the prospects of broadcasting Andy's message to Southside live, in real time, and really using that as the prototype for North Point's other partners around the world to have that ability, as well," Corder explained. "The other side of the coin was that Southside has always been a model of great stewardship, getting the most out of their technical resources and pushing them as far as they possibly can."
Corder continued, "At the same time, we knew that, when it was time to upgrade the systems, they were going to gain a lot of capability and a lot of capacity. But there was also the reality that with more capability, there would be more complexity. The goal throughout all of this was for them not to have to hire another staff person to manage the new systems. If that was required, it would have been a miss."
The first problem to address in upgrading the Peachtree City campus's old video system was simply to increase its hardware's capacity to handle streaming of live, high-definition video. "From a core engineering level, the legacy system had a very small router," Corder said. "The switcher had limited I/O. They really weren't set up in such a way to have the ability to successfully do two different cuts with two different directors—one focused on online and one focused on what's happening in the room. Their system just wasn't built to do things like that." He added, "They also were completely maxed out on their infrastructure tie lines for signal routing around the room. They have a number of cameras in the space, and they were just completely maxed out."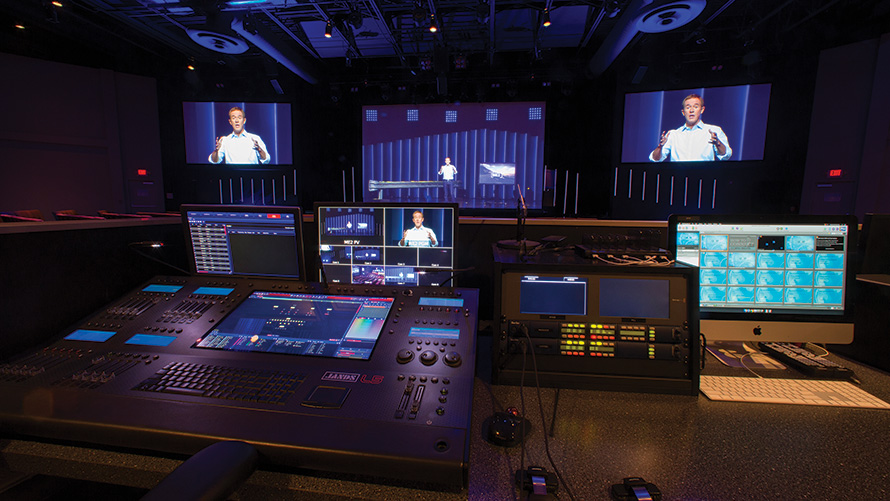 Before any new hardware could be installed, however, Mankin first had to reorient the venue's production and control spaces to make room for new workstations and equipment racks. "We went from a single control room that housed all the gear to three rooms," Busch explained. "The old control room was converted into an engineering room that just houses the racks of video gear. And then we adopted a room across the hall and converted it to a control room where all our video operators sit—our video director, our graphics operators, our online broadcast switcher and our online graphics operator. So, it's kind of a dual control room for broadcast and for the in-room experience. And then, we have a smaller room next to it that is dedicated just to broadcast audio. It's a little mix studio." All equipment racks, as well as workstation furniture, are by Middle Atlantic.
The video control room is set up in much the same way as a conventional broadcast control room, with rows of workstations all oriented toward a single multiviewer wall composed of Planar displays. "There are graphics workstations for lyrics, full-screen graphics and video playback, and then there are dedicated, separate graphics units to allow them to create some unique branding for the online broadcast that's separate from what happens in the main room," Corder described. The graphics stations include Apple computers, Blackmagic Design Ultrastudio capture and playback units, Decimator MD-HX converters and Renewed Vision ProPresenter software.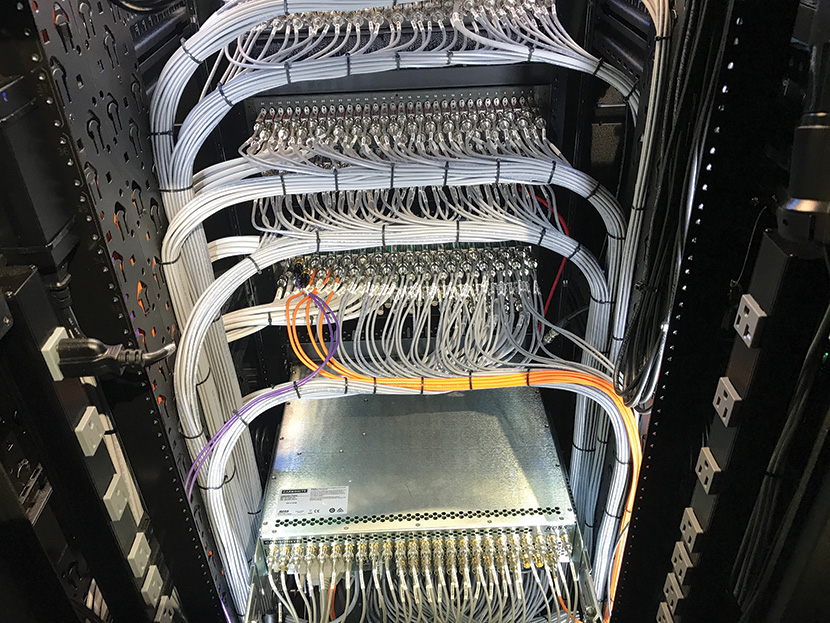 "Each one of those graphics stations is designed to have its own operator," Corder continued. "One of the special things that we do is that each one of those graphics stations has its own rackmount verification video monitor in the control room millwork that gives the operators tally for their output, so they know when they're live. It also gives them the ability to verify everything that they're sending out of the machine."
To increase the venue's I/O capacity, Mankin specified a Ross Video Ultrix 64×64 router and a Ross Video Carbonite+ CF-224 switcher. "The core video system is built around the Ross Video Ultrix router," Corder explained. "It's fully populated with all the input and output cards. The router is generating router-based multiviewers. The router is also doing audio muxing and de-muxing inside the embedded audio of the HD-SDI streams. And then, the router is interfacing with a Ross Video Carbonite switcher system. This is unique in that it's a one-switcher frame that shares its resources between two switcher panels."
A Ross Video CB2S control panel is used for image magnification (IMAG), whereas a Ross Video CB1 control panel is used for the broadcast mix. Corder continued, "Each switcher panel allows two operators both to sit in front of a single switcher panel and control their parts of the production, but those two directors are sharing the same resources—the same inputs, the same still stores, the same custom controls…all those sorts of things. And it gives them a lot of flexibility where, if they were doing a smaller event, they could have one operator serve both functions. But, in normal weekly rhythm, the goal is to be able to split that up."
In addition to boosting the overall capacity of the video system, Corder and his team decided to upgrade the venue's projectors to Epson 3LCD 12,000-lumen models. "There are four of them in this room," Corder said. "There is a 12K projector for each of the two side screens, and then there are two 12K projectors stacked to create the center-screen image."
Each service is filmed by five volunteer camera operators, who use owner-furnished handheld Panasonic cameras. A rasterizer scope and a master clock and signal generator, both by Tektronix, round out the video system.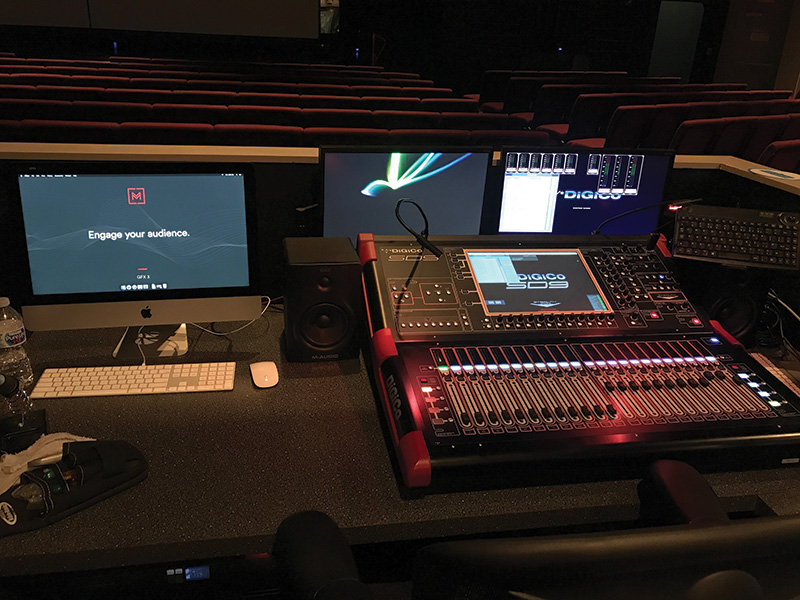 Mankin also had to upgrade some of the venue's audio equipment to add capacity and facilitate the production of a broadcast audio mix for the streaming video. "They have DiGiCo SD9 consoles for front of house and monitors," Corder said. "We're utilizing Waves Audio LV1, which is a software-based, plugin-based audio console for broadcast audio. We created an LV1 station in the broadcast audio room. Rather than remixing the band and all the production inputs from scratch, we have a system set up where various stems of the band, playback, room mics and speech mics—stems from front of house—are coming to the LV1 system in broadcast. They're able to master the audio and tweak the balances on more of a macro level to create the broadcast audio mix." He added, "It saves them from needing a really high-level broadcast audio engineer on staff for minimal return." The stems are transported from the SD9s to the LV1 via DiGiGrid MGB MADI devices.
Another major system upgrade was the addition of a Clear-Com production intercom. "We went with a matrix intercom system where almost anybody can talk to anybody, either privately or on a party line," Busch said. "So, it's very flexible, and it's really helped us communicate effectively for the production." The intercom especially helps with communication between the broadcast audio suite and the main control room. It's also a favorite feature of the Peachtree City campus' staff of volunteer stage managers, who are responsible for relaying video and stage cues and coordinating set changes, among other tasks.
"We like to say church-volunteer-based production is the ideal environment for matrix intercom," Corder explained. "Matrix intercom is not sexy—it's not something that the congregation would even have any idea is in place. But to have the ability to have more focused, clearer conversations, with less clutter and less noise, without multiple different things needing to happen over one or two channels of party line, makes a huge difference in allowing volunteers to be more successful and more focused, with fewer distractions."
The intercom also allows the Peachtree City AV team to communicate with Mankin's NOC easily. "We have Mankin's network operations center as one of our channels on the intercom, so, if something goes wrong, we can basically talk to them in real time," Busch explained. "North Point encodes two channels of video—IMAG and a center lockdown—to Mankin's NOC in Nashville TN, and then Mankin sends those channels to us with time slip and monitors those lines. They inform us of any issues that we may have or are going to have, in real time."
That level of real-time communication between client and integrator is what makes Mankin's Guardian Services offering possible, and it was a major selling point for North Point Ministries and Southside Church. According to Mike Wells, Mankin's Chief Technology Officer, "That capability of real-time support was the primary reason that we understand North Point wanted to engage us and help us to develop this product around their partner campuses. Their number-one issue with providing live content—or, at least, high on their list—was that they couldn't provide support to partner campuses if they had a problem. In other words, North Point decided that they're not going to ramp up a staff of people just to sit there and wait for their partners to call up and say, 'It doesn't work…. I can't get this, and I can't get that…. My audio sounds weird…. My video looks bad….' And so, for North Point, the ability to outsource all the support that partner campuses may or may not need in implementing this high-technology growth strategy was key."
Mankin's Guardian Services encompasses a suite of branded services; for the Southside Church Peachtree City installation, the client purchased Mankin's "Lifeline" real-time production support, which allows for communication between Peachtree City and Mankin's NOC; "Protect" proactive systems monitoring, which involves Mankin's NOC staff monitoring system components for Peachtree City, informing the client of any potential issues and either solving those issues or devising a workaround; and the "SlipStream" live message transmission and time-slip system, which does the heavy lifting for the venue's live video streaming. "How SlipStream plays out at Southside is, of course, that our equipment is there, and it's delivering the video," Wells described. "But it's not just that we sell you a box. We take responsibility for the end-to-end result of the playback of that content. That's the brand promise of SlipStream."
"The ability of Mankin to deliver on this brand promise is what truly closes the gap and allows us to implement a state-of-the-art, high-level broadcast production system without the church needing to add more staff resources, and allows us to truly be able to own the outcome of the problem we were trying to solve," Corder explained. "Most everyone else in our industry, in our vertical, in church world, think 'Our job is to install a system and then finish the punch list and teach them how to use it, and then we'll answer the phone on Sunday morning if they call us and are having a major emergency.' This is such a different model in the house of worship market specifically, and this is where that desire for the partnership came with Southside and North Point—having the ability to have this kind of a relationship. It's unheard of in our vertical."
The backbone for Mankin's Guardian Services is built on a dedicated production IP network of HP Aruba switches. "For the majority of production systems that we execute, we provide a segmented, independent production IP network that's gigabit-based with enterprise core-level switches to facilitate the data transport of all of the different IP packets that are required for our system to function properly," Corder said. "In this case, we interfaced that network with the church's IT provider to provide access to the WAN and the LAN of the church's larger network. It really allows us to own the outcome, and we are able to have end-to-end access through these production systems, which again ties into the Guardian Services, so that, when a problem comes up, or when a challenge is discovered, we have the tools available to resolve them."
For its part, Southside couldn't be more pleased with the results. "We've had a really great response ever since we started taking these live feeds—almost a bigger and better response than we predicted," Busch said. "One of the benefits of being live with North Point is that Andy will actually mention our locations from stage, and he'll welcome us specifically by name, which builds some momentum locally in our rooms. And with that, we've seen a good uptick in attendance, as well, just based on awareness, I think." He continued, "One of the biggest reprieves has been that it feels very secure to me on a Sunday morning knowing that, outside of myself, there is someone who is actively monitoring the video streams and, in real time, communicating with me any issues that are happening. That way, we can make in-house decisions if we need to change something or cut something. But really, we haven't had those issues, and a lot of that is due to Mankin's support of the system. So, it's really been quite hands-off for us, and it feels very secure."