Combining real objects with video displays.
Amid the numerous digital signage applications shown at InfoComm15, there were some demos that combined actual products with digital displays. Many high-end retailers have already benefited from deploying signage on large-format screens, and several are now integrating mobile applications to provide product information to shoppers' smartphones. Visual merchandising professionals are looking for new ways to use new technology to spotlight actual products in real time, so shoppers are prompted to make purchases right away. Combining "live" products with interactive video on large screens is one way to bridge traditional and modern merchandising methods.
Developing product-centric displays is as much a science as an art. Whether you place a product alongside a video screen, integrate the two with interactive technologies or employ some new technique will depend on what your customers want to promote—and their budget. Usually, whatever unique configuration you develop could be used for several customer projects, so make sure to protect your intellectual property.
Although product-cum-digital-displays typically have been used in retail, they can be used in other environments to market products or projects. For example, RP Visual Solutions is using the interactive system it had developed for customers to promote its own solutions and services. The display combines inanimate objects and a videowall with RPV's 32-point acrylic/shadow masked touch overlay over the entire 80-inch surface. Designed as a 4×4 array, the display employs six Christie MicroTiles for displaying video and four areas for objects.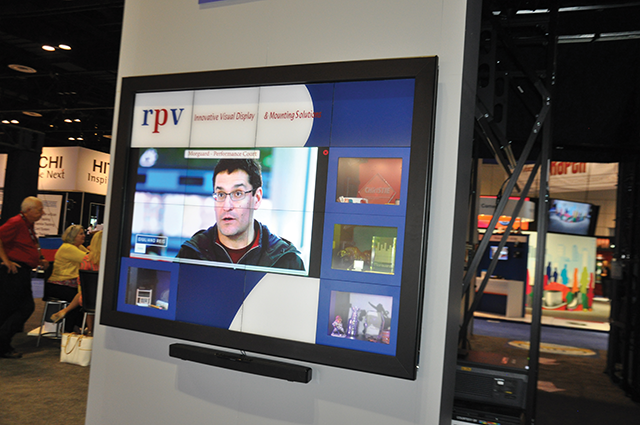 "The unique feature is that the touchpoints are both analog (objects behind glass) and digital (video display)," said Randy Pagnan, President, RP Visual Solutions. "But the challenge is in calibrating this touch experience accurately, in the absence of a digital display behind the objects." Pagnan explained RVP's solution: With the front touch overlay open, calibrate precisely with a projected image and then close the overlay with precision. "This 100% custom touch solution integrates the display technology in such a way that, when combined with the right content, makes the user experience truly memorable," noted Pagnan.
For RPV's demo, LxD Designs developed a Flash-based custom interactive portfolio viewing app that allows users to explore photos, videos, drawings and key facts about the four projects. Pagnan emphasized that content is key to enriching the user's experience, whether the marketing pitch is for a product or service.
Although see-through displays are not new, the latest panels offering better transparency, pixel pitch and brightness are expected to transform the design of spaces and create new opportunities for "experience" designers. A couple of manufacturers showed transparent LEDs in super sizes, but LG's M+ transparent display technology and Planar Systems' prototype T-OLED were effectively demonstrated with actual products at InfoComm15.
Shown as a prototype last year, LG's M+ LED display is now available as a custom offering for beverage sales and similar applications. The factory-integrated display on the door of LG Coolers feature a fourth clear sub-pixel to the traditional red, green and blue pixels, allowing for better light transmission and higher brightness, while maintaining a wide color gamut and saturation to preserve image quality. Reportedly, the new display consumes 31% less power and emits less heat. The electronic board on the display has a USB input slot for content.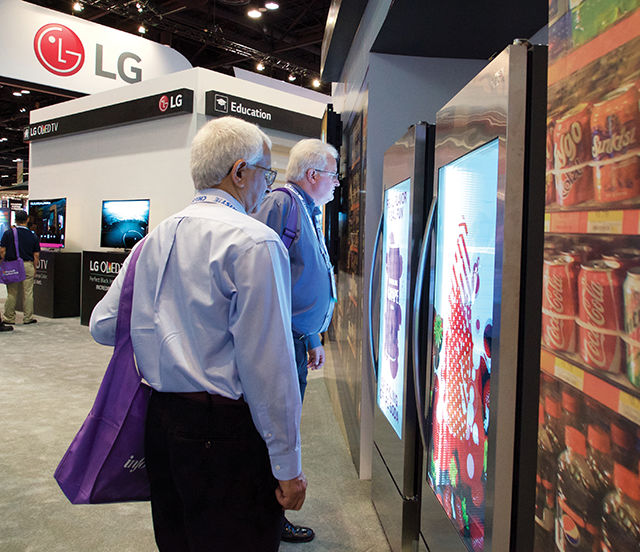 Planar's Transparent OLED prototype, unveiled earlier this year, was displayed on two sides of a glass case containing a guitar and other items, in a dark area of the company's booth. The 55-inch Organic Light Emitting Diode (OLED) panel requires no backlights; however, a ceiling-mounted spotlight angled to light up the guitar and encased items was necessary. There were also several segments of "colored lights" integrated into the content playing on the screen to draw passersby into the display area.
"We partnered with consumer brand Sol Republic to feature their headphones and speakers," noted Jennifer Davis, VP of Marketing and Product Strategy at Planar Systems. The video loop created the aesthetic ambiance for the highlighted items, and illustrated what would be possible with transparent displays in retail merchandising applications.
"Planar's transparent OLED has a number of real advantages, including no need for backlight or enclosure, larger sizes like 55-inch, vividly wide color gamut and great overall transparency," Davis stated. In discussing the content she noted, "Any black content appears clear. Any white or bright content shines on the screen and looks opaque."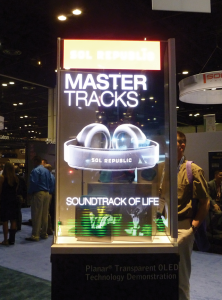 Planar's T-OLED panel is not yet a product offering. However, the display technologies available today provide a broad canvas to deliver exciting new visual merchandising displays. Set your imagination into motion to dream up, design and integrate product-centric displays for retailers as they gear up for this year's holiday shopping season.
Editor's Note: Read more about digital signage offerings at InfoComm15 in the author's in-depth show review.