What's the best way to showcase the makeover of a workplace? The answer is to produce a new TV series using your own headquarters in the starring role…and in the process, show the evolution of the accompanying AV. The nine-part series, "Office Spaces", airing on Lifetime Television and hosted by acclaimed interior designer Kalyn Rothaus, was the result. Produced for parent company BrandStar, the new TV show explores how to create well designed office spaces. In turn, the AV design and integration for the building was provided by Complete Integrated Technology (CIT) of Boyton Beach FL. Our interviewees are show Host Kalyn Rothaus and CIT Co-Owner Jason Gelfand.
Branded Entertainment
BrandStar is a branded entertainment company that produces programs for Lifetime, Fox Business and History Channel. Started in 1994 with eight people, BrandStar has grown to more than 135 employees. However, the office space had not kept up with the company's growth. Employees were scattered in an antiquated office on four different floors.

"The new building was formerly a warehouse used for manufacturing small technology parts and pieces," explained Rothaus. "When BrandStar Owner Mark Alfieri purchased the building, the first step was to rezone it from manufacturing to office use." Thus, the company transformed an outdated ground-floor warehouse into a modern 11,000-square-foot, high-tech office space that features a wide array of advanced AV technology, which is our focus here. The project was completed within a tight 90-day deadline. BrandStar wanted to deliver a visually appealing AV solution and, according to Rothaus, "We designed a building of the future, incorporating the latest and greatest technology in order to make a more productive and efficient work space."
BrandStar sought to distribute many sources of content to many locations throughout the facility and to various types and sizes of monitors, from video-walls and TV screens to computer monitors and smart boards. They also wanted to distribute the same picture and message to all employees, regardless of location or local device.
The adjacent 43,000-square-foot BrandStar Studios is a full-service production facility that offers a complete menu of advanced digital media and television services. "Office Spaces" is one of BrandStar Studios' produced Listn TV shows (see sidebar).
Featured AV Technologies
CIT Co-Owners Jason and Justin Gelfand ("The Twins") designed the AV, and Jason was the project manager. Among the AV technologies featured are the ZeeVee video distribution solution, Barco LCD videowalls powered by an X2O content management system and Leviton OmniTouch 7 in-wall touchscreens.
"The ZeeVee product was very interesting because I specified many different varieties of multiscreen platforms to display media," said Rothaus. "I also worked with Jason and Justin to incorporate a company messaging channel, like a corporate messaging board, that could be displayed on all TVs and all screens throughout the entire project. So I have videowalls, SMART interactive touch boards, projectors and standard television, and I wanted everything to display the same content.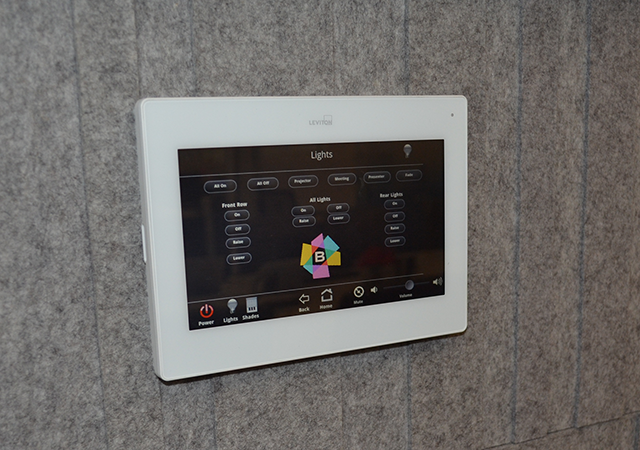 "I turn to experts like Jason and Justin from Complete Integrated Technology because I'm not an AV expert. I'm an interior designer (a project manager) and I leave the AV integration to the experts. So I took their recommendations seriously, and ZeeVee turned out to have the perfect software and hardware to solve the problem for me."
Specifically, the ZeeVee video distribution solution for this corporate environment embraced both the HDbridge products (traditional RF) and the new IP-based ZyPer products, providing a blended environment for many uses in this new facility. On the IP network, applications include video distribution over fiber to digital signage devices, executive 4K conference room displays, PC desktops, Barco 4K projectors and a Planar mosaic. The combination of Barco ClickShare, high-resolution business meeting room projectors, LCD videowalls and the X2O content management and communications platform offered an AV connected solution.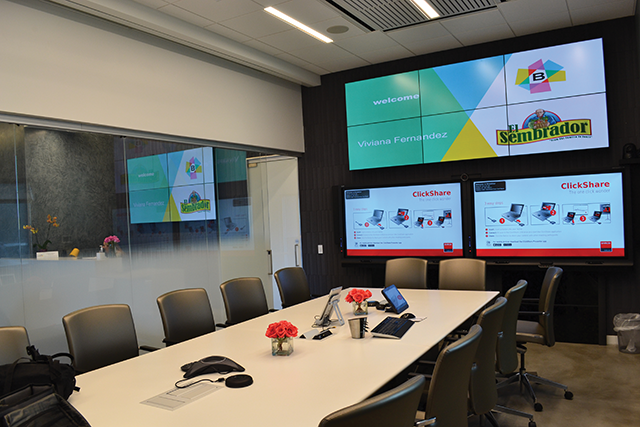 On the coax network, input from the cable network, digital signage and live studio feeds from adjacent BrandStar Studios can be distributed to 50 HD TVs throughout the facility, including two videowalls. This installation is an example of how to blend different video networks to support multiple inputs to a large number of endpoints throughout the entire facility over both coax and IP networks.
According to Gelfand, one major challenge was working with the new ZeeVee product. "It was brand new," he said. "As an integrator, we took extra time working out the kinks and recreating some programs, making sure everything would all work. It wasn't the same equipment we used for years. Because of the new products, custom drivers for the Leviton BitWise processors were created to give the client seamless control through the touchscreens."
Integrator POV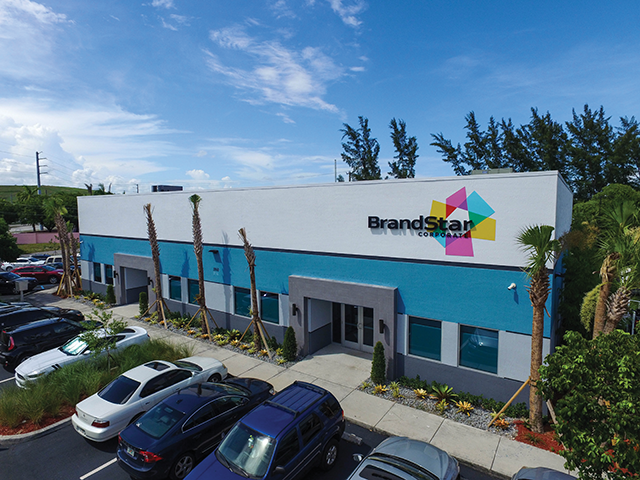 Complete Integrated Technology acted as the technology integrator for the Lifetime television series, "Office Spaces." The installers worked with a variety of products to create a sustainable, intelligent workplace inside the 11,000-square-foot BrandStar corporate facility. CIT has installed ZeeVee products for many years and approached the company to provide the video distribution products for this full office rebuild. The product was a solution for all cable distribution/in-house channeling.
"Ultimately, we have the ability to distribute HD video from any source over significantly longer distances to an unlimited number of televisions throughout any premise," said Gelfand. "ZeeVee allows us to program and create our own video network throughout the building, distribute across all kinds of different media types and display customized messaging on every video board.
"In corporations today, a large part of the task at hand is keeping people informed. People are tied to their devices. People are tied to their video screen, whether it be a monitor or a television. So, part of our task and part of the solution here was to be able to bring television, promotional videos and company information out to those people, seamlessly and inexpensively."
Taking a broad view, Gelfand pointed out that, in a facility such as BrandStar, there are multiple requirements, including conference rooms and the need for broadcast television feeds along with in-house video and messaging. If there's existing coax infrastructure, it helps to use that rather than rewire. Given that advantage, CIT can broadcast to any number of televisions in the entire facility from one central point.
He noted that, if a facility has requirements for high-quality video, videowalls or projection, they may want to step it up a bit. For example, any new content might be 4K. "CIT has the ability to bring that 4K resolution to screens, as well." Specific to BrandStar's new corporate facility, Gelfand said, "There are few corporate locations that I've been in that have all this technology in use! They have 4K and Ultra HD distributed throughout the facility to all of the employees. I would say this facility is in a league of its own!"
Our AV journey begins with the Barco four-screen videowall, which is powered by an X2O content management system. The LCD display informs visitors and employees about daily news and events relating to BrandStar, which includes "Office Spaces" content, as well. There's also a Planar AD46/AD22 Mosaic LCD videowall, which displays full-motion video going across seven screens, located in the entryway at BrandStar Studios, next door.
Before we explore the boardroom and the executive conference room, here's an overview of dedicated common technology in those major meeting spaces. Each room has a large conference table designed and manufactured by Arnold Contract of Irvington NJ. Both rooms have Leviton OmniTouch 7 in-wall touchscreen access. In addition, there's the convenience of an Apple iPad Air 2 for control from multiple Leviton BitWise processors by the presenter. Because the rooms are glass enclosed, each room has Draper custom motorized FlexShade window shades that can be drawn for ease of viewing images, as well as providing isolation. Two SMART Board interactive flatpanels in each room can be used for drawing, uploading a PDF or in various other ways for presentations. Events are recorded by Sony PTZ cameras.
Separate Control Room
There's a separate control room for recording the sessions. Production equipment includes a Blackmagic Design ATEM production switcher and capture device, a Sony PTZ camera controller and an Apple iMac computer for recording. The ClearOne ceiling-mounted beamforming microphone arrays, in combination with their wireless products, capture the room audio and send it to the Converge processors housed in the control room rack. Room audio is provided by JBL Control 26CT ceiling speakers driven by Yamaha RX-V779 AV receiver power amplifiers. "The tech who operates the control room switcher can switch back and forth between the cameras. If someone asks a question, cameras can be zoomed in and then cut back to the speaker," said Gelfand.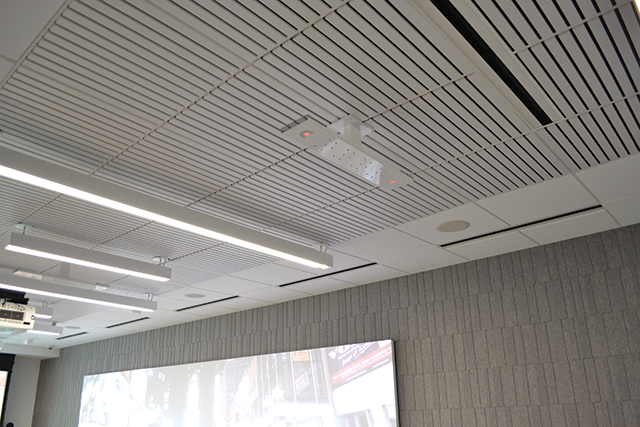 "The boardroom is used for many different functions," explained Rothaus. "AV can be used for multiple reasons to create layers and levels of technology within the space. A lot of training sessions happen in there, and so they are recorded for use in the future," she offered.
"The main reason for five PTZ cameras is to record training from several aspects," added Gelfand. "The sessions are put on their website so employees can play back their training or special events."
The huge 40'x18′ space has tiered seating in back to accommodate larger gatherings. Four Chief-mounted Barco projectors firing onto Draper screens offer a variety of presentation configurations during client meetings. The primary Barco F85 projector fires on a motorized, 161-inch, 16:9 aspect ratio screen, which is in the front of the room and descends in front of two SMART Board 84-inch interactive panels. In the dropdown position, the screen can show a variety of sources, including a laptop computer, streaming iPads or a Blu-ray disc. An option is to have the screen act as a theatrical red curtain with a customer logo displayed, then raise the screen to reveal the pair of interactive panels.
'That Ain't All, Folks'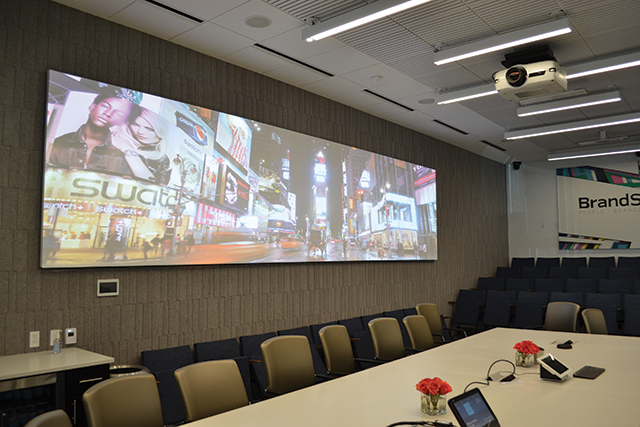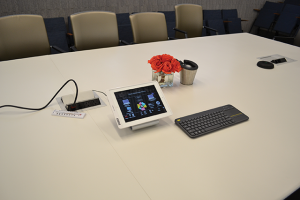 "And that ain't all, folks," goes the show biz maxim, because there's the Barco F35 three-projector seamless imaging blend, which is projected on a Draper 21'x5′ screen on a side wall of the board room. "The large screen is to impress the client," Gelfand pointed out. "Their logo is displayed on a custom graphic template, allowing super-long spreadsheets and client-relevant graphs to be presented. There was a lot of planning for projector and screen placement, along with the alignment of the projectors, to make the blending appear seamless."
The smaller 22'x14′ executive conference room is used for presentations and training functions similar to the boardroom. Three Sony PTZ cameras are used for recording training. There are two 65-inch SMART Board interactive panels. A Barco six-screen videowall displays digital signage and alerts employees of daily events.
According to Gelfand, the purpose of the social media room is to work with clients' social media. BrandStar staff members deal with media such as Facebook and Twitter, and help manage clients' accounts and provide advertisement services. "What's done on the print and production side is also done here in the digital world," said Gelfand. Thus, there's a 14-screen array comprised of 12 Element 55-inch flatscreens on Ergotron Neo-Flex cantilever mounts and two Planar 84-inch touchscreens. Actually, there is a total of 20 different windows available because the two Planars can be split into eight sources. A Shinybow 16×16 HDMI matrix switcher accommodates the 20 screens. Then there are two custom-built computers for these outputs and sources from the ZeeVee network. Room control is via a Leviton OmniTouch in-wall touchscreen programmed with a custom GUI allowing the staff to switch all the room video feeds and power with a simple touch of a button.
Common areas in the new facility include informal gathering and meeting spaces in nearby offices. There are 50 Element 4K 55-inch flatscreens designated for the common areas and the offices. These monitors are mounted on Ergotron Neo-Flex cantilever mounts.
Now let's highlight the rackmounted AV supporting gear. The Leviton BitWise automation processers with accompanying Cat6 patch panels are the brains of the system, along with custom-programmed touchscreens. Display sources and rack equipment are controlled via the Leviton BitWise processors, which offer a wide variety of protocol access, including IR commands, IP commands, RS232 and relay control, to control AV media. There are two master Barco ClickShare CSC-1 presentation systems. The wireless system uses a USB device plugged into a laptop computer, allowing display in the meeting rooms without cumbersome HDMI or VGA wires plugged into the computer. Thus, staff members attending a meeting can easily share content from their laptop at the click of a button to video screens. The Dell 48-port fiber switch is the main interface between the ZeeVee Zyper4K video distribution system components for transporting video over fiber.