15There are media players for every type of application and at price points for just about any AV budget. For each client's project, you'll want to make sure the model you select is reliable, durable and meets the specific requirements of the project.
In the past, players with multiple outputs and advanced control capabilities were expensive, and low-cost units were unreliable. But now, there are several high-performance multi-output players that are priced competitively. There are also units that meet a variety of specific design requirements: players that simultaneously run via a wireless link or wired LAN like Pure-Stream from PureLink, or the fanless player with internal power supply from Seneca. Outputs on players range from HDMI and HD-SDI to locking Mini DisplayPort.
Beyond hardware and connectivity, there are now cost-effective units that play native 4K content and a plethora of models that deliver 1080p HD. Your selection of the MVP (most valuable player) for each project will depend on content strategy, system design and budget. Content strategy is a key consideration. For example, if context-sensitive information has to be served up, a player with CMS software that is capable of handling data mining will be necessary.
The software platform is a significant factor in the selection of media players for digital signage applications. Some media players are preconfigured with content management software, potentially making the deployment process more efficient. Cloud-based software solutions, and partnerships between media player vendors and software providers, are making it possible to run CMS software on more than one brand of media player. This is particularly advantageous when upgrading or expanding an existing signage network.
When comparing media players, the capabilities and licensing agreements of the software are a primary consideration. "We look at the software platforms that we could use rather than the player," said Eric Donnelly, DOOH Solutions Manager at MagicInk Powered by Panasonic. On a multiscreen display for Saks OFF 5th in San Francisco, MagicInk chose to use the ComQi signage solution. "The media players from this software provider are tested, work perfectly and are part of the bundle," noted Donnelly. The Saks system consists of a total of 24 ultra-thin-bezel displays: four installed on columns and the others in five video ribbons with varying numbers of screens in each ribbon.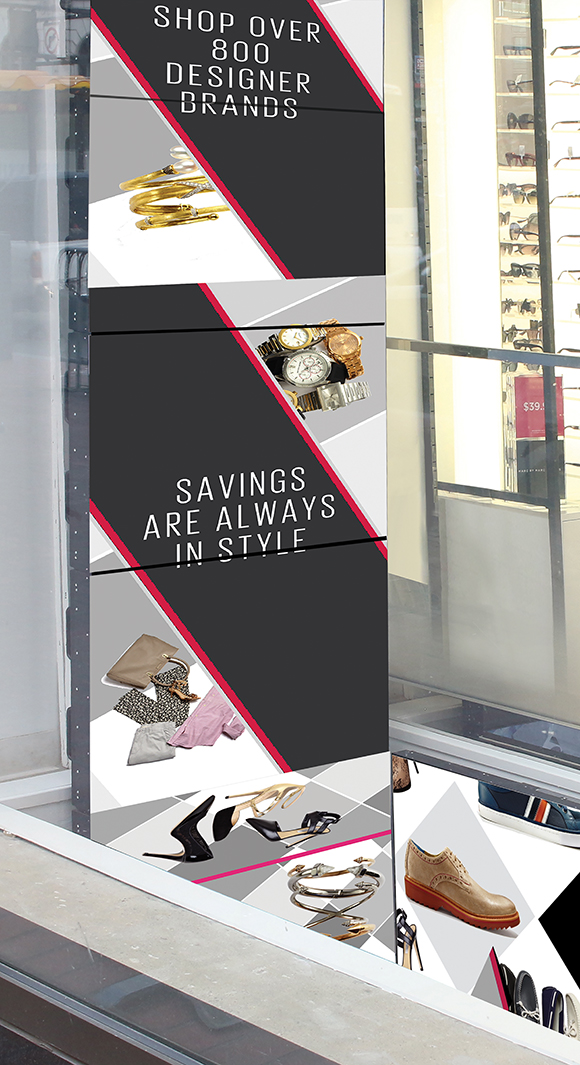 "Each video ribbon or bank of screens has to display at the true resolution of each screen, and in order to do that we required multi-output players with software that could handle this capability," explained Donnelly, noting that "ComQi has the capability where we could have each individual screen play unique content or create a single canvas across all of the displays from a single player. We had one media player controlling one video ribbon and all five media players sync over the LAN to create a really amazing experience across all five video ribbons, that is, 24 video screens."
The form factor and location of media players are also important considerations, especially in applications where LCD flatpanels have to be installed back-to-back, on columns, or in a video-wall configuration. When discussing the expansion at a healthcare facility with Craig Miller, Vice President of Interactive Media at Hammond Communications Group, he said, "Although small form factor media players were used for the signage network at Christiana Care Health System (CCHS) in Newark and Wilmington DE, the players were not installed directly behind the displays, as they might be in other applications."
According to Miller, in the first phase of the CCHS project, 11 media players were housed in a wall-mounted, ventilated metal rack chassis in telco closets. The 11 media players drive content to 31 large-format LCD screens. From the telco closet, each media player's video signal is fed into a 1×8 Cat6 extender/distribution amplifier transmitter.
"This allows each media player to feed its unique content across inexpensive Cat6 cabling to numerous displays," Miller noted. "At each display, a matching Cat6 extender receiver is installed to reconvert the signal and feed it into its display. This method not only ensures that the media players are located in an easily accessible and secure environment, but also allows each media player to drive numerous displays, keeping hardware and software licensing costs to a minimum."
The media players Hammond specified and used in the original CCHS deployment were Scala Certified Seneca DE7000. Miller puts significant value on field-tested, proven players, noting, "For an upcoming expansion at CCHS' Perioperative Services, 35 media players will be installed, each with one LCD. We specified the Scala Certified Seneca HDn, which is based on the Intel NUC platform and that Seneca designed to include an internal power supply rather than external power. Like the older Seneca players, we expect the HDns to run 24/7/365 for many years, with minimal service calls. In addition, the HDn media players come with a Scala image based on Windows 7 Embedded, have a 39-month warranty and support outputting multiple 1080p channels."
Some solutions ensure that the media player's operating system image has been installed and configured for reliable 24/7 digital signage playback. "This not only includes tweaks and optimizations to hard-drive partitioning and the operating system itself, but also in the selection and testing of the most reliable driver versions available for the different hardware components within the media player itself," noted Miller.
"If this sounds like a lot of work, it is," he said. "For this reason, Hammond almost exclusively specifies hardware that has been certified and imaged by Scala. Based on our experience, Scala Certified hardware out of the box is solid and ready for deployment without us having to perform a bunch of custom configurations and tweaking on our own."
Choosing the most valuable player for your next signage project also depends on the technical resources you plan to allocate to a particular job, and the investments you are ready to make in software tools and training. For example, if you want to minimize engineering time, a turnkey system may be best. But, if you want to push your organization to the next level, you might want to "train up" to take advantage of the bounty of Android-based players or other programmable systems, either to keep more money in-house, or to create a cutting-edge solution that adds more value.