Blount County Public Library (BCPL) in Maryville TN is a meeting place and a learning place for everyone. "It is more than just a bunch of books," declared Robert White, CTS, DSCE, Design Engineer with Unified AV Systems, Alcoa TN. To enhance patron visits, the library has updated its facilities and added an array of AV solutions, from digital signage to learning lab technologies to presentation solutions to videoconferencing and distance education.
"AV has improved attendance at events," said KC Williams, BCPL Director. "It has helped to push out community notices to the public. We're part of the information chain in the community now." By way of background, Williams noted that the library is a single-floor library encompassing 65,000 square feet. In a city of 128,000 people, the library sees about 10,000 people a week. It is open seven days a week. "We offer around 2000 to 2500 programs a year in classes and can seat about 60,000 participants in those," said Williams (see "AV Brings People Into The Library" for more information). We'll explore AV in the dozen areas within the main library, as well as the learning lab in the adjacent old bank building.

"All libraries are fighting to stay relevant with a growing number of the population that has rarely, if ever, been in a library," stated White. "BCPL wanted a way to keep the community informed about its many events and learning opportunities to keep them involved. They also wanted to upgrade their meeting spaces into the current era. We installed a digital signage system with large screens in key areas, such as the checkout desk and the lobby, to let the public know what is going on, and in hopes friends would be invited. We also installed new projectors and LCD screens in two meeting rooms and one boardroom, along with videoconferencing solutions."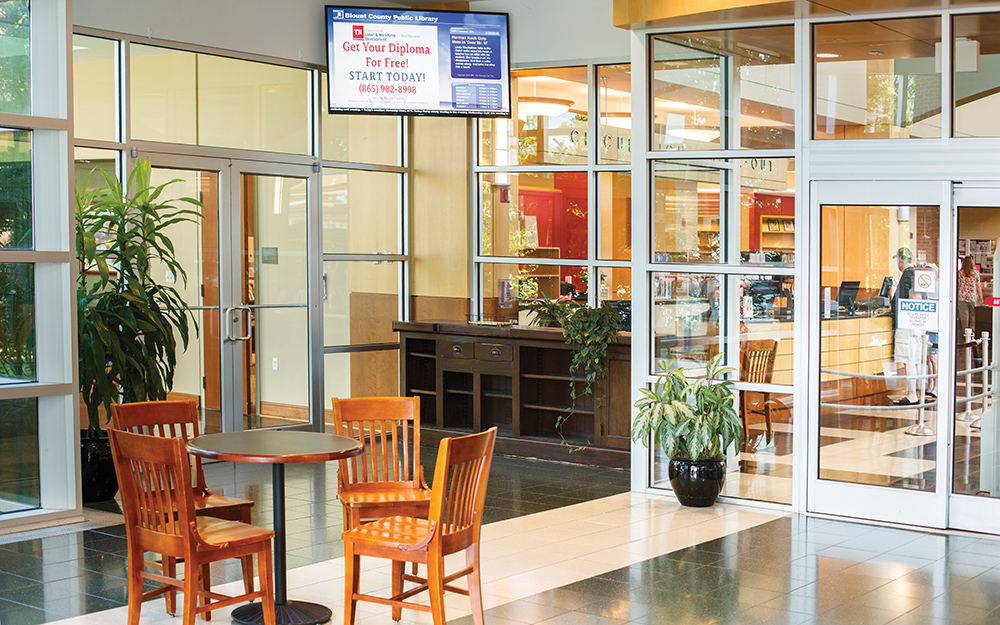 Core Equipment
Core equipment in the main library spaces includes Tightrope Media Systems software that integrates with BrightSign XD232 digital signage players to provide information about events and programs on screens throughout the library. Furthermore, Tightrope and BrightSign are digital signage partners. The one exception in this install is an upgrade to a Seneca Data Custom player that we will cover later. Other library-wide supportive AV includes Cat5e in-room transmission, C2G cables and Fellowes surge-protected power strips.
White explained that the Tightrope software was selected because of its user friendliness and the cost advantage of using BrightSign rather than Windows players. "You're saving a good bit of money," he said, "and getting probably 90% to 95% of the same features you'd have with a Windows-based player on a digital signage network."
Tightrope has user-friendly editable templates called bulletins that make it easy for the library to create content. "They don't have to start from scratch every time. KC and her staff can log in on the Blount County network. Using the templates, they can add images, videos, RSS feeds and all typical components that make up digital signage."
Bank Building Transformation
According to White, a major challenge was transforming the adjoining retired bank building that the county had purchased. "KC came to us and said that the library wanted to turn the old bank building into a space that can be used for teaching and learning, similar to a lab," said White. "She wanted it to be geared toward scientists. That included anything from robotics to programming and other things. The goal of the space was to be able to hold multiple small meetings simultaneously or to have one presentation where all the screens are showing the same thing."
White added that "The space had to be multipurpose so it could be broken up into several smaller learning groups or one big one. It had to continue with the same user interfaces provided in the main building in terms of an interactive whiteboard and the room control system. Also, there would be a digital signage system as an input to the video matrix in the room that would provide consistent messaging to the library's patrons that would be using the learning lab." When monitors are not showing an AV presentation, the screens show the library's news and other events.
"We are running digital signage across their existing network, as well as videoconferencing traffic," said White. "They have provided a VLAN upon which our traffic is segmented. In some of the locations, we have provided network switches, but mostly we have plugged directly into their network."
The learning lab has an InFocus 70-inch touchscreen Mondopad with soundbar, as well. The room is large enough to accommodate 20 to 30 people comfortably. Control is via a Crestron 10-inch wall-mounted touchpanel and a Crestron DMPS3-300-C presentation router/switcher. A BrightSign XD232 networked interactive digital signage player accesses the library's own information and events notices.
There are two non-interactive Sharp 70-inch AQUOS 4K LED Smart TVs for separate or combined viewing. The space is similar to the large meeting room in the main library, which we'll be covering later, in that it has three Crestron wallplates. Thus, three separate sources can be hooked up at any time using the InFocus 70-inch screen and the two Sharp monitors. "You could have three separate huddle meetings going on, viewing the three separate displays, or there could be one large meeting going on with a presenter at the front of the room at the Mondopad," said White. Electronics are housed in an AVFI rack using Middle Atlantic rack accessories in a closet.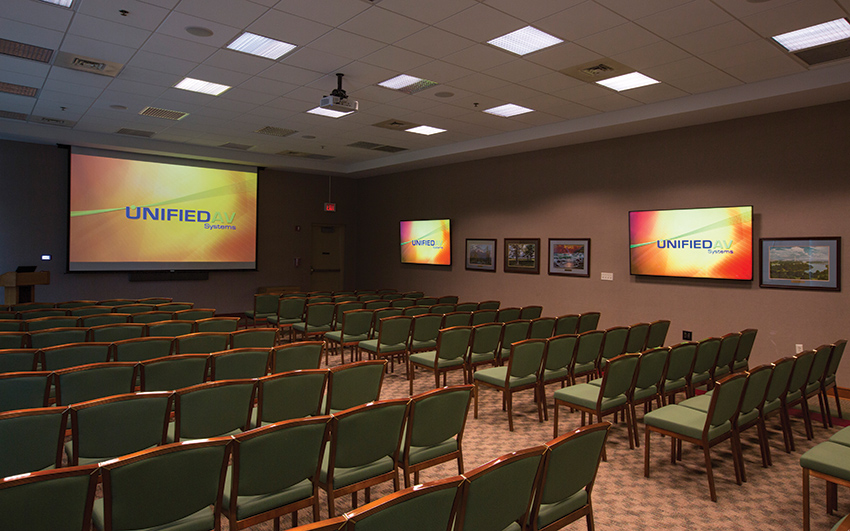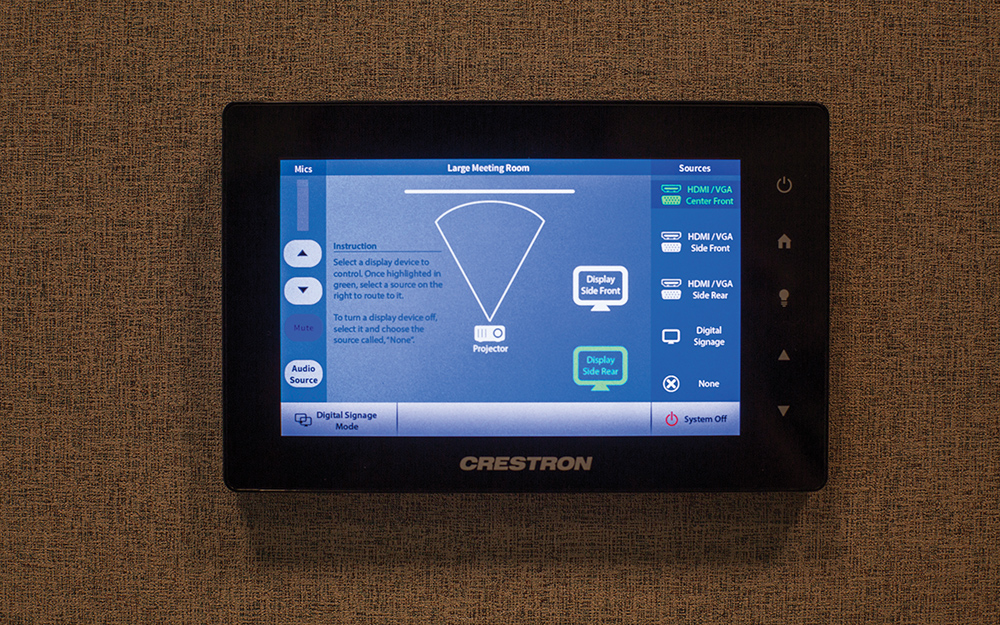 Videoconferencing, Presentation Rooms
There are three quite different combination presentation and videoconferencing capable rooms: two in the main library and the other in the adjacent learning lab. They are all individually Crestron-controlled. As mentioned earlier, when not used for presentations, the room monitors return to digital signage display mode.
Our first stop is Dorothy Herron Room A, which comfortably seats 20 to 30 participants. For presentations, a laptop computer can be plugged into a Liberty AV custom wall faceplate. For playback, there's a Samsung DM65D 65-inch LED display with an accompanying Samsung-powered AudioBar 2.1 channel soundbar with a wireless subwoofer. Various Samsung displays with Chief mounts are used throughout the install. Control for this room is with a Crestron 4.3-inch designer touchscreen.
Videoconferencing is via a Lifesize Icon 600 with a wall-mounted PTZ camera. The Lifesize PicturePhone has a built-in microphone and a large touchscreen. "Not many libraries have videoconferencing equipment," said White. "So, a class from a local school can come in here and they can call another library or another place that has videoconferencing. Here's an example: They could call a zoo that has videoconferencing equipment and have the zoo show them a panda or another animal they don't have in Tennessee. Thus, education is one potential use of this room."
Boardroom AV
The boardroom, which seats 15 people, is used for library staff meetings and Blount County government meetings. It can also be rented on a weekly basis for public meetings. The space is controlled via a Crestron 4.3-inch designer touchscreen.
The 57-inch InFocus Mondopad touchscreen with built-in Windows PC combines interactive whiteboarding and videoconferencing, allowing participants to present, annotate and collaborate. The Mondopad kit's accompanying soundbar, mounted below the screen, provides enough sound coverage for all room participants.
"With the Mondopad, you can conduct meetings," said White. "You can do presentations if you've stored a PowerPoint or an Excel file on the PC. And you can surf the web and annotate over web pages."
The boardroom also has a Teq AVIT wireless presentation system. "This allows people to walk into the room with whatever device they have, such as a cellphone," explained White. "As long as I have the correct app, I can present. It would be the same scenario on my iPad. I can present [my content] wirelessly to the screen." The room has a Crestron wallplate that connects to an input on the Mondopad.
Multipurpose Space
The large meeting room is a multipurpose space that can accommodate 130 people. It's the largest meeting space in the library. "When KC and I discussed this room, some of the [projected uses] were making presentations, breaking into small groups and even console gaming competitions," said White. There was a need for multiple inputs at the front of the room so multiple sources could be shown across the different displays. The room already had a little bit of AV with an existing projector, a screen and some speakers. In the upgrade process, the screen was retained.
Accordingly, the large meeting room underwent a massive AV expansion for multiple uses. "KC said she'd like to have multiple displays with the ability to show different content at the same time," said White. Therefore, two Samsung DM75 75-inch LCD flatscreens and an upgraded NEC NP-M402H 4000 lumen widescreen professional installation projector were added. The existing projection screen was retained. Each of the three displays has a Crestron wallplate source input conveniently located nearby.
With the new screen configurations spread out within the large room, three groups can conduct their own huddle meetings at the same time. As mentioned, this room can be configured similarly to the learning lab where separate events could be going on or one event could be presented on all the monitors.
Sound Reinforcement
Sound reinforcement is provided by six Extron full-range ceiling distributed speakers driven by an Extron amplifier. To support ADA requirements, there are Listen Technologies wireless ear speakers. The presenter is provided with a Shure SM58 wireless mic. There's a Crestron five-inch touchscreen control and a Crestron DigitalMedia Presentation System 300 for routing/switching. Electronics are housed in an AVFI Rack-12 mobile rack in the room.
Moving on to the Children's Department, there's a Samsung 55-inch slim direct-lit LED for displaying digital signage network events and information when not showing a presentation for the children. The Samsung LED has a Liberty wallplate input for a DVD player, a laptop computer or a projector that feeds the LED. "KC wanted to offer wireless audio to children so they could listen without disturbing other patrons," said White. There are 15 Listen LA-164 receivers for that purpose. The Samsung also has an accompanying soundbar for full-range sound when watching a movie. An AVFI Rack-12 mobile rack houses the Listen receivers when they're not in use.
Café Displays
The Samsung 32-inch LED in the café displays combinations of the menu, digital signage and news on a divided screen while customers wait in line at the counter. There's also a captive audience in the information commons where there's a 32-inch LED screen attached to each of the four columns. The displays are strategically pointed in different directions to capture the attention of patrons. HDMI, audio and data are fed over Cat5e by Kramer transmitter/receivers. There's a similar application used elsewhere in the library with multiple monitors. Combinations of advertising library courses and events via the digital signage network can go to one, two, three, four or all the LEDs at once.
The reference area, near the information commons, is a quiet area with lounge-type seating. The 65-inch display mounted on the wall had to be a larger monitor because patrons are sitting farther away from it. "Specifically, in that area, that's our local history and genealogy section," said Williams. "We have plans at some point to start putting snippets of local history. We'd like to start doing video interviews with some of our residents."
"The lobby is a large area with high ceilings," said White. "It's a very pretty area, so we didn't want to stick in a display that detracted from the architecture. We installed a pole-mounted 65-inch screen close to the ceiling so that, as you get to the door, it wouldn't be in your face."
Moving down the meeting room hallway, patrons are engaged via a 55-inch Samsung touchscreen showing a list of eBooks that can be checked out. Regarding the AV technology for this display, White explained, "We upgraded to a Seneca Data Custom Windows PC because some PC keyboard functions would be used there. This location has an interactive touchscreen, and I wanted to make sure we didn't fall short in terms of capability."
The reception area where you wait for a visit to the administration office has a 55-inch LED for viewing digital signage. This was a perfect location to reduce perceived wait time. The kitchen/staff lounge area has a 75-inch screen for viewing daily digital signage and also a Liberty wallplate for local presentations when other rooms are booked. Digital signage content in this area can be specifically focused on employee communications. And finally, the circulation desk has a captive audience while waiting in checkout as they view library information on a 65-inch Samsung screen.