Pepperdine University's new administration headquarters in Calabasas CA is separate from the main Malibu campus. The Calabasas satellite campus is located in an existing Class A building. From an AV standpoint, the concerns were the creation of very collaborative conference rooms and huddle spaces incorporating wireless capabilities and room scheduling for all the rooms.
Accordingly, we spoke with Max Brown, Account Manager of Pasadena CA-based ClearTech (CT), for the integrator's perspective. Brown prepared the proposal. However, Joe Perez, the integrator's Director of Technical Services, was responsible for the system design. Thanks to Brown for furnishing us with a Scope of Work, which accurately detailed AV in the 13 rooms.
Ben Veenendaal, Senior Project Director, and Kelly Thompson, Associate Project Manager, offered their perspectives from Pepperdine University's Department of Design And Construction.
Tight Timeline
ClearTech President Christina DeBono noted that, about three months ago, Veenendaal approached the integrator to establish a design/build contract for the new Calabasas space. "He [Veenendaal] selected ClearTech as the vendor for this project because of our established track record for delivering quality projects in a timely manner for several other projects the past five years," said DeBono. "The main challenge was the timeline for this project and working with other trades to meet their very aggressive project schedule. The project entailed 13 conference rooms, including a larger training room and an integrated marketing room. We worked very closely with the client to establish a standard for all their conference rooms."
Therefore, each conference room includes the Asus Chromebox for Business Solution designed for meetings and collaboration. The large room-packaged solution incorporates a wireless microphone, a PTZ camera, computer connectivity and videoconferencing. "The Chromebox itself is a small, compact but powerful Intel processor PC that goes behind the display," said Brown. The client selected the new Extron TLP Pro 521M five-inch wall-mount TouchLink touchpanel with built-in control processor for 12 rooms. An owner-supplied Apple iPad is used for one other room. In addition, the client is adding Extron Room Scheduling in front of each conference room and tying them into their Asus Chromebox scheduling. Note that all rooms use Extron power amplifiers to drive speakers. With that roadmap in mind, here's the rest of the story.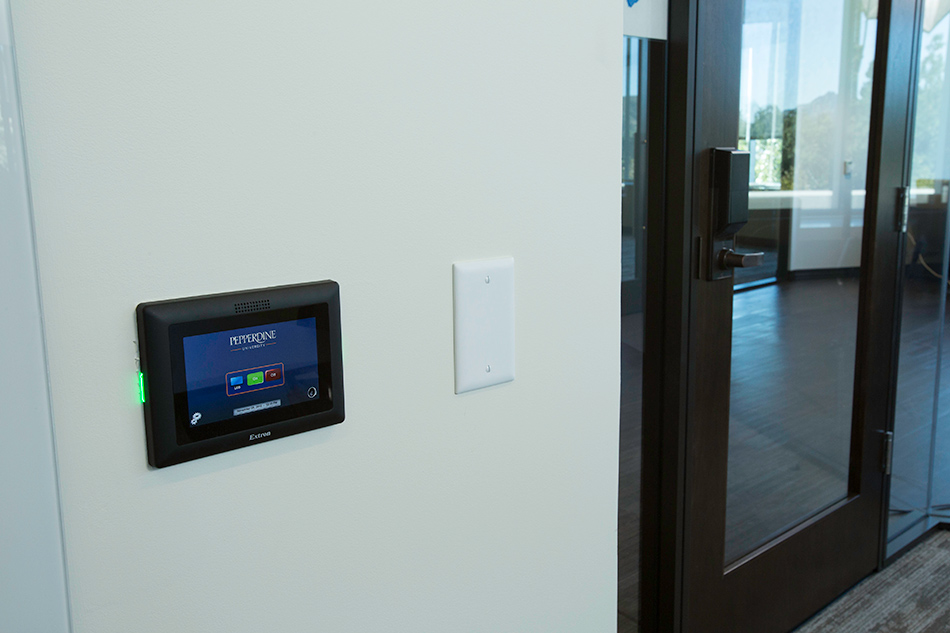 Brown explained that choosing the Chromebox took into consideration that Pepperdine University recently adopted Google Cloud for its new platform, migrating from Microsoft Exchange. The move helped in scheduling space at the satellite campus.
Brown affirmed that the greatest challenge was working under a tight deadline. "We started working with the client in July. They needed to move staff into this building at the end of September. So we needed to have rooms available to use by then."
As we embark on the Scope of Work for the 13 conference rooms, we'll detail what will be in all the rooms when operational. However, this is a work in progress, so not all the rooms are operational. Some are awaiting complete equipment installation. Pepperdine's Veenendaal and Thompson will discuss that aspect later.
Conferencing Rooms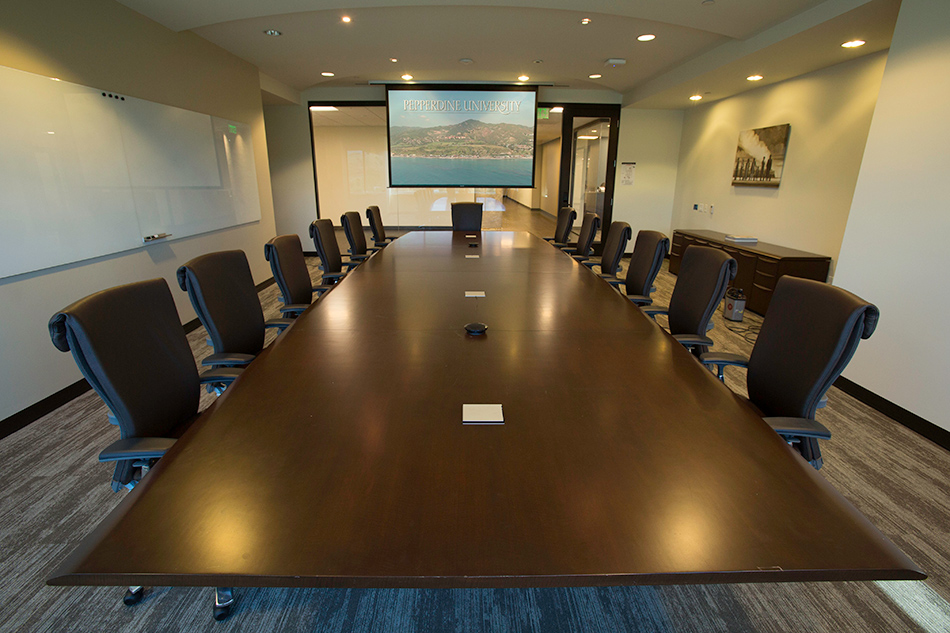 "They have yet to determine use for the multipurpose room 295," Brown pointed out. "This room is sort of ongoing, so we're working with the client in scope development to that space." It's the only room with both a display and a projector, as well as two touchpanels. As a result, it's set up for combined- or divided-space uses, such as two separate classes or other groups.
Specifically, there's a wall-mounted Sharp 1080p/HD 90-inch LCD display on the left wall. In addition, a Panasonic WUXGA 5000 lumen PT-RZ570 laser/LED projector is aimed at a ceiling-recessed Draper Access V Ultimate 16:10, 60″x96″ electric projection screen.
The Sharp display serves as the primary monitor for the Chromebox, and the Panasonic projector serves as the secondary monitor. To accommodate the two Logitech PTZ cameras, which are included with the Chromebox system, ClearTech installed two wall-recessed Vaddio enclosures. One enclosure is located next to the display and the other is located next to the projection screen.
On the audio side of large room 295, there are 10 JBL Control 26C ceiling speakers. A Biamp Nexia CS conferencing DSP was installed to accommodate divided room use.
Regarding control/switching, there are two Extron TouchLink five-inch touchpanels to control the AV system. One controller is located near the display to control on/off, volume, audio and video muting, and aspect ratio. The second controller has similar functions, plus ECO mode to extend lamp life. Room 295 is the only room that required an equipment rack. "Room 206 has a different layout than most of the rooms," explained Brown. "The room has no drywall; it's all enclosed glass. People are viewing toward the wide end of the room, so there's an Optoma ultra short-throw lens projector installed due to throw distance limitations." The projector uses a Chief ceiling mount with an Extron adjustable pole. The Optoma fires on a Draper Access V 16:9, 57.5″x92″ ceiling recessed projector screen. Sound comes from four JBL ceiling speakers.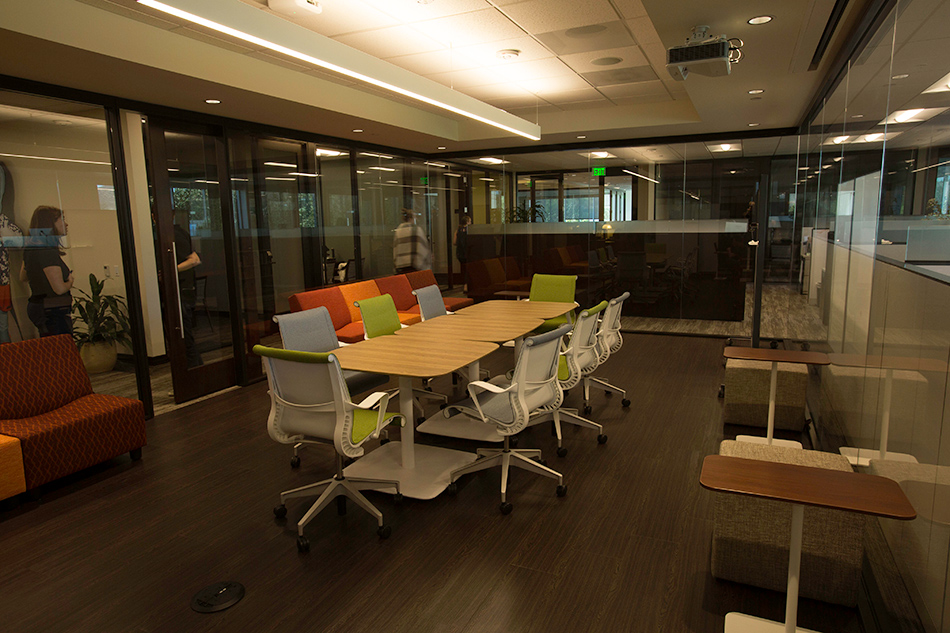 "The other thing that makes the room a little different aside from the short-throw projector is the use of an owner-furnished Apple iPad," continued Brown. "We supplied the wireless magnetic docking." On the audio side, there are four JBL Control 26C ceiling-mounted speakers. Room 206 uses a ceiling enclosure that stores and conceals additional equipment in the ceiling.
Synopsizing AV in the other 11 rooms, each has either a display or a projector, depending on the size and function of the space. Thus, several rooms are equipped with Sharp 80-inch HD displays accompanied by four JBL Control 26C ceiling speakers. Other rooms have a Panasonic laser/LED projector firing on a Draper large-format screen. Sound reinforcement comes from either JBLs or Electro-Voice 6.5-inch surface-mount speakers.
Ongoing AV Project
Regarding the ongoing AV project at Calabasas, Veenendaal pointed out that, "From a high level, I guide things and make decisions. Kelly is really the 'boots on the ground,' carrying things out and managing the project."
He stated, "When I envisioned this project, we needed to find groups that would have a direct interface with students and could work off the [Malibu] campus. It's seven miles through the canyon to get to Calabasas campus, and we wanted to eliminate as much of the travel back and forth as possible."
The AV challenge at Calabasas was to mirror what was on the Malibu side. "We wanted something that served the needs of both the technology challenged and those very sophisticated in serving the needs of the high-demand client," he continued. "So, it needs to do a plethora of functions. When you combine those two, it becomes quite a challenge. We considered a number of manufacturers and equipment. The closest we came was a budget-conscious approach with Asus Chromebox. We may wind up supplementing a little bit.
"We wanted it to be cross-platform and easy to use to get something up on the screen, whether from a laptop or from their Android or iOS phones. We're trying to make it as simple as possible where you don't have cords and plug-in adapters.
"We don't want to hear, 'Oh, I have a Mac and this is HDMI.' We don't want people worrying about connectivity problems. Then meetings can get down to business and they can start the collaboration process with everyone participating, not just the presenter showing information."
Primary Users
Veenendaal explained that the primary users would be several groups. For example, faculty or faculty administration who needed to go to Calabasas would be able to use the rooms. An example of a user group would be IMC (Integrated Marketing Communications) that would use room 206, which is called the "fish bowl" because it's a collaborative meeting and presentation space that's completely encircled with glass.
"That's intentional," Veenendaal said, "because we wanted it to be open for the super creative minds that take care of our marketing in terms of video marketing, print, social media marketing and photography. They're very creative and have to be by the nature of what they do. They're super collaborative and need to quickly and easily come together in a space, have different people jump in and put things on the screen without having to sit down for five minutes and get things set up. So, that room is proving super beneficial for that highly collaborative and creative environment." Accordingly, room 206 is equipped with an Optoma very-short-throw projector and a Draper screen that comes out of the soffit along one of the glass walls.
Seats About Thirty
"The room can accommodate roughly 30," said Thompson. "I've seen at least 12 to 15 people in that room. All the furniture is collaborative. It's all mobile. You can break it down into groups or have it as one group." Matching the collaborative process, the room primarily uses an Apple iPad for wireless control of the AV. Thus, nothing's stationary. "Because it's glass all around, you can't have something mounted and be collaborative," added Veenendaal.
Both Veenendaal and Thompson noted that room 295 is being considered for multiple uses. It can seat 100 participants at a seminar table in the space. Although it can be divided, it might be kept large and open to community events, with scheduled speakers and seminars from Pepperdine University. "It would be a way of engaging the community with informational and educational resources," said Veenendaal.
According to Thompson, there are presently nine conference rooms at the satellite campus. Four Asus Chromeboxes are being ordered to complete the complement of 13 conference rooms.
"We wanted to have a good number of rooms completely wireless," added Veenendaal.
Seven Hoteling Offices
In addition to the existing rooms, there are seven hoteling offices in the 34,000-square-foot space at Calabasas. Veenendaal pointed out that the hoteling offices were to facilitate staff not driving back and forth between the main Malibu and satellite Calabasas campuses for several reasons, including environmental impact and difficulty parking on the main campus.
"Perhaps 90% of our staff passes by the Calabasas campus coming in, in the morning," he stated. "To avoid that, we wanted to provide enough spaces where anyone arriving in the morning can stop at Calabasas and meet with a group. We have conference offices and hoteling offices. Some of the hoteling offices could have space for four people. We wanted to be an extension of the main campus, so those people don't feel disenfranchised or pushed out of the mainstream."
For example, he noted, "A lot of our executives will say, 'I'm going to work from Calabasas today. I don't have any meetings in Malibu.' Then they'll reserve one of those offices and work at Calabasas for the day."
Scheduling is another AV aspect. As mentioned, Pepperdine just switched over to Google from Microsoft Exchange. The change designated Google as the calendar and mail-system handler.
"Extron displays in each of the conference rooms and hoteling offices will display the scheduled rooms for the day," said Veenendaal. "It's dynamic. It will be immediately updated to show on the display screen on the outside of the room."
---
Pepperdine University Department of Design and Construction
Ben Veenendaal is one of the directors at Pepperdine's Department of Design And Construction. He and a colleague are responsible for the physical aspects of the Malibu campus, as well as the school's satellite and other locations.
In addition, Veenendaal is solely responsible for international campuses. Just in time for our interview, he had just finished a project at the Heidelberg, Germany, site. And in a few days after the interview, he was bound for the Lausanne, Switzerland, site.
"We handle everything from contracting professional services all the way to furnishing facilities," he said. "I also lead the design effort where we create the touchstone of our campus."