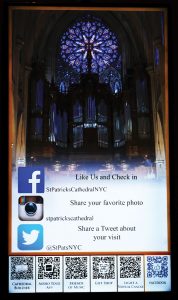 Mobile connectivity is rapidly becoming a major gateway to information about faith-based activities, from access to streamed services and event schedules to donations for worthy causes. Social media works in parallel with smartphones to rapidly spread the word and increase participation in religious services, concerts and community events. At many worship centers, digital signage is used to direct the faithful and visitors to information about the institution's website.
Many organizations first set up a website before making an investment in digital signage. When these worship centers undertake an expansion of their AV systems, they may also be ready to deploy digital signage. One example is St. Patrick's Cathedral in New York City, which established an online presence more than a decade ago. After installing Cat5 and fiberoptic cabling for digital media, the cathedral set up a digital signage network more than a year ago.
Discussing the cathedral's online and social media initiatives, Kate Monaghan, Campaign Communications Director for the restoration of the cathedral, stated, "The Mission of the Church is to share the Gospel, and maintaining a robust online and digital presence is a very important aspect of sharing the Good News in the 21st century. As a practical matter, we use our website to inform parishioners and visitors about the Mass schedule, reception of the sacraments, special liturgies, concerts and so on." With regard to the cathedral's Facebook, Instagram and Twitter links, Monaghan noted, "We have a responsibility to meet people where they are, and many are on social media platforms."
The cathedral's digital signage system consists of premium components, including four Samsung 65-inch commercial-grade LCD flatpanels, Chief wallmounts, Seneca Data media players and Scala's CMS. "At this time, only four screens are part of the signage network, but additional screens can be incorporated by adding media players at the screen location," said Michael Starobin, Vice President of Tele-Dynamics Voice & Data, who designed the system. "I chose this configuration based on Scala's long, respected history in the industry. The software and distribution system is all cloud-based and very simple to use. The reliability is impressive, with virtually no downtime since installation over a year ago. The players only download content changes, making bandwidth utilization low, and content continues to play even if the data connection is lost. Other considerations were flexible hardware interoperability and, of course, excellent, smooth subpixel motion. We also used Seneca Data media players, an excellent product manufactured in New York State," Starobin explained.
Ease of use is a significant factor, particularly in house of worship (HOW) applications. The NY archdiocese staff frequently updates the content for display on signage screens and the website. Below the content zone reserved for dynamic media are QR codes, such as Cathedral Builder, Audio Tour App, Friends of Music, Gift Shop and Light a Virtual Candle, linking the user to additional information and activities.
Although the costs for deploying and maintaining digital signage systems are now much lower than they were in the past, it is important to be mindful of the budget and staffing constraints of HOW clients. On many projects, you might need to help HOW clients clearly define their objectives in order to keep system and ownership costs under control.
Digital signage in HOW applications is on the rise, as indicated in Sound & Communication's 19th Annual Worship Center AV Survey report published with the March issue. Seven percent of respondents expect to install digital signage systems in the next 18 months. You may want to check in with your house of worship clients to determine their readiness to embrace digital signage. Or, if they already have deployed signage, it might be a good time to discuss upgrading or expanding their systems.