You've probably noticed people totally focused on a digital display, whether it is a smart device in their hands or a large screen in an airport or mall. Researchers say that people today are viewing and engaging with an unprecedented amount of digital content. They avidly consume information and entertainment presented to them on digital displays of every size and type. To take advantage of this trend, providers of digital signage content management platforms have expanded integration with mobile, social, streaming and other systems. But which of the new apps and content do customers really want? The best way to find out is to ask.
People are usually willing to share information about their preferences and even their feelings, especially if they know the process is intended to improve their experiences and will not take too much time. One way to make the feedback process both effective and fun for the viewer is to integrate it into the new experience. Marriott Hotels has applied this strategy at its recently renovated property, the Charlotte Marriott City Center, which the company uses to beta test new concepts, products and services, while gathering real-time feedback from guests.
The company partnered with innovators in specific fields to deliver truly engaging guest experiences, including check-in on iPads/tablets, smart TVs in guestrooms, interactive displays in meeting rooms and the fitness center, and digital signage in the lobby, club lounge, dining and entertainment spaces. Marriott worked with several companies, including Rockwell Group, Barringer Construction, GuestTek, IMG Live, Grey, LG Electronics, Four Winds Interactive, Fitness on Demand and Unified AV Systems. Let's take a look at some of the new AV technologies installed to enhance the guest experience, as well as how guest feedback was solicited at this property.
The facilities are designed to help guests relax as they would in the comfort of their own homes, as well as increase collaboration and productivity while travelling for business. Knowing that today's travelers want to explore the uniqueness of the locale, the newly designed spaces are locally inspired and tech-driven.
The latest display technologies from LG Electronics are installed in a number of key areas, including high-def 65-inch LED-backlit LCD TVs for digital signage in the lounge and other public areas. And in each of the 446 guest rooms, a 55-inch smart TV allows guests to stream content from services they subscribe to, such as Netflix. The new M Club Lounge, a multipurpose connected and collaborative business and entertainment space for members, features a 65-inch LG OLED 4K TV, a 79-inch 4K Ultra HD TV for immersive viewing and two sleek 34-inch desktop monitors with numerous connectivity options.
The coffee shop, restaurant and bar are designed to encourage socialization, inspire creativity and allow visitors to enjoy local produce. Coco and the Director, the casual coffee shop, features live music, plus literary and other community events. At the West Trade Street side, tables and tiered seating go all the way up to the balcony level. A Da-Lite screen and NEC projector are available for video presentations (cable channel travel programming and local area infomercials were playing during my visit).
This social hub of the hotel allows travelers to enjoy locally sourced coffee, as well as unique retail and limited-edition food selections from Charlotte small businesses. Interesting small gifts created by local artisans are also available for purchase. Open workspaces with two signage flatpanels and two large tables (each with a digital connectivity bay) are available for travelers, visitors and locals who want to meet, work or relax while snacking. In keeping with the local vibe, signup for these spaces is on a large chalkboard: first come, first served.
Open design and local concepts are also implemented at Stoke, a restaurant with an adjacent bar. The restaurant features seasonal and local organic produce on the menu, and an open kitchen with a view of the wood-fire oven and chef's table. It's a combination of "dinner and show" and "chef's table" concepts. At Stoke Bar, four 47-inch HD TVs keep sports enthusiasts and news-thirsty patrons plugged in while they enjoy local brews or other beverages. Guests can also access wine at retail prices in The Bottle Shop, which periodically offers wine tastings that encourage learning, sales and local patronage.
The Dock is a recently introduced hidden treasure. Another experimental foray, it's a retro but high-tech private meeting space for high-profile clients who wish to avoid public attention. The Dock features a secret entrance accessible from the loading dock, and offers a rustic, informal atmosphere with wooden bench seating, great connectivity and a 79-inch HD TV housed in a wooden cabinet.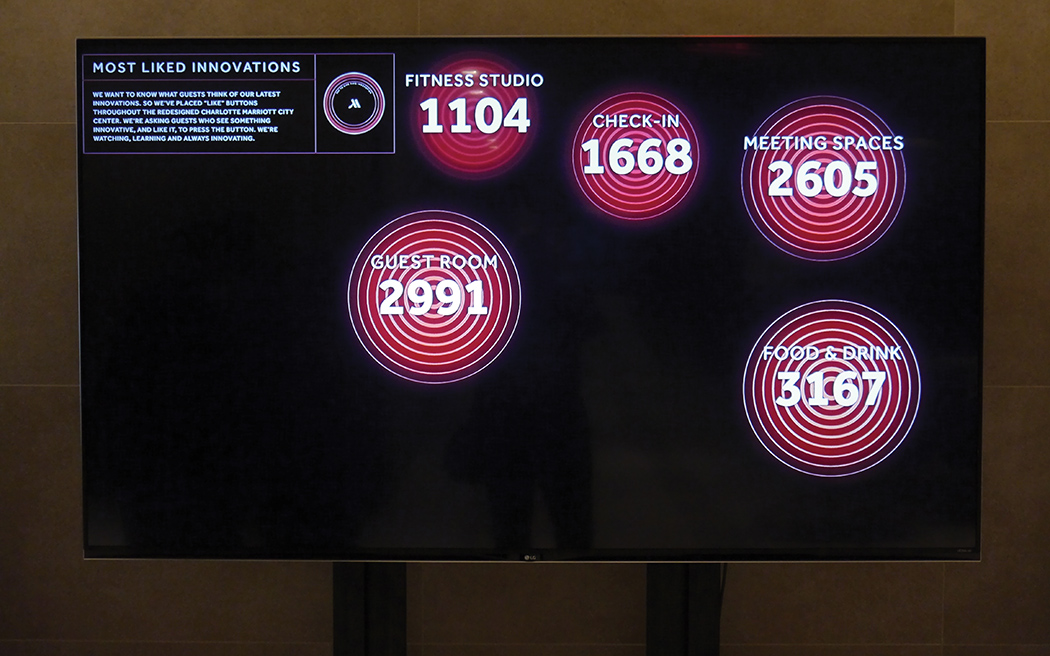 The hotel's old indoor pool has been replaced with a modern fitness center featuring a Fitness on Demand Studio, as well as a gym with a variety of smart exercise equipment and HD TVs. The Fitness Studio features a videowall consisting of nine ultra-slim-bezel 47-inch LG displays in a 3×3 configuration along with an enhanced LG soundbar. An interactive touchscreen located between the Studio and the gym enables guests to select the FLEX program of their choice, view the Fitness on Demand Studio schedule, and even send themselves a personalized local running route in a text message to their phone.
Marriott worked with IMG Live and Grey NY on the guest feedback system. At this "M Beta live innovation lab," which is what Marriott calls the property, guests are invited to show that they "like" a new concept or innovation by simply pushing a physical button located near the experience. The battery-powered buttons have a glass surface with a capacitive touch sensor. Data from the 19 buttons located throughout the property are grouped into location sets on the public leaderboards (80-inch and 49-inch LG displays) in the Lobby and M Club Lounge, and update immediately when they are touched. The tallied information is also posted on www.travelbrilliantly.com.
Hospitality concepts and innovations incubated at the Charlotte property rotate periodically. Prior to my visit in October, the Art of Innovation Wall had made its debut in Charlotte and was on its way to London. This interactive wall was developed in partnership with IMG Live to enable guests to explore the four stages of the traveler's creative process: relaxation, inspiration, change and accomplishment. A variety of technologies were installed for content delivery in each of the four zones of this truly experiential visual environment. According to the developers, "Guest actions are identified through a series of tech-forward sensors that trigger customized reactions and unlock unexpected, multi-sensorial experiences."
Although gathering response data within an actual experiential environment can be complicated, it is just the beginning of the process of transforming an environment in any industry. Data analytics platforms and experienced data scientists can provide both accurate response info and a human understanding of rapidly evolving user needs. It also helps to have partners who understand the overall vision and project strategy.