If you want to know how retail is changing when it comes to adaptation for AV, just take a look at Walmart Store 5260. That particular location, in Rogers AR, is located just down the interstate from the retail giant's corporate headquarters in Bentonville. Store No. 5260 has traditionally been Walmart's laboratory, its skunk works for merchandising and display experimentation. A local "secret shopper" took a walk through the store and reported on "sleeker electronic displays," in-store touchscreen kiosks where customers can quickly claim and retrieve their online orders, and redesigned product displays in the store's electronics section.
Target's Activity
Walmart's big-box competitor, Target, has been active in AV, as well, with the launch of its "Connected Living Experience" department at a store in Minnetonka MN, near that company's headquarters in Minneapolis. This series of displays showcases a variety of "smart" products, intended to educate shoppers about the Internet of Things and its possibilities, using video displays that would look appropriate on any commercial project equipment list.
AV is taking front and center in the retail environment today like never before. Video continues to have a novelty component: Touchscreens for product discovery and wayfinding are increasingly popular and, let's face it, kind of fun. But video displays that promote products and contribute to overall ambient designs are ubiquitous, something that AV systems integrators, designers and fabricators are leveraging.
Open Eye Global, an international design firm with a large presence in retail, has seen substantial growth in video applications in that sector, for wayfinding and promotion. Working with screenmaker Elo and kiosk maker Olea, Open Eye Global developed a touchscreen kiosk solution that does both for Nordstrom, letting customers find products and their way through the stores' various levels.
"It's the content that drives this," said Roger Starkweather, Open Eye Global's SVP of Sales & Experiences, a title that reflects much of what AV is being asked to do in retail today: engage and sell. "So in addition to designing and specifying the hardware and the software, we also have to work closely with the store's IT people, to make sure it works within their WiFi infrastructure. There are a number of things that have to be considered that are all interrelated, from content refreshment and our ability to monitor and maintain them remotely to location of the kiosks in the stores." (They're placed by the stores' escalators.)
Open Eye Global did this on an even larger scale, deploying more than 800 screens performing similar duties for furniture retailer Rooms To Go. "That was a massive undertaking," Starkweather recalled. "Firewalls had to be established and we had to integrate with their IT to support continuous content scheduling. It's actually a deep conversation with IT in every aspect."
That also applies to an ongoing project the company is in the process of developing now, with a well-known US candy brand. The goal is to create a portable digital endcap with a 40-inch LCD screen and integrated media player that can be updated remotely via WiFi. It will take the brand's products into third-party retail environments, so it has to be self-contained and carefully integrated wirelessly.
Off And On The Wall
RP Visual Solutions, an AV fabricator in Anaheim CA that specializes in video mounting solutions, told us that more than 40% of its business stems from retail clients, including Microsoft, lululemon athletica and Burberry Coach. That's a wide range of retail, from tech to athletic fashion to high fashion, but all are using more video. "Video is the source for branding and for the customer experience, especially interactive video," commented Brandy Alvarado, Marketing Manager at RP.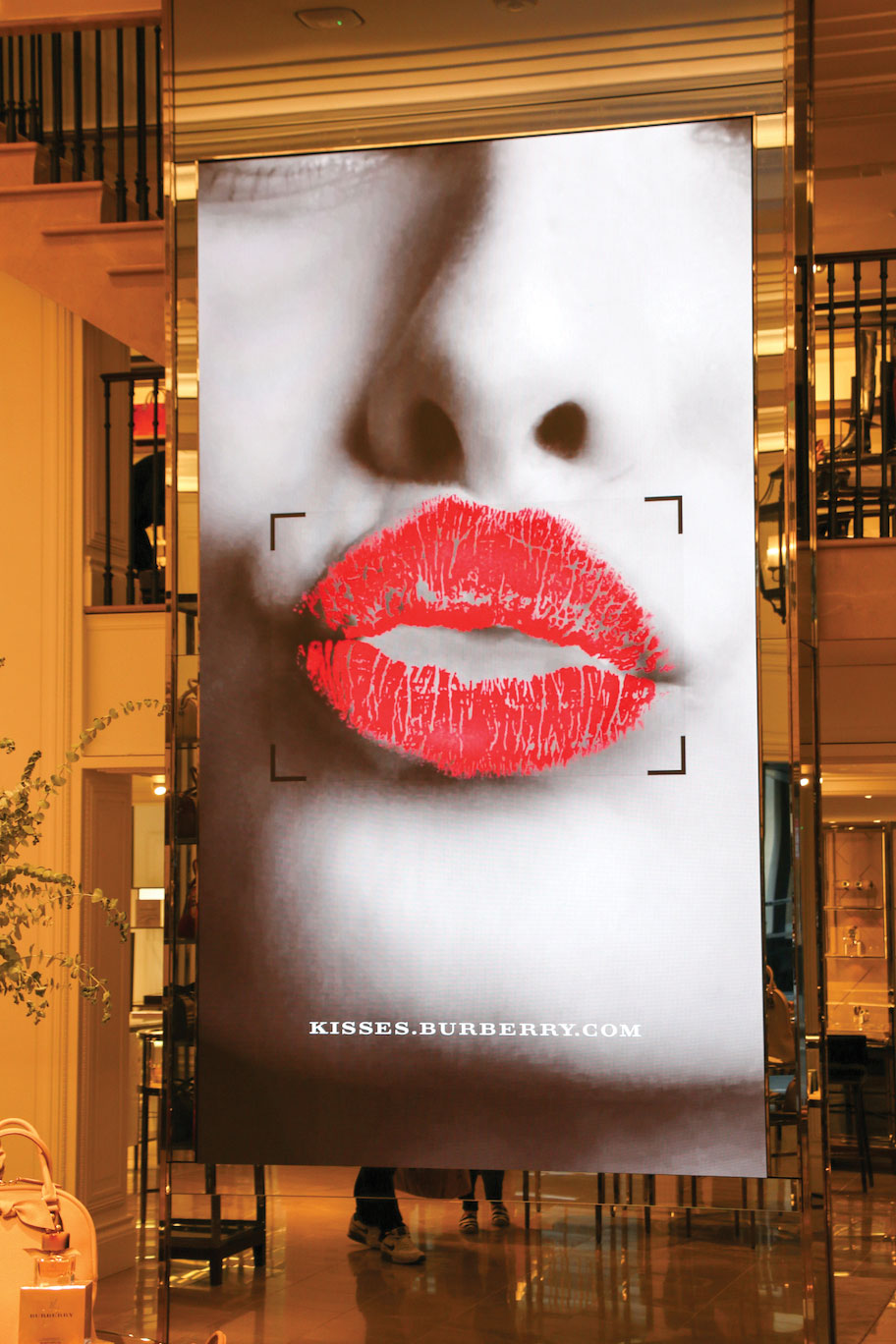 Alvarado said that video has moved beyond being a standalone component of a store design to being what she calls "architecturally integrated" into a retail design. The Microsoft stores, of which RP has done more than 100 locations, illustrates this, with the promotional and informational content on screens essentially forming the walls just above the products on waist-high shelves that customers can access. The content and displays create a context for the product itself. To heighten that effect, it's crucial that the seams between the displays align perfectly with the seams between the non-video informational panels directly behind each product area.
Architectural Aesthetics
"Basically, you're aligning the architectural aesthetics of the store with the content," she explained. "In that way, AV is more deeply embedded in store design than ever before. Looking at the AV, it becomes part of the building. It looks like it was meant to be there, not just a 'bang and hang.' That's what stores are looking for now."
It has reached a point, said Alvarado, that they have to be careful that subtle touches like the color of AV components also color-match other metal elements, such as shelving; for instance, the brushed stainless steel on the shelves in Burberry Coach stores are reflected in the tint of the bezels between LCD panels.
According to Alvarado, the next step in AV's retail evolution likely will include new technologies, such as OLED screens that can conform to architectural shapes, to even more deeply conform to store aesthetics, and even finer LED pitches, to increase authenticity and immersiveness. On a more mechanical level, she offered that retail clients will demand more custom mounting solutions in order to better fit architects' and store designers' visions.
"They want features that most manufacturers are not equipped to handle, such as touch and interactive experiences, embedded/hidden audio within the display's mount, direct-view LED mounting solutions, engineered optical screens, custom finishes that complement the retail space, front serviceability for large videowall arrays, custom solutions for any type of display technology and much more," Alvarado said.
Cautious Outlook
For a company that relies on the fashion-retail sector for more than 30% of its business, RPAV Owner Ron Prier is somewhat cautious about the near future for brick-and-mortar retail in general. Projections by Kiplinger, a publisher of business forecasts, call for retail sales (excluding gasoline) to grow at about a 4% clip in 2016 and, although that's below last year's 4.8% growth, it does reflect strength in overall consumer spending, which accounts for two-thirds of US economic output. However, much of that growth comes from online sellers such as Amazon. Brick and mortar is hurting; department stores saw receipts fall 5.8% in May 2016, compared with a year ago, and the downward trend shows little hope of reversing anytime soon. Household names Macy's, Kohl's and Sears are collectively shuttering nearly 150 locations in the US this year.
Prier points to Best Buy, the big-box store that has borne the brunt of online's retail juggernaut due to "showrooming" (shoppers using the stores to check out merchandise and make decisions, but then buying it elsewhere through their smartphones). But, he said, physical retailers can counter that effect to a degree by creatively employing AV technology themselves. He points to the interactive kiosks that are becoming more popular (and that he is integrating into stores well beyond his Bowersville GA base through alliances with more than 500 integrators globally) that allow shoppers to virtually try on various clothing and accessories, such as eyeglass seller Warby Parker's in-store frames simulator that lets customers see what each pair will look like on them.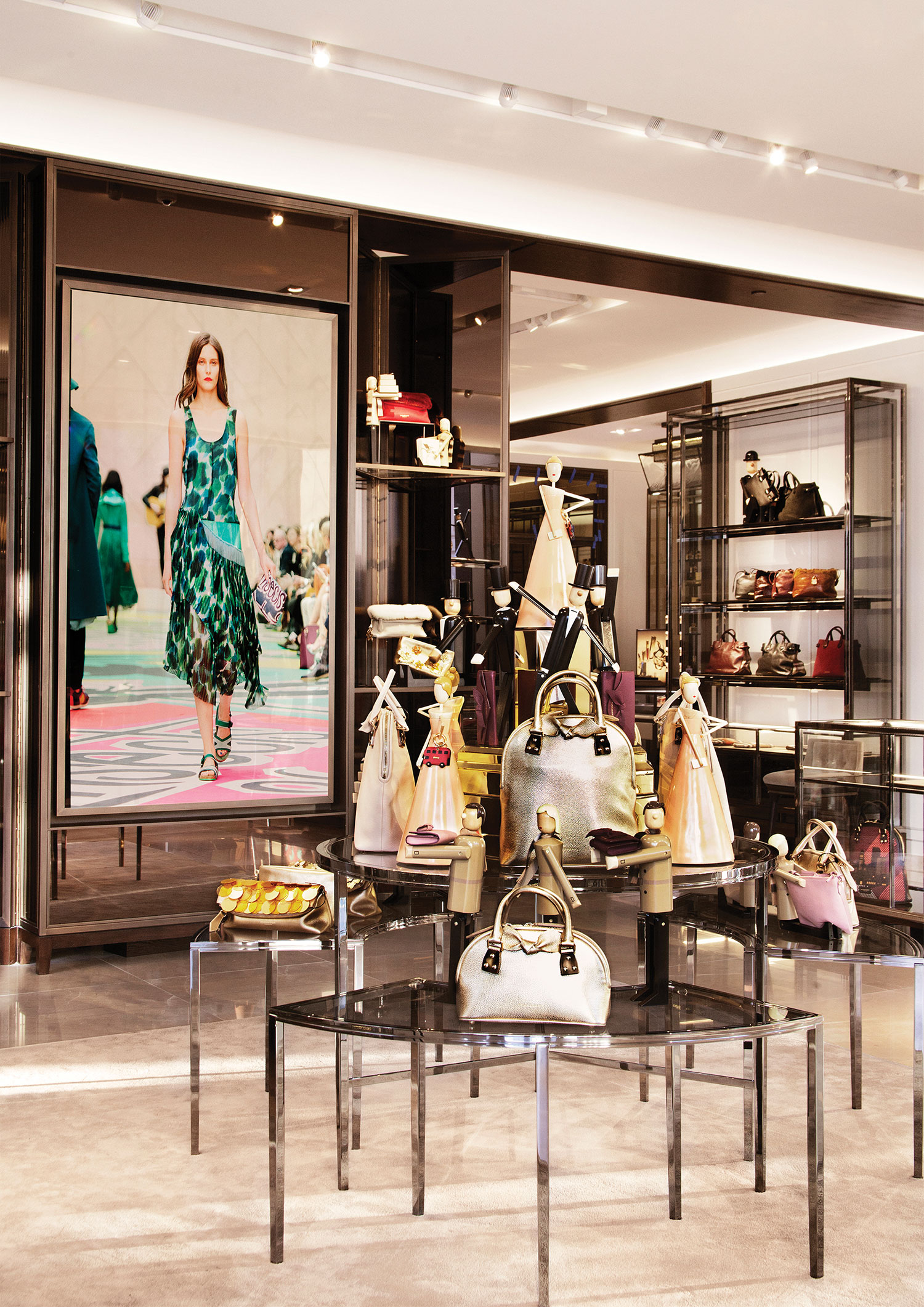 Bigger Part Of Retail
"That's how video is going to become a bigger part of retail going forward," he believes. "If an integrator is smart, they'll promote this to retail clients as a line of defense and help them avoid becoming Amazon 'showrooms'."
Prier is also seeing how audio in retail is changing. Once a huge part of fashion AV design, with low-frequency reproduction especially emphasized in recent years as hip-hop dominated the music charts, he said that music's presence has been attenuated, in large part due to mall owners and other landlords beefing up noise restrictions. One large chain group that he services has cut its music system level down 4dB to 77dB.
"Some stores used to have their 'porch' [entry area] music even hotter, 3dB above that; it was an 'adult repellant'," he recalled. "It kept the parent outside and got the kids and their credit cards inside."
Mall Security Tightened
Mall security tightened even as the larger music culture changed. Assertive hip-hop has given way to smoother, less aggressive pop sounds, and there is more reliance on music services such as Mood, PlayNetwork and XM For Business that offer more consistent playback levels than the playlists on Millennial-aged assistant managers' iPods that were often the main music sources in youth-fashion shops just a few years ago.
Brian Edwards, CEO of Edwards Technologies (www.edwardstechnologies.com), which creates AV-interactive experiences for clients, including Disney's and Universal's retail stores, agrees that music is losing some of its presence in the retail sector, although audio may undergo some interesting changes. For one leading chain of sports clothing, the company is developing an immersive soundscape that consists of the sort of sound effects commonly heard on NBA game broadcasts. It's an approach that's closer to the sound design that's become common in cinema and television audio production, often eschewing music altogether. The concept is still experimental, being tested in a single store initially. But it suggests to him a deeper shift involving AV.
"Music, like AV itself, has been a separate silo in retail for years," he explained. "That's changing as AV becomes a piece of the larger whole that is IT. There will be more video in retail in the future, but that video will be an extension of what's on the customer's mobile device."
Edwards foresees mobile as the nexus of a larger data-based ecosystem that will enable concepts like the "endless aisle," in which inventory no longer has to be available on a sales floor, but rather can be accessed virtually through in-store kiosks and through consumers' smartphones, with the right size and color being retrieved in the store while the prospective buyer is there.
"That's the kind of engagement that mobile can provide," he offered. "In there, AV is a piece of the puzzle, not the ultimate solution."
"Music is still important as part of the AV mix in retail, but not as important as it once was," Prier added, noting that the shift to video will include interactive kiosks and recognition cameras and software that could ease a less-jarring version of the Minority Report effect into place, inviting consumers by name with data that knows their desires and expectations. "Retail is changing," Prier stated, "but it's still going to be a very interesting place to be."