Visitors to Florida's island village of Key Biscayne don't quickly forget the beautiful sunny beaches, quaint shops and upscale homes. The low-key seashore community lies in stark contrast to the tourist-driven economies of its neighbors, the City of Miami and Miami Beach, that are just minutes away. Key Biscayners are proud of their town, and an active town council is instrumental in maintaining both the island's natural beauty and the unique quality of life afforded to its residents. Town meetings and community involvement are key to the council's success. So, when technology in the Council Chamber building needed updating, the town leaders saw an opportunity to improve communications with new audio and video technology.
Multiuse Space
In addition to regular city council meetings, Key Biscayne's Council Chamber building provides a space for civic events, presentations and other important community activities. Upgrading technology there would not only enhance the capabilities for those making presentations and for those in attendance, but also the community members viewing remotely via live stream or public access TV. "The City Council is an important hub in our community, a place where residents can exchange ideas and make the decisions necessary to maintain and improve our way of life," said Village of Key Biscayne's IT Director Michael Fleming. "We wanted to create the best possible environment for those meetings, as well as to create a closer connection with those watching the proceedings from their homes or remote locations."
To design and install the upgrades, Key Biscayne reached out to Business Information Systems Inc. (BIS Digital), of Ft. Lauderdale FL. Damian Biltres, Director of Technical Services at BIS, reviewed the requirements and created a design for new AV systems and room control that would not only address the council's immediate needs for a better presentation environment, but also create a high-quality production environment for recording and broadcasting the village's town meetings and public events.
Biltres worked closely with Fleming to understand the village's needs, the skill level of potential operators and the design of the IT infrastructure. "We wanted to provide the best solution for Key Biscayne," said Biltres, "but also a system that would be simple for the end user to operate. After discussing their current needs, we knew where they wanted to go. Our project would not just be meeting the needs of today, but take them into the future."
Well Suited To Design The System
Biltres was particularly well suited to design a system that would both support presentations and provide production capabilities for broadcast and recording. Prior to his working with presentation electronics, he was learning about audio and recording technology as a successful performing musician. With a natural interest in music and audio engineering, Biltres became an experienced studio designer for a music equipment retailer. When he was introduced to BIS, over 14 years ago, he found a way to meld his passion for technology and his creative abilities.
"My experience in both music and with BIS, which is a court room recording and digital recording specialist, put me in an ideal place for understanding AV integration," recalled Biltres, adding, "A career in AV was a surprising way to mesh the two worlds, but I think my personal experience helps me to discover more and better solutions for our clients. I get to use both my technical and creative sides." Designing and building out an AV system for Key Biscayne's Council Chamber would involve high-quality audio, video production, content distribution and broadcast expertise.
The Council Chamber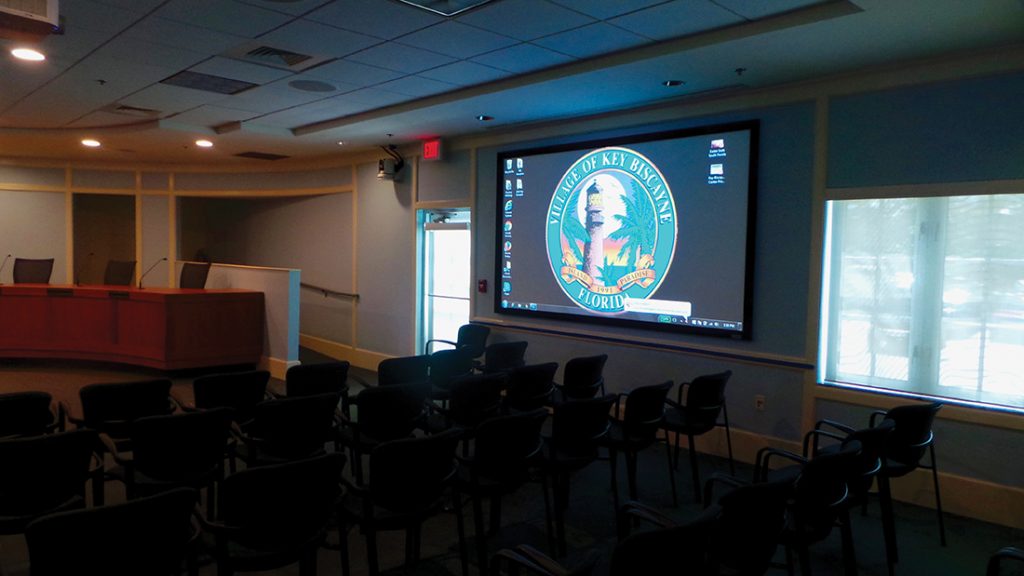 The Village of Key Biscayne City Council Chamber is comprised of three spaces: the main chamber, a control room and a production studio. In the chamber, the new design updated the dais to accommodate up to 12 council seats; five of them support AV connectivity via HDMI or VGA and have audio inputs to enable easy sharing of presentation content from laptops, tablets or smartphones. This was accomplished using Atlona AT-HDVS-150-TX 3×1 switchers with display control that enable presenters to connect and share content from a wide range of devices. It was important that this switcher be able to accept content from the latest PCs and electronic equipment via HDMI and VGA, as well as connect with legacy devices, provide audio inputs and offer HDBaseT output.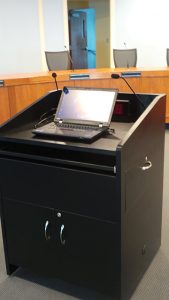 The switcher supports auto display on/off and auto switching, and receives power from the AT-HDVS-150-RX receiver. In addition to inputs at dais locations, a podium setup was equipped with an Atlona AT-UHD-CLSO-824 4K/UHD 8×2 switcher that allows the meeting manager to control the presentation. The podium is designed to be easily relocated to one of several areas in the room using Cat6 floor jacks and simple patching in the control room.
Audio Upgrade
In addition to upgrading and simplifying inputs from the council seats and podium, upgrading the audio for both council members and the audience was an important factor in Biltres' plans for the room. "Our goal was to make every presentation in the room sound like a natural conversation," he recalled. To overcome the acoustic challenges created by the slight dome shape of the chamber's ceiling, Biltres divided the listening areas into 16 zones.
The design achieved proper coverage using two Biamp TesiraFORTÉ AVB Ci digital audio servers and strategically placed AtlasIED FAP42T Strategy II Series four-inch coaxial in-ceiling speakers and AtlasIED FAP82T ported eight-inch coaxial ceiling speaker systems. The speakers, powered by two Biamp MCA 8050 eight-channel power amps (50 watts/channel into 4 ohms), provide focused audio coverage for every seat in the chamber, as well as remote rooms.
To help guarantee the best possible audio for presentations, Audio-Technica ES915SC21 cardioid condenser microphones were installed at each presentation position. The wide-range, gooseneck microphones were mounted using AT8646QM shock-mount plates. Although Biltres prefers the use of wired microphones for dependability, two Audio-Technica ATW-2110 bodypack wireless systems were added with U857ALcW cardioid condenser microphones for increased flexibility.
To improve video presentations in the Council Chamber, the low-lumen, standard-definition projection system was replaced with two NEC NP-PA722X-13ZL 7200 lumen XGA LCD projectors mounted with NEC's NP3250CM and Peerless-AV's CMJ455 mounting kits. The projectors light up Vutec EZ-060-1078BW fixed projection screens located on either side of the audience area.
For the council members of the village of Key Biscayne, reaching their constituents who may not be in attendance at town meetings is of paramount importance. To create high-quality broadcasts for the community, as well as to record and upload meetings and town events to YouTube, the chamber's old analog video cameras were replaced with four Sony BRC-H700 1/3-inch 3CCD HDTV cameras equipped with BRBKHSD1 HD/SD-SDI output cards and built-in pan/tilt mechanisms. The new cameras were placed carefully to allow the meeting manager to easily switch to cover all areas of the dais, podium and audience. To further enhance quality of video for broadcast, the walls of the Council Chamber were repainted light blue in order to generate the sharpest, cleanest images possible on the chambers' monitors and residents' viewing screens.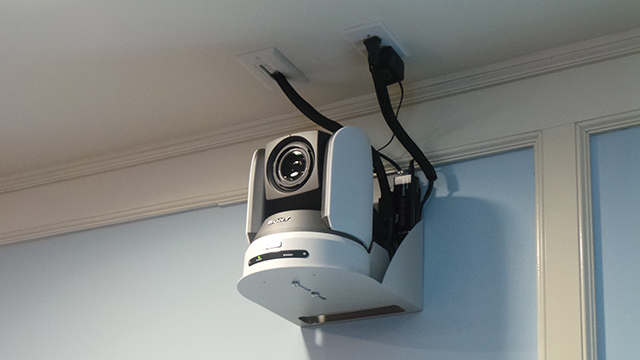 The design of equipment for the control room and production studio created a "mini C-SPAN" that enables gatherings held in the facility to be recorded or shared with remote audiences. Two additional Atlona AT-UHD-CLSO-824 8×2 matrix switchers offer the council great production flexibility with mirrored HDMI outputs, multiformat signal handling and Ethernet-enabled HDBaseT connectivity that can reach all corners of the facility. The switchers' built-in audio mix matrixes enable the village's video team to control and direct audio without the need for additional electronic equipment. Switched content is sent via an Atlona AT-HDCAT-8 HDMI-to-HDBaseT distribution amp, to LED displays, including Samsung DM48D and DM55D LED displays, in the lobby, Council Chamber and conference room, as well as streamed to the local service provider.
Although professional broadcasts can be created with the new setup, as part of his design process, Biltres carefully considered the experience levels of the end users in his design. "Although the equipment is sophisticated," he noted, "it was also important to make sure that the basic aspects of the system can be operated by people who are not necessarily AV experts or video producers." Straightforward layout of the design and "smart" features, such as the auto-switching features that will automatically send the content from connected devices to the chamber's screens, let presenters focus on their presentation, rather than on the technology.
Additional control in the chamber is provided by the BIS Digital Enterprise Room Control solution that employs Medialon Windows-based control software and a Global Caché GC100-12 protocol converter. The system can use IR, TCP/IP or RS232 to provide sophisticated room control that can be preprogrammed for many production elements, including muting microphones, controlling monitors, directing cameras and projection.
According to IT Director Michael Fleming, the Council Chamber upgrade is helping the town considerably. "The upgrade certainly modernized us," he said, "and it allows us to communicate more effectively. Our live meetings are even streamed on demand in HD." In addition, the upgrades are creating better experiences for both presenters and the audience. "Presenters have much better control of content," noted Fleming, "and can more easily monitor their presentations. We're very happy with the time and effort BIS devoted to the project and how their design seamlessly plugged into our infrastructure."
Biltres and his team at BIS pride themselves on building sophisticated AV systems that are both easy to operate and dependable. "Over the years, we have found it most important to standardize on equipment and manufacturers that represent quality that were central to the design for the Key Biscayne Council Chamber," he said. "That quality improves both our systems and our ability to support them." According to Biltres, BIS doesn't care about discounts or "trendy" products. "For a product to make it into our lineup," he said, "the quality needs to be what we expect. That makes for a better experience for the customer."