It's a good time to work in commercial AV. The industry is flourishing, recording exponential worldwide growth each year, and technology is improving at a rapid pace. High-end audiovisual installations are in demand in a slew of disparate vertical markets, from entertainment to education to business to worship. However, with AV in such high demand, it is getting harder and harder for integration companies to cash in on every opportunity, mainly due to a talent shortage that prevents them from taking on as many projects as they would like.
There has been much discussion of late about the graying AV industry and its efforts to court the next generation of AV professionals. It's a recurring topic at industry events, and many magazine articles and blog posts have been filed on the subject. But it's a good problem to have for an industry that happens to be on the rise and creates highly skilled, well-paying technical jobs, which are becoming harder and harder to find. One major problem with recruitment is that, although Millennials are an underemployed, well-educated, tech-savvy and media-saturated demographic, they do not seem to be gravitating toward AV careers. Many members of that generation remain unaware that they can make a strong living for themselves in commercial AV and, as such, many organizations have been trying to spread the word.
In that vein, InfoComm International and the International Communications Industries Foundation (ICIF) recently launched a joint effort to promote training programs for AV careers in schools across the globe. According to Betsy Jaffe, Senior Vice President of Member Services for InfoComm and Executive Director of the ICIF, "The number one obstacle to further growth of the AV industry is the lack of access to qualified personnel. And so, it was thought that, if ICIF could build relationships with colleges and universities and schools around the country and around the world, we would be able to create more feeder programs into the industry."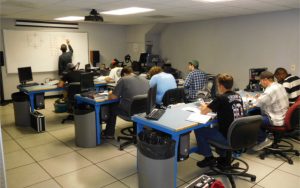 InfoComm and ICIF believe that encouraging schools to adopt curricula that will prepare students for AV careers immediately upon graduation will fill the talent pool much more quickly than the traditional model of years of on-the-job training and certificate exams. "The truth of the matter is that most people don't study for a career in AV. It's something that they end up in after studying various different things," explained Jaffe. "And we thought, 'What if we could take InfoComm's curriculum, which has been so vetted and so well received by the industry, and provide it to schools around the world at no cost so they can teach these classes and recruit more people into the industry?'" The result would be a fresh batch of graduates each year who are already equipped with technical know-how and have already earned certificates like InfoComm's Recognized AV Technologist Certificate and Certified Technology Specialist (CTS).
The effort has already drawn considerable interest. Since 2015, six schools have started programs based around InfoComm's CTS exam curriculum and Essentials of AV Technology course. And there may be a lot more schools signing up in the near future. "We have about 45 different institutions that we're currently in talks with," offered Jaffe. "InfoComm's Workforce Development Director, Joseph Valerio, and I held an open house at the InfoComm show last June, thinking that maybe we'd have three or four institutions attend. We ended up having more than 40."
To get a better idea of InfoComm's education program, Sound & Communications decided to talk to one of its newest members: the Sheffield Institute for the Recording Arts. The Maryland-based technical school offers a course called TechWorks, which teaches students the foundational skills they'll need to find work as audio and video technicians and AV installers. Sheffield's Director of Education Jake Mossman and Head Instructor Pat O'Hara provided some details about the TechWorks program.
"It's six months in length, four hours a day, four days a week, for a total of 384 hours," said O'Hara. "It's a very successful program. Many of the graduates have jobs before they even leave here. They're making very good money. Some of them are approaching six-digit income five or six years after they graduate, with just six months of training."
The course covers the basics of electricity, cabling, construction, installation, the science of sound, basic audio and video production, display devices, and digital signage. There's also a component on soft skills that involves teaching effective communication and how to prepare all the paperwork students will be expected to deal with in the real world. Five different classes are taught each year, including night classes, and each class holds up to 12 students.
Although the school's arrangement with InfoComm is still in its early stages, Mossman and O'Hara explained that they plan to incorporate the Recognized AV Technologist Certificate and CTS exam into their coursework and will enroll their students as InfoComm members. "It's a small school, so we keep in touch with our students. We're finding that the majority of our graduates who are looking for employment need that CTS certification," said Mossman. "And a lot of them are heading in that direction after their six months here." So, rather than leave it to students to pursue those certificates on their own, Sheffield decided to add their course materials to the TechWorks curriculum. "We're interested in doing what we can to make our students more employable," said O'Hara. "The InfoComm certs are certainly valuable, and many companies are aware of them. So we want to get our students involved."
These InfoComm certificates are not the only ones available via the TechWorks program. For several years, Sheffield has also offered students the opportunity to earn two Crestron certifications: Foundations of Crestron Programming (CTI-P101) and DM Certified Technician-4K (DMC-T-4K). To find out more about Sheffield's TechWorks program, visit www.sheffieldav.com/education/courses/techworks.
Other US-based institutions that have partnered with InfoComm and ICIF in their educational efforts thus far include Columbia College (Chicago IL), Valencia College (Orlando FL), the Benjamin Franklin Institute of Technology (BFIT, Boston MA) and the Downey Unified School District (Southern CA). According to Jaffe, both Valencia College and BFIT are creating dedicated associate degree programs in audiovisual studies, and will be drawing on InfoComm course materials in their classrooms.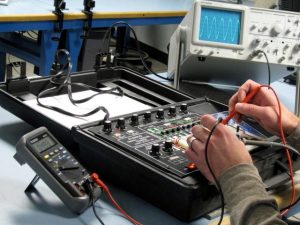 The Downey Unified School District serves around 22,500 K-12 students, and also includes a large adult education program. Jaffe was especially excited about the implications of the Downey deal, explaining that "This is our opportunity to get students excited about a career in STEAM [Science, Technology, Engineering, Arts and Mathematics], and it's easier to get people hooked on AV when they're young. I think that, by developing these relationships with middle schools and high schools, and providing opportunities for students to graduate with a certificate or even CTS certification, it's going to make them so much more marketable than if they just had a high school diploma. And if these students want to go to college, they can finance their education by working in AV."
InfoComm's workforce education program has also seen some major international interest. The program caught the interest of the Secretary of Education of the District of Bogotá, Colombia, and around 400 students are currently enrolled in AV education programs in Bogotá's public schools. In addition, in 2013 InfoComm's Mexico Advisory Group entered a partnership with the Instituto Poliécnico Nacional (IPN) that's focused on developing a student outreach program through the TecnoMultimedia InfoComm Mexico conference.
As the AV industry continues its worldwide growth, more and more companies in strong AV markets will be looking to add qualified employees to their rolls. Thanks to educational efforts by industry organizations like InfoComm and ICIF, the talent pool will only get deeper.
Editor's Note: For more information about InfoComm International and ICIF's workforce development program, visit www.infocomm.org/icif. If your school or organization is also doing its part to foster AV education, send an email to dsilverman@testa.com and tell us about it!