Hospitality could use a friend these days. The sector known and named for its welcoming nature today finds itself under very modern pressures: Hotels have been getting the Uber treatment in the form of Airbnb and VRBO cutting into bookings. Meanwhile, and partly in response to that disruption, the $7.6 trillion hotel industry is seeing a significant uptick in consolidations, with four major M&A actions totaling more than $16 billion in 2015 alone, including Marriott's $12.2 billion takeover of Starwood.
Social Media Pressure
Hotels and other hospitality businesses, including restaurants, are also reeling from very real social media pressure. A seemingly endless number of consumer-review sites online have been raising consumer expectations, sometimes beyond what can realistically be achieved. A 2015 Harris Poll survey of more than 300 executive-level respondents in sectors including hospitality revealed that 82% reported that their customers have higher expectations compared to just three years ago, 60% agreed that it is difficult to please their customers and 42% note that customers use social media to shame their company into doing what the consumer wants. Much of that is driven by consumers' experiences with their own AV devices.
"Social media and the rise of nontraditional, web-based entrants into established industries have evolved their expectations," the survey concluded. "Consumers use digital channels to find and share information, reviews and insider tips. At the same time, they are using those channels to…sometimes shame brands into solving their problems."
Everyone who never used Yelp or Trip Advisor to check out hotel reviews before booking, raise your hand.
Right. We thought so.
Fixing The Picture
That's where AV has been entering the picture, in ways beyond its traditional applications such as televisions in the sports bars and background music in lobbies and restaurants. "It's all about interactive touchscreens now," said Rod Andrewson, Manager of Technology and Quality Control at Scottsdale AZ-based CCS Presentation Systems. "Hotels are starting to take their cues from airports. Everyone wants to touch the screen to get exactly the information they want right then," an extension of a mobile-device touchscreen culture.
But Andrewson has noticed a nuance to the trend: Hotel clients initially requested larger multi-touch displays to accommodate more users and increase the "wow" factor. "Sixty-five-inch screens didn't seem like they would be large enough, so we went to a 75-inch Planar multi-touch display," he explained. "But when you actually watch people interact with it, it can overwhelm them in terms of scale. What we found instead is that 55-inch displays seem to be the most comfortable size. You'd think bigger would be better, and we even got some pushback from our vendors, but that's not what experience was telling us."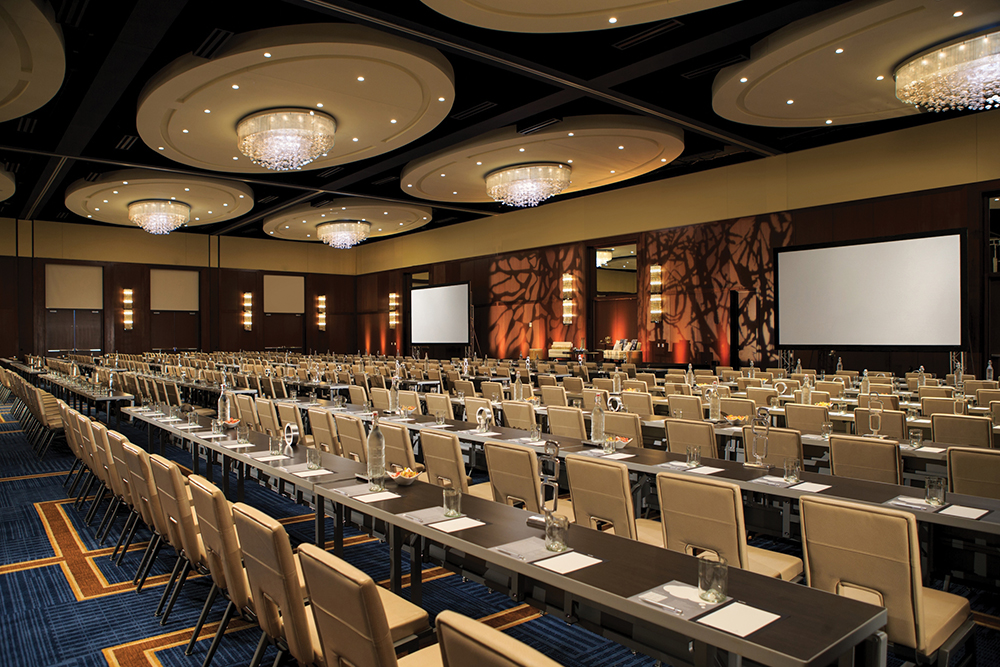 Andrewson and other integrators and consultants are also seeing LED videowalls now finding their way into lobbies and reception areas. That's also driven by consumer expectations for larger (non-interactive) video with higher resolutions, and it's being enabled by declining costs for tighter-pitch screens. Andrewson said that hotels are abandoning videowalls comprising 55-inch LCD screens in favor of LED-panel walls, a trend that has accelerated considerably in the wake of InfoComm16 in June. Just since then, his company has embarked on four lobby projects in which LED video is being used instead of LCDs. "No one wants to see bezels anymore; LED saw to that," he stated.
First Interaction
"Video is often the first interaction with the hotel that many guests will have," offered Nash Summers, Installation Manager at Presentation Products in New York City. He's seeing displays become more numerous and their content more engaging, with applications ranging from their use as greeting points that direct guests to their rooms (which they'll open using their smartphones) to informational kiosks that use Kinnect-type cameras to create colorful interaction with guests. In one, sparks cluster around an approaching visitor, an early indicator that the screen "acknowledges" him or her. This has also placed more importance on media servers to manage and distribute that content, he said, adding, "Video now contributes to the overall interior design of the hotel."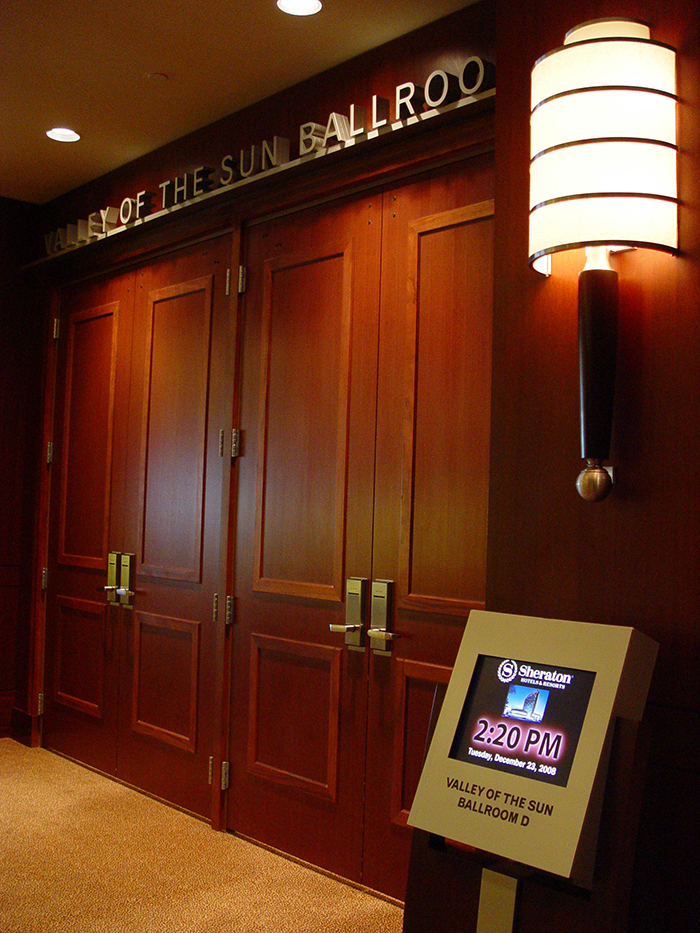 Jeff Loether, President of Electro-Media Design in Gaithersburg MD, which counts Marriott, Fairmont and Loews hotel brands in its hospitality portfolio, agrees that interactive video is showing up more often in hotel lobbies and other areas, for informational applications such as wayfinding and event announcements, integrating programs such as Microsoft Hubs with Sharp multi-touch displays. However, he cautions, interactive displays ought to be used judiciously: Their novelty often leads to them being dominated by a single user, and even a minute or two's wait can turn off other users and contribute to a negative sentiment that blows back on the property.
User Habits
Awareness of user habits and nature is normally a strong suit of AV professionals, who know intimately the optimal viewing distances of various-sized displays and the space that a 60Hz sound wave requires to fully unravel. But the hospitality sector is its own world. Loether and other integrators who work in it know that hotel chains often have relationships with consumer brands. That was a big thing 20 years ago, when some savvy marketers ginned up demand for hotel-style bedding products that conveniently could be bought in the hotel gift shop or in Macy's. The idea is again building steam, but with AV products this time.
"Samsung and LG are the big ones duking it out there," observed Loether, but they're joined by Bose, which has been putting its clock/radio/music players in high-end hotel rooms for decades, and other brands that straddle the pro/consumer divide, including Bang & Olafson. That phenomenon can lead to hotels specifying and, in some cases, even supplying their own LCD displays. And when they do so outside of the guest room itself, that can put integrators on the spot.
Most seem willing to let that slide, in part because LCD displays have become such low-margin commodities and because the relationships between the hotel and electronics brands have become so deeply embedded. Several pointed to manufacturers that have been actively leveraging the crossover between their consumer and commercial hospitality products, including Crestron and Harman. Last year, in a parallel move, Harman rolled its AVL brands, including AKG, Harman Kardon, JBL, Lexicon, Mark Levinson and Revel, into strategic business units targeting enterprise-wide verticals, including hospitality.
Hotel Sound
Audio continues to be a key component of hospitality, and even though most of that takes the form of background music or audio for televisions tuned to sports in bars, the overall quality level has been on the upswing. That's part of what has propelled Clair Solutions, the installation division of Lititiz PA-based Clair Global, deeper into the high-end hospitality sector.
Jan Luszczek, a Systems Designer at Clair Solutions, said that "audio everywhere" has become a strategy for hotels, even as they want it kept in the background. "All of the common areas, such as the bars, the lobbies, will get speakers now," he said. "But they're supposed to be heard but not be distracting." Except, he added, when it's a DJ playing. Most lobbies and other common areas now will have at least line inputs that portable DJ rigs can be efficiently plugged into. This is part of an industry-wide trend toward making every open space monetizable as an event space. Luszczek said that has meant installing rigging points for projectors, screens and small lighting trusses, as well, turning almost any space into a stage in waiting.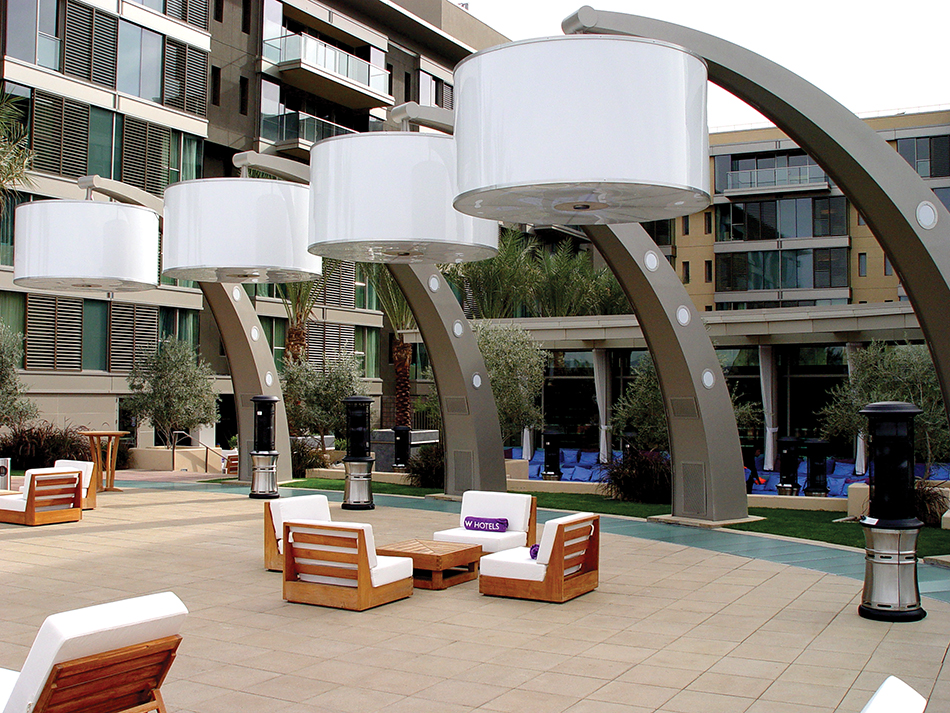 "This means that they need full-range speakers everywhere, even areas that just used to get paging audio, like the lobby," added David Soran, Senior Account Manager at Logic Integration in Denver. "Some of those areas also routinely get subs in the ceiling, too." In addition, it has meant more individual zoning of those distributed sound systems to allow greater granularity in where and how loud music is throughout the property. And, that has come to require wireless iPads that let managers monitor audio in person, everywhere, and make adjustments on the spot. "Restaurants and bars that typically aren't being used at 9:00am now become potential event spaces because the AV is already in place," he said.
In some applications that are very up to the minute, Rod Andrewson said that some of his hospitality customers are asking that streaming products like Audio Everywhere and Audiofetch be added to interactive video installations, to send streaming audio to personal mobile devices relating to concierge, advertising or loyalty-program functions. That kind of targeted audio distribution is the next logical extension of the Brown Innovations Directional Audio and Dakota Audio focused speaker systems they've used in the past for directed audio.
They're also being used in hotel workout rooms to achieve what he calls the "silent gym" effect that's actually bringing millennial guests into those often-underused spaces. Installed in the gym at the Phoenix Sheraton, Andrewson said that the ability to individually choose the audio on various television channels in the gym seems to be removing a point of contention that may have been compelling some people to avoid gyms altogether. "Especially in an election year," he added.
Looking further into the future of hospitality, Brian Edwards, CEO of Edwards Technologies, a Los Angeles consultancy whose portfolio includes the Resort at Pelican Hill and themed restaurants such as the House of Blues and Margaritaville, said that he can foresee a decline in the need for video displays of all kinds in hotels as information distribution migrates almost fully to mobile devices. He said that current projects underway in the Silicon Valley area use LCD and LED video as canvases for artworks rather than as information systems. In three projects, the front desk has all but disappeared, replaced by kiosks and wireless connectivity.
"Hotels aren't going to look like they do today five years or so from now," he predicts. "In fact, AV isn't going to look like it does now." The displays will be integrated into the architecture and the main interaction between hotel and guest will take place on mobile devices, not unlike it is beginning to with banks and retail. "Millennials don't need to talk to anyone in person; they have their phone for that," Edwards said. "Everything you see that's being used for now, just apply it to hotels. AV is just part of technology, and technology is what people want."