Adoption of "audio-over-IP" technology is increasingly prevalent, and it's a market presence worth discussing for systems integration.
In basic terms, "audio-over-IP" is the use of IP streams for transferring uncompressed audio within a LAN environment, using off-the-shelf gigabit Ethernet infrastructure. The audio is multiplexed into high-speed data packets. Current off-the-shelf gigabit Ethernet switches allow high-channel-count, low-latency delivery of audio. IEEE standards provide a deterministic and extremely reliable approach for the integration of this technology.
Audinate's Dante protocol is the glue that makes this all possible. Audinate has more than 200 licensee manufacturers with more than 300 products available today, and more companies and products are coming on board all the time. Leading AV consultancy RH Consulting projects that, by the end of 2016, 300 companies will be on board, with 800 or more products. As an example, our company, Focusrite, has four new RedNet Dante-based products, bringing its total count to 12 available audio interfaces working with analog mic/line, AES, MADI and Pro Tools digital signals.
The Dante protocol is easy to implement and maintain. Audinate provides regular firmware updates, and the participating licensees are able to rely on the talented professionals at Audinate for development, support and, above all, interoperability. This has allowed Dante to become an industry standard among networked solutions. We have shipped thousands of RedNet units to customers, and the user experience is exceptionally good. The gear just works: Set it and forget it. It is important to choose vendors that provide enhanced pre- and post-sales support and, more importantly, those who take "ownership for the application."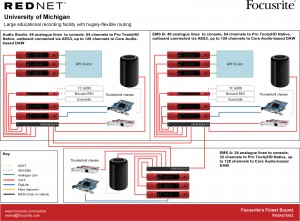 Dante is a "Layer 3" protocol, which differentiates itself from other Layer 2 networking protocols, such as AVB. Layer 3 provides benefits such as security and routing capabilities. The emergence of standards, such as AES67, will allow companies' varying Layer 3 protocols to interoperate (i.e., Dante, Q-LAN, Ravenna, Livewire and others will now be able to communicate with each other). Audinate is offering AES 67 support in Dante. What we're seeing is the development of essentially the equivalent of the "XLR connector" for networked audio.
Analog audio cabling, in use since the advent of Alexander Graham Bell's telephone, offers tremendous reliability, but it is expensive, bulky and quite heavy compared to audio-over-IP networking-based alternatives. There are design and integration costs associated with older technology, not to mention the inherent limitations affecting sound quality from grounding, EMF/RFI and phenomena such as "skin effect" issues. Audio-over-IP networking represents audio cabling for the 21st century.
Ethernet cabling offers many advantages and is less expensive by orders of magnitude. It is easier to design and much less expensive to implement because it is faster to install. Fiberoptic cabling may be employed in a networked environment, allowing audio and control to be sent miles away with no signal degradation whatsoever. Inexpensive, off-the-shelf switches employ SFP modules, providing easy access to fiber connectivity. Projects may easily implement gigabit switches as a cost-efficient solution.
We're seeing the broadcast video world migrating to an IP-based future. For customers wishing to implement audio and video in the same networked environment, 10-gigabit switches are now more affordable. Gigabit switches provide 500-audio-channel capacity, and 10-gigabit switches can provide multiple HD-SDI- or IP-based video feeds in addition to hundreds of audio channels.
Audio-over-IP is becoming more widespread in mission-critical applications, such as broadcast and touring. Today, it is relatively easy to implement audio-over-IP networking into an existing educational facility or house of worship because the networking infrastructure already exists. Any installation over the last 10 years is likely using Cat5e cabling. New installs can take advantage of Cat6 or fiber cabling throughout.
Dante protocol allows mixed-use traffic on a gigabit fabric. For those wanting a fault-tolerant method, the common practice is to have the audio and video on the mixed-use network and the secondary or backup audio streams on a dedicated network, providing maximum connectivity and security.
Integration firms will increasingly be able to provide the design capacity for audio and video over IP. More and more equipment vendors are willing to support this state-of-the-art approach. From a design perspective, it couldn't be better. Networking possibilities are only limited by the requirements, not the technology. For a change, it's nice to see technology that is easy on the budget and schedule, while offering technological improvements and futureproof design.