Become a Brain Surgeon in just 15 Minutes a Day!
Okay, maybe not.
Have you ever been asked to describe a basic concept in simple terms and found that it's not that easy? Have you ever found yourself throwing out a commonly used industry term and wondering if your customer really understands what you are saying? All too frequently, I see technical ideas communicated in a manner that is either too complex for the audience or oversimplified to the point of being useless. "Analog," "digital" and even "sound" are three common items that come to mind. Simplified explanations oftentimes lead to more confusion, as poorly defined acronyms or assumptions of prior information abound. Too many details can be just as much of a problem.

To help effectively communicate these ideas to customers, we present, "Are They Smarter Than A Fifth Grader? The Audio Edition," tested and approved by my twin middle schoolers and their younger sister. If they can get it, your customers can, too.
One of the first questions I ask my recording engineering students is, "What is sound?" Although you probably have never been asked by a customer to define "sound," this is such a fundamental concept that it may be a good jumping-off point for us, as well. We can use the simplified textbook definitions that call up "vibrations," "medium" and "sensation." Yet, unless people are engaged in acoustics, they may not give much thought to what these vibrations actually are, and the textbook definitions really don't provide enough information to help the common person. So, grab your snorkel and swim fins, 'cause we're going to look just beneath the surface.
We can think about air as being made up of a bunch of tiny particles. These particles include the stuff we breathe in on a regular basis: oxygen, nitrogen, second-hand smoke, the cheap cologne the person next to you is wearing, and a bunch of other tiny bits and pieces you may not want to think about. We'll call these particles molecules. Just like little wads of paper sitting in your recycling bin, or the tufts of thinning hair on your scalp, these molecules all have a density: a spacing between the units.
In air, this spacing is called atmospheric pressure. Like most solids, air molecules are elastic. This means that they want to maintain their density. Push them closer together or stretch them apart and they'll want to spring back to their original spacing, just like the elastic in your underwear (or at least the pair you bought after putting on that last 20 pounds).
If something comes along and disrupts the normal spacing of these molecules…say, a hand clap, the bowing of a string or the screams of adoring fans, at least one air molecule will move: either closer or further from its neighbors (in reality, because each molecule is surrounded on all sides, it will move close to some and further from others). Due to elasticity, the molecule will want to move back to where it was, relative to its friends. This original location we can call equilibrium.
In the past, you probably learned about something called inertia. If something is moving, it wants to keep moving, unless something else makes it stop. Inertia is a law of physics and some laws can't be broken. So, our air molecule that is running back to its original position (due to elasticity) will overshoot equilibrium and keep on moving (because of inertia).
Let's illustrate using an analogy of a weight on a spring. Pretend that each coil of the spring is an air molecule. Pull down on the weight and the coils get further apart. Due to elasticity, the coils try to return to equilibrium, their original spacing. But they don't stop at equilibrium; they overshoot and keep going due to inertia. As the coils (or molecules) get closer together, they realize that they are too close, so elasticity takes over and tries to push them apart, back toward equilibrium. As they move further apart, do they stop at equilibrium? No, they overshoot due to inertia, but they only get so far before elasticity takes over…and the process continues (see Figure 1). And continues (see Figure 2)….
This back and forth caused by the interplay between inertia and elasticity results in the wave motion in air sometimes described as vibrations.
But it's more than just the movement of a single molecule relative to its surrounding friends. Because each air molecule is surrounded on all sides by other molecules, when one moves closer to some, it is also moving away from others. Those that are further apart try to move closer, and those that are moved closer try to move further apart, back toward equilibrium. But, as each of the surrounding molecules tries to find equilibrium with the one that started it all, they are moving in relation to each of their neighbors. So what happens? All of the surrounding molecules of the surrounding molecules are now getting into the game and a chain reaction is off and running. This chain reaction continues to move outward from the source in what we call propagation.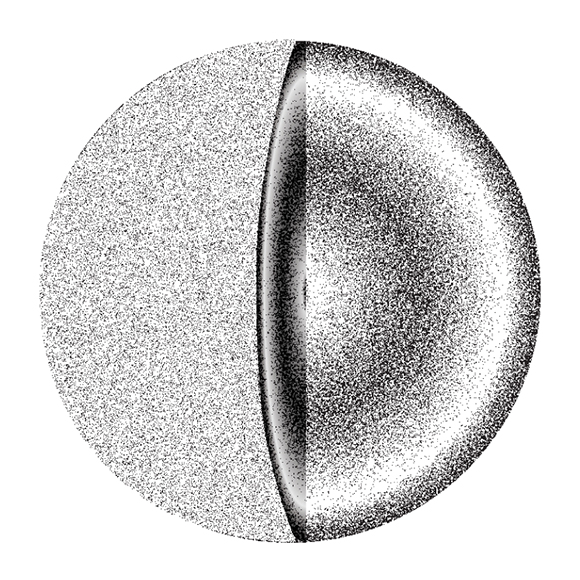 As sound propagates (spreads outward from the source), some molecules (bits and pieces) will be closer to each other than normal atmospheric pressure (regular density), and others will be further apart. Where they are closer, it is called compression (think squeezed), and where they are further is called rarefaction. These combined motions that cause the propagation are actually a sound wave.
Sound will propagate evenly in all directions until the wave runs into something, at which point a number of cool things happen. But these will have to wait for another time. Hopefully, with this type of description, we have started to shed some light on what those funny-sounding vibrations really are. Should the question come up, we hope that you are now better prepared to describe sound in terms that your customers and even a fifth grader can understand.
Are you finding this helpful? Let us know. Send comments to the Editor at dsilverman@testa.com.