The Richard E. Berry Educational Support Center is a multi-purpose sports complex that services the Cypress-Fairbanks Independent School District, an independent school district in northwest Harris County TX that has well over 116,000 students. Sean Ramsey, the Berry Center's Technical Systems Manager, and his team are responsible for the implementation of all audio and media setups for the busy center. In addition to the Cy-Fair Federal Credit Union Stadium, a 500-seat professional theater and 17 separately configurable conference center spaces, one of the center's most popular venues is the Berry Center Arena.
At more than 25,000 square feet, the Berry Center Arena is the center's largest onsite, indoor space. It provides permanent seating for 8,300 and ample floor space for 1,700 additional seats. The opportunities that the space provides are endless, as it can convert from sports arena, to concert venue, to place of worship. And all that can happen in one weekend! With so much going on, Ramsey and his team were struggling to reconfigure media systems manually to maintain efficient use of the arena, theater and conference spaces. Plus, the sound quality and coverage limitations of the arena's aging AV systems were beginning to impact events negatively.
Addressing Multiple Event Types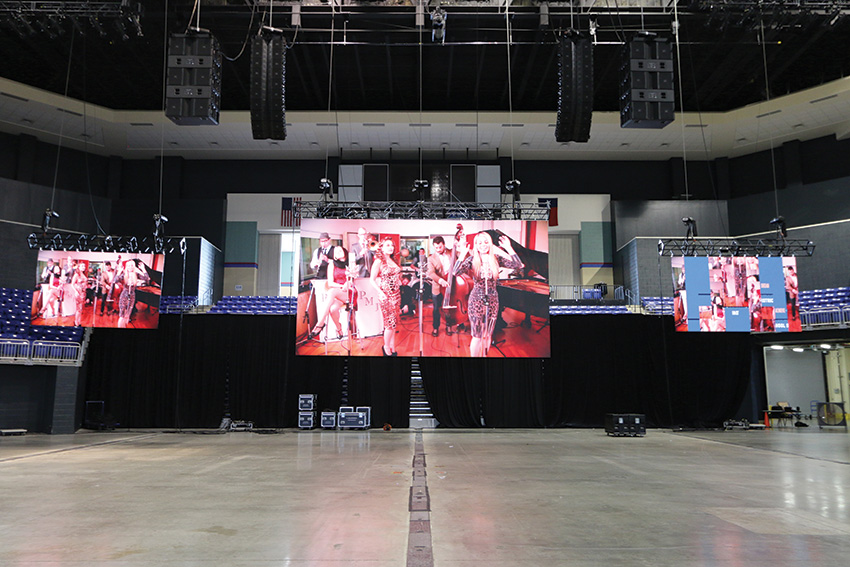 With 16 full-time staff members, Ramsey's team is always busy. The 4,000 events held at the complex every year can include setups for meetings of 10 or fewer people at the conference center rooms, to school concert events, to televised NCAA sports events, to as many as 30 annual graduations that can fill the arena. Adding to the team's challenges, major arena events frequently overlap with conference center meetings or other events. The team was frequently tasked with having to move loudspeaker systems around the arena when the space was divided, only to have to return the system to its previous configuration for the next event.
"We would try to make our old line arrays work," Ramsey recalled. "Inevitably, they would work for some events, but not for all of them. We'd have dead spots and fall off. We sometimes resorted to borrowing speakers from one area for another, or just added something portable to solve a problem quickly. It wasn't a good situation."
With 20 years' experience in live event support, Ramsey knew that not only was his staff of 16 full-time engineers and operators stressed but, in addition, audio quality for arena events was suffering. So, when the opportunity to upgrade the audio system for the arena presented itself as part of a larger package of overall improvements to the space, Ramsey jumped at the chance to find a better and smarter way to operate.
Ramsey conferred with Doug Hill, Account Manager for Ford Audio-Video, LLC, to share the arena's needs and find what he hoped would be a set of creative solutions. Hill did an extensive survey of the arena with Ford AV Project Manager Dave Shriver. "Our clients frequently ask about upgrading a space," Hill said. "In those cases, our practice is to dig down to get the more complicated picture. We like to talk not only with the engineers, but also with the people who are using the space. Often, past the original solution, we can also add flexibility or other options that will pay off in the future."
Hill was happy to find that, in this case, his client was also very knowledgeable. The arena's history and its needs, coupled with Ramsey's strong vision for the venue's future, clearly outlined the necessity of a new, distributed audio system for the arena space, as well as better infrastructure to address media needs throughout the center.
Ford AV followed up with extensive research, which included making multiple site visits to survey the arena space and obtain both architectural and technical drawings. Using that information, the team generated an accurate Enhanced Acoustic Simulator for Engineers (EASE) model of the space. For this work, the team called on Ford AV's Project Engineer, Patrick McDaniel, who produced a distributed audio design for the arena that employs two distinct and separate loudspeaker systems to address the venue's many event types.
McDaniel's innovative design leverages an arena bowl system to provide effective coverage for sporting and other events (where a stage located at one end of the arena is not in use), and a line-array system for concerts, graduation ceremonies and other events that are presented from a stage (located at one end of the arena). In addition, by carefully planning system coverage and connectivity, parts of the arena system can be effectively used during atypical arena events or to supplement the coverage of line arrays in hard-to-reach areas.
Arena Bowl System
McDaniel's arena bowl system design called for individual clusters of JBL PD and ASB Series loudspeakers, which were strategically placed throughout the arena for optimal coverage. Clusters used PD6322/43 40°x30°, full-range, three-way loudspeakers in areas where long throws were required, as well as in mid-throw situations. For areas that required significantly shorter throws, PD6322/66 60°x60°, full-range, three-way loudspeakers were deployed. Additionally, PD6200/43 boxes were used on corner clusters for long-throw applications, along with PD6322/64 configurations for short throws. "The arena's corner clusters, in particular, turned out well from a coverage and sound-quality perspective, thanks to the use of DSP techniques," McDaniel noted. Rounding out the system design, JBL ASB6128 subwoofers in each cluster provide balanced low frequencies.
The coverage patterns of the arena loudspeaker clusters were purposefully kept very tight so that the PD loudspeakers, which cover the upper deck, could be used as fill loudspeakers for the line-array system. "That plan worked out well," McDaniel said. "We were able to keep the line arrays to a manageable size while, at the same time, providing excellent coverage in the upper-deck seating areas." The clusters are powered by 27 Crown DCi network amplifiers and configured with Harman Audio Architect.
Installation of the clusters presented the team with some unique challenges. Working with an interior clearance of 60 feet, seven inches to the arena's low steel, and preserving sightlines from the upper seating, presented significant challenges for rigging the clusters. The precise placement of six new, steel-reinforced spans required the careful use of as many as four boom lifts to meet the plan's structural requirements. The team worked closely with PBK Architects of Houston TX to add structural steel properly, where required. The new speaker locations also necessitated additional power circuits and conduit to be run in hard-to-reach areas of the arena.
Line-Array System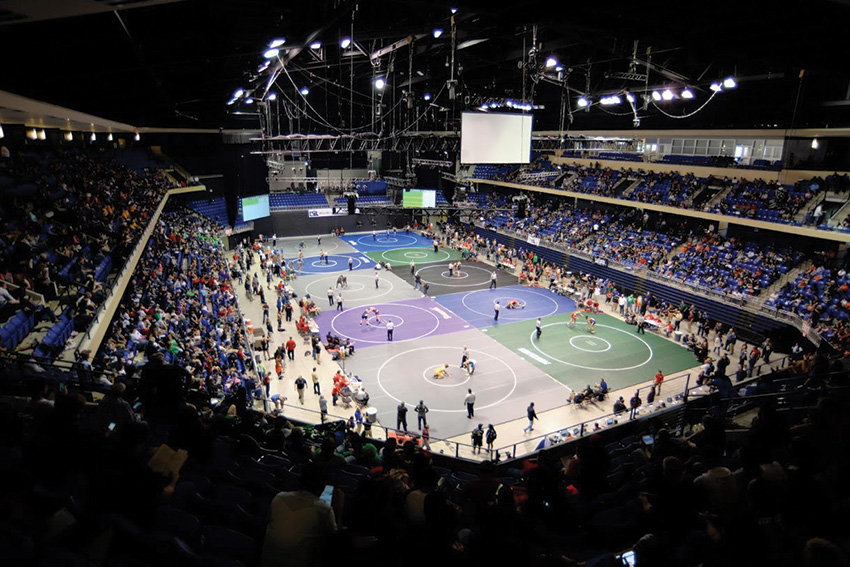 For concert and stage applications, McDaniel's design employed JBL VTX Series loudspeakers flown at either side of the stage. Each array consists of 10 JBL VTX-V20 boxes rigged with VTX hardware and frames. VTX-V20s are three-way, high-directivity line-array elements, each with two 10-inch and four five-inch speakers, along with three dual-diaphragm compression drivers. The V20 design provides 105 degrees of horizontal coverage. Two subwoofer cardioid-array configurations, each employing five JBL VTX S28 dual 18-inch subwoofers, provide extended low frequencies with significant rear rejection. PD loudspeakers installed as part of the arena system clusters can be engaged to provide controlled fill to cover the upper-deck seating areas.
"The array system at the Berry Center Arena provides the venue with a professional concert audio system with outstanding sound quality," Hill noted. "It will more than satisfy the sound rider of any touring act." The system of arrays is powered by 15 Crown I-Tech 4x3500HD amplifiers and configured using JBL's HiQnet Performance Manager software. All signal processing is handled with the Soundweb London BLU-806DA configurable signal processor and/or the DSP that's onboard the Crown amplifiers.
A motor control system was installed to raise and lower the line-array speakers for servicing or reconfiguration. Four CM Lodestar D8+ motors are used with a Skjonberg CS-400R motor controller, the company's PIJ-REM remote control panel and P4-HCS-D handheld remote. The remote plugs into the PIJ-REM with a 50-foot remote-extension cable, which allows an operator to control the array height from the floor.
Better Infrastructure And Control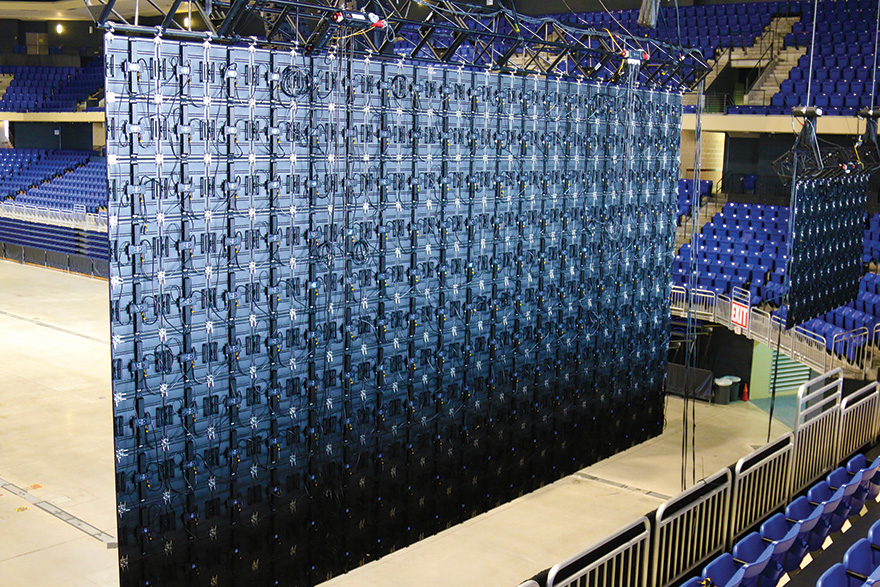 In addition to great sound and even coverage throughout the arena, McDaniel's design also considered the audio team's need to change configurations rapidly, without having physically to realign hardware. "We provided the customer with several custom pages inside Audio Architect," McDaniel noted. "This helps them to easily control the audio system, as well as monitor the health of the components and the network." Functions are available to monitor Dante network connectivity and AES connectivity to the Crown I-Tech amplifiers, as well as to provide fire-alarm mute and other important features.
Ramsey and his team are pleased with the ability to control sound better, without having to rewire or physically move speakers to cover atypical events. "We have eight presets set up in the London processer," Ramsey said. "That provides us with eight different configurations for sound. Each provides some set customizations to localize audio to different areas of the room and based on crowd size."
In addition to new loudspeakers, the project also involved a build-out of the complex's video-production room and a significant expansion of the existing Dante network to connect the various spaces within the Berry Center facility. For the network expansion, fiber links provide connectivity between the existing network, new Ethernet switches and several of the smaller spaces, which, previously, had not been included in the Dante network. Network equipment from Cisco includes 10 MGBSX1 gigabit SX mini-GBIC SFP transceivers for fiber connectivity and a combination of SG300 and SG500 managed switches. Crestron CP3 network-grade server appliances provide an IP-based control system.
As part of the careful planning by Hill and Shriver, early surveys of the center considered connectivity with other spaces that are aligned to the arena. "We kept looking past the obvious," Hill said, "to be sure we met the goals for all the center's locations." Using the ability to distribute audio across the spaces via the Dante digital network, McDaniel's audio design expanded to include the addition of new Allen & Heath dLive mix engines in the arena at front-of-house and monitor positions, along with dLive S7000 control surfaces. The S7000 is the largest control surface in the A&H dLive family and features a fully assignable layout, with 216 assignable fader strips, 36 faders over six layers, dual 12-inch capacitive touchscreens and an innovative user interface to promote efficient workflows.
Unlike typical audio consoles, dLive control surfaces control the attached mix racks that provide powerful, parallel mix engines, effects and EQ. An additional S7000 console was installed as the main audio console in the center's production room. Smaller Allen & Heath S5000 consoles and dLive mix racks were added in two key locations in the conference center, as well as in the theater. "Using the same board, with a familiar interface and Dante distribution, makes many common tasks easier for our team," Ramsey affirmed. "To have a familiar mixing interface everywhere in the center means that we can react faster. It also minimizes training needs."
In planning for more easily reconfigurable systems for the arena, the team gave consideration to improving visual communications by replacing the limited projection systems with strategically placed video-
walls. "Our old projection system had serious limitations," Ramsey recalled. "Projection was just not bright enough, and it lacked contrast." In addition to presenting better images, the videowall design, much as with the audio design, took into consideration the different needs presented by stage and sporting events.
"Video systems were designed to support the two primary functions of the arena," McDaniel said, "which are stage events that focus attention at one end of the arena and sporting events that require visibility from every seat."
At the stage end of the arena, 340 Planar Leyard CarbonLight CLI5.2D panels with 5.2mm pixel pitch and dual redundant power supplies were used to create a massive 32.82'x18.05′ fine-pitch LED videowall that has a resolution of 1920×1056. The center videowall is flanked by 16.4'x9.8′ walls with 960×576 resolution. To handle other applications, such as sporting event scoreboard software, the center videowall can be quickly reconfigured into two separate walls by using Planar's VSP-F2L4 LED wall processors. Four processors were required to accommodate the various configurations of the LED videowalls at the Berry Center Arena.
As with the distributed audio system, having access to sufficient AC power for video components of the LED wall represented a significant challenge for the installation team, and it required engaging a subcontractor to add additional circuits to video locations. According to McDaniel, "For maximum brightness, the new LED walls required significantly more power than the previously installed video-projection systems. We engineered our solution to provide that option."
To go along with the video panels, Planar provided a full complement of signal distribution with five Planar SDV08 units, while also providing AC power distribution with six Planar PDV09 units. According to McDaniel, those pieces make distribution of the signals much simpler than it would otherwise be. As implemented at the arena, fiberoptic cabling distributes signal between the VSP-F2L4 processors located in the video-production room and the Planar SDV08 units located at the videowalls.
"The LED walls' ability to map various resolutions presents both challenges and opportunities to present whatever you can dream up," McDaniel noted. Blackmagic Design UltraStudio 4K Thunderbolt 2 capture and playback units are used to accommodate computer video, and the incoming video signal for the videowall is provided by a Panasonic AV-HS6000U2 video-production switcher.
One of the challenges the team encountered during installation was that the Planar VSP-F2L4 processors would not align properly with the video signal from the Panasonic switcher. "Fortunately," McDaniel stated, "a Decimator MD-HX cross convertor was able to resolve the issues between the two pieces. These little red boxes are a lifesavers!"
Measures Of Success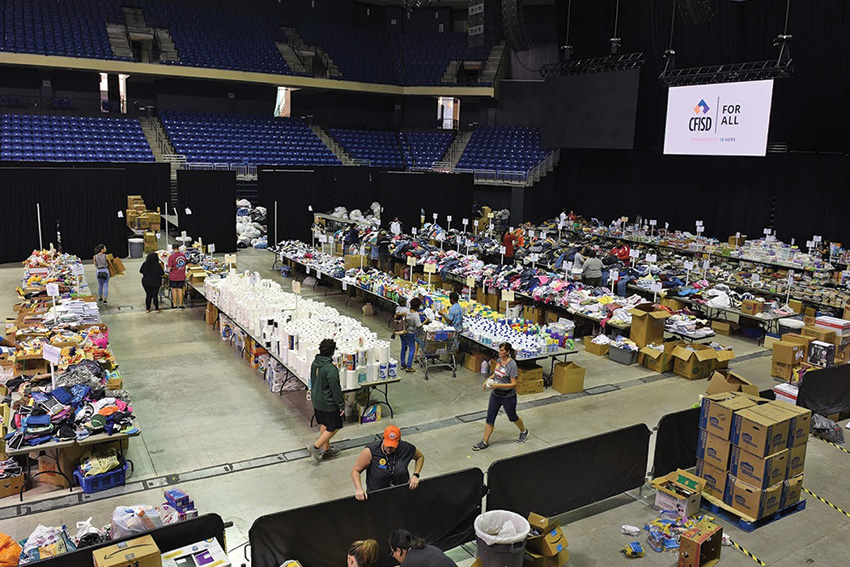 Ramsey and the Cypress-Fairbanks Independent School District are pleased with the result of Ford AV's technology upgrade at the Berry Center Arena. An upgraded and more versatile distributed audio system, an expanded IT infrastructure that connects audio consoles throughout the complex, reconfigurable high-resolution videowalls and a fully functioning production control room have improved both the media experience for attendees and the workflow for the media team.
Apart from ease of use, the recent upgrades to the arena's IT infrastructure allow Ramsey and his team to be more effective. Now, they can easily share audio sources and destinations throughout the facility, as well as create multi-track audio and video recordings of meetings, events and training sessions for the district's 15,000 employees.
"Better connectivity provides us with a lot of added functionality," Ramsey noted. "That allows us to both operate more efficiently and offer more in-demand professional services."
Ramsey knows that the real proof of a successful upgrade lies with his audience. "We knew the project was a success," he explained, "after our first event. It was a banquet for about 1,000 people, many of whom had attended events here before. Afterward, people asked us how we made it sound so good."
As further evidence of the arena's ultimate flexibility, the space was used as a major relief location for the county during the Hurricane Harvey disaster. "We were happy to see that the facility was serving the community in that time of need," Hill recalled, having seen the team's designs at work on the evening news. "Cartoons were playing on the video-walls for the kids, giving some level of comfort to children and displaced families. It was great to see."