Fan expectations at sporting events, concerts and other live performances have completely transformed, and modern digital displays are leading the way in shaping the new, improved fan experience. Major sporting events have become expensive, big-ticket affairs where prices can be similar to those for rock concerts that feature prominent talent. Audiences now expect visual spectacle, and most venues and sports teams believe it's a worthwhile investment to use high-end videowalls and digital signage systems. What older sports stadiums might lack in architectural grandeur can be overcome by the installation of eye-catching digital displays. And, for newer facilities, such technology is of a piece with their sleek, contemporary vibe.
Beyond The Bowl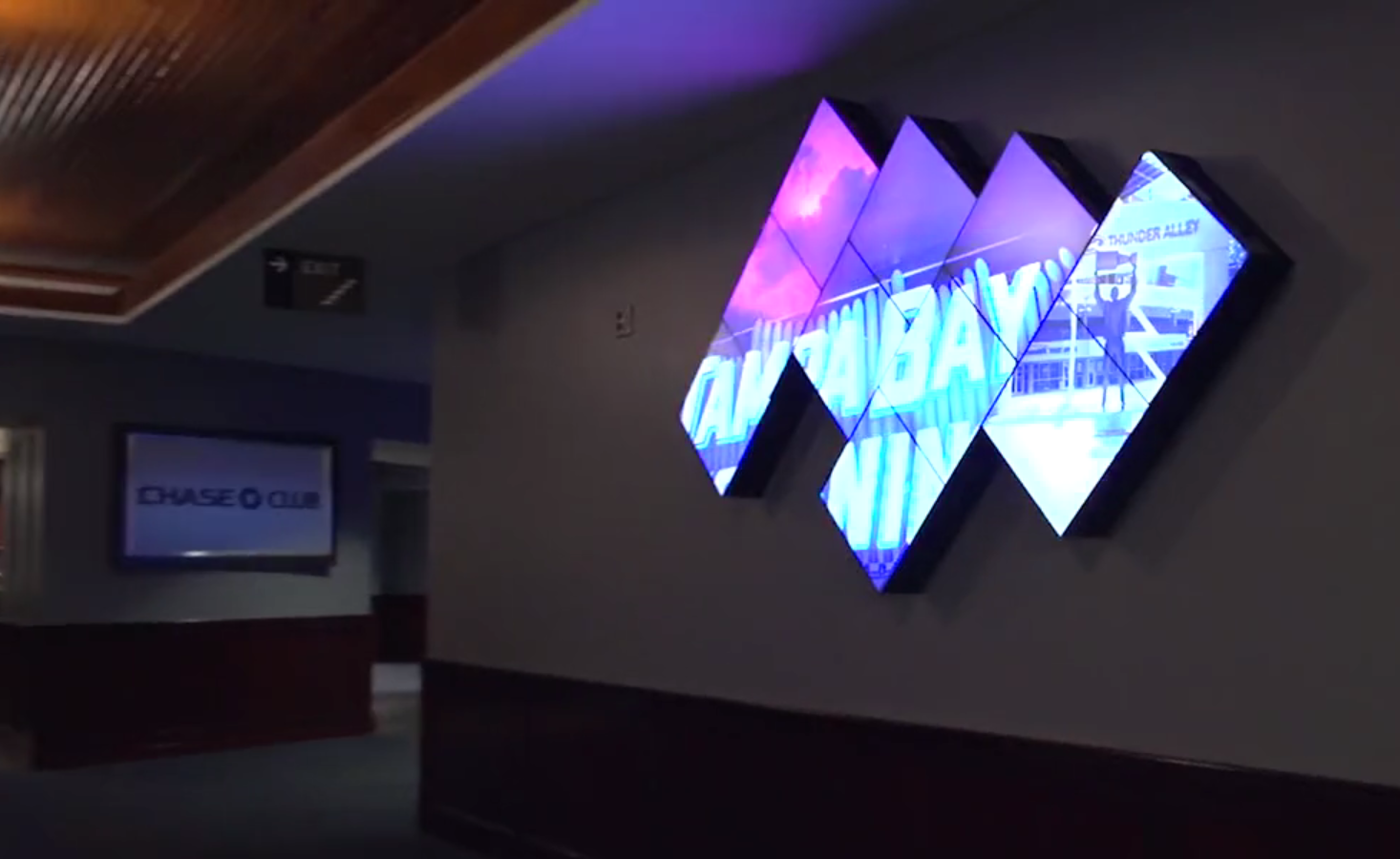 Modern, network-driven display infrastructure has allowed digital displays to amplify the fan experience in ways that can be transformative and enriching. Displays can showcase not only the event itself, but also the venue, the team and its history, the science behind the sport and even the city. All of that makes the event highly relatable. For a fan, there's nothing like arriving at a favorite team's home game and, while en route to the seat, seeing displays that showcase the stars of today, the glories of yesterday, and replays of amazing plays and goals—all building energy and momentum heading into the game.
Out in the concourse, videowalls are often a better approach than individual screens, because they can effectively present star players and get fans excited in the lead up to the game. There's no better way to build excitement than to deliver dazzling content on a very big screen (e.g., a 3'x3'x6′ videowall) or a memorable, distinctive artistic videowall. Artistic videowalls, as compared to traditional videowalls, offer an opportunity to stand out and grab attention. The best thing is, they can be designed in virtually any layout imaginable. Integrators can intermix a number of shapes and sizes of displays to accommodate any content and complement any space.
Amplifying The Fan Experience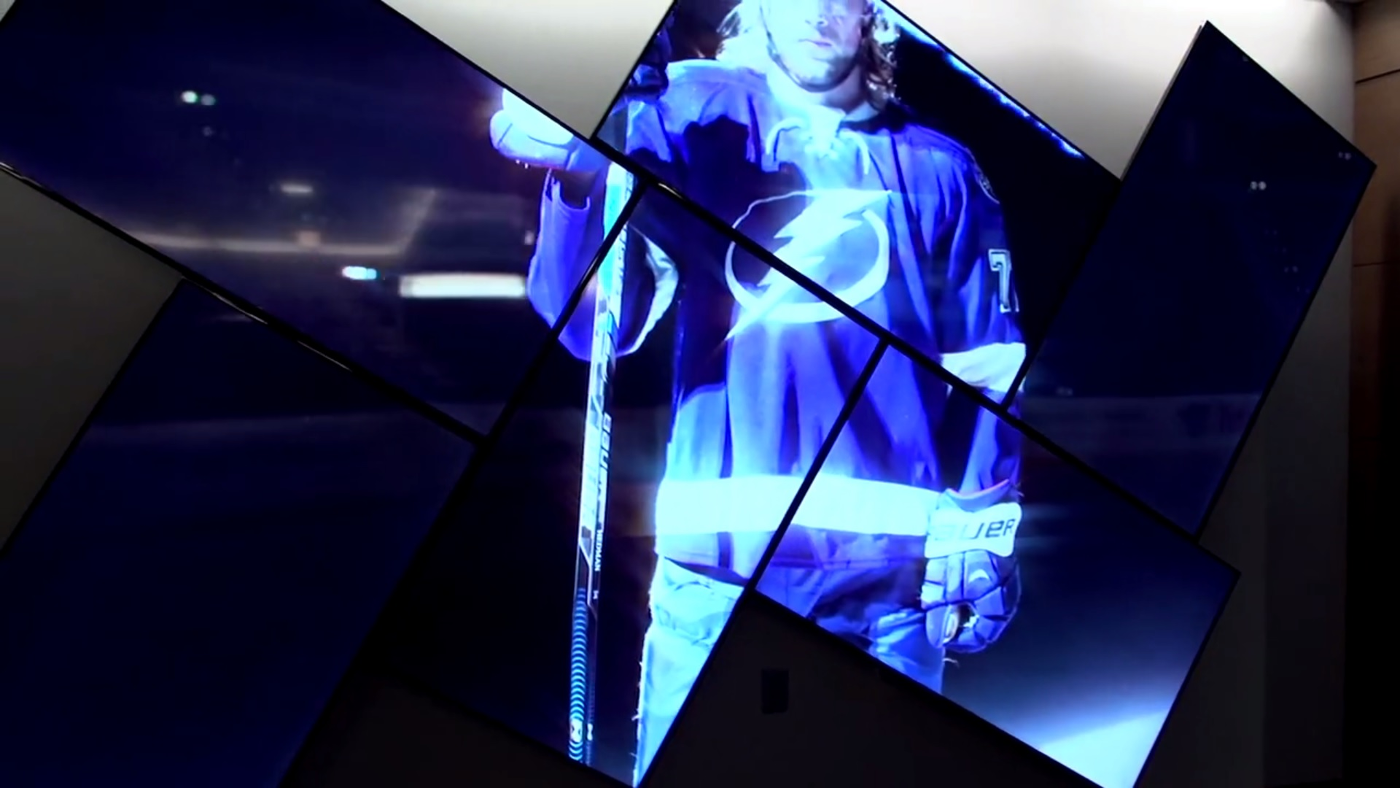 Sports stadiums' next-generation signage systems represent large, high-visibility, big-budget projects, and they allow AV integrators to "show off" what they can do. These projects are often very competitive, because they provide a highly visible reference for the AV integration company that handled them. As a result, to win projects such as these, AV integrators need to demonstrate a unique competitive advantage. Can the project be done more cost-effectively? Can you incorporate unique, artistic videowall capabilities? Can you deliver a near-zero-latency video-distribution system? Be warned that to offer standard solutions at high prices is unlikely to distinguish your proposal in a competitive situation.
Most venues have lounges, restaurants, suites and other amenities for fans to enjoy before, during or after the event. Tip: AV integrators who focus on these "out-of-bowl" experiences will have a competitive advantage. An artistic videowall can really give the space a "VIP look and feel," creating an atmosphere of glitz and splendor. This helps justify the ticket price in a fan's mind. Artistic videowalls can also be of particular use in "dead spaces"—locations with high visibility that, but for this technology, would not be usable.
Venues can also make great use of artistic videowalls to engage fans pre-game and post-game, as they are entering or leaving the arena. A well-executed videowall can make an otherwise dull entrance or hallway seem spectacular. Moreover, videowalls can be designed for any purpose, including interactive games. That can help to encourage parents to bring their kids to the venue early to play, allowing them to partake in a digital experience while the parents wait for the event to start. Such incremental additions help the venue broaden its audience, while also driving consumer retention, generating more gate and food-and-beverage revenue, and ensuring sponsor impact.
Solving Challenges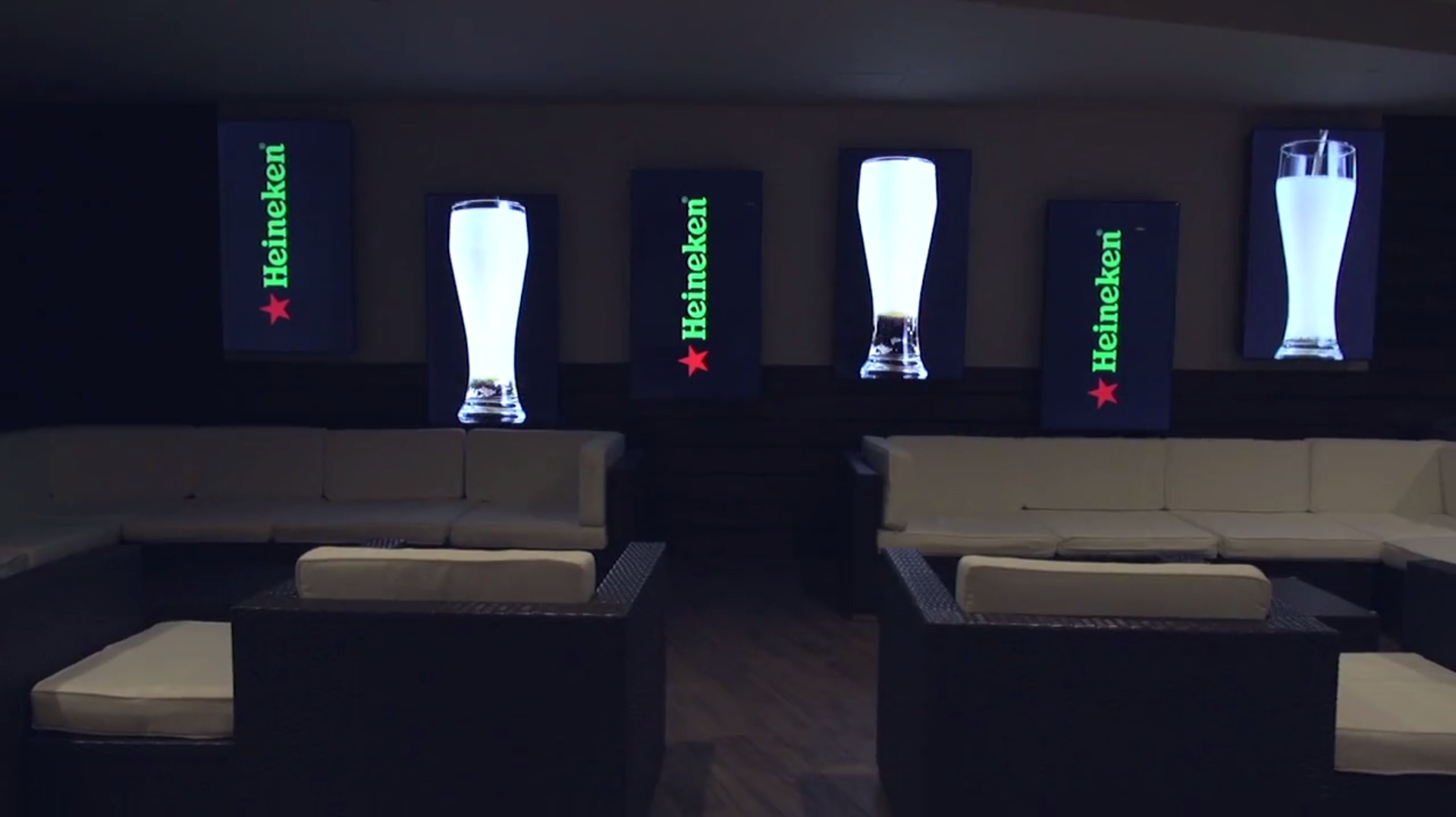 Just as a good display system can amplify the fan experience, a poor system will leave the audience puzzled and confused, detracting from the live experience. Live content demands the complete elimination of any visible latency. Even a fraction of a second of latency detracts from the experience. Even when in the restroom, people will hear the crowd's cheers; that reaction can't come even a fraction of a second ahead the stadium's re-broadcast screens, no matter where they're located.
Approaches like wireless communication and latency-adding video codecs (such as H264/265) can make for problematic deployments, especially when it comes to large arrays of displays that include digital signage and multiple videowalls. Ironically, even though H264/265 have the best compression, they also add latency. Integrators must be aware of the different technologies that are available for real-time video distribution, and they must ensure they are recommending systems that have no perceptible latency. Often, systems that work perfectly fine for traditional digital signage applications are simply unacceptable in a real-time environment.
The nature of the physical venue often poses unique challenges for integrators, as well. Nowadays, most videowall and digital signage deployments in stadiums and live event venues are retrofitted. It's typically impossible to foresee all the challenges that might arise during the installation phase. Choosing a hardwired, network-based system with unlimited distance capability is a major advantage at installation. In such a case, wireless dead zones, interference, latency and the possibility of wireless signals being affected by tens of thousands of people's devices in the stadium aren't a cause for worry. Plus, servers need not be placed in suboptimal locations to fit within a fixed extender distance limitation.
A true network-based over-IP system eliminates all those worries, saving valuable time and money during the installation and eliminating the risk of "rip and replace." A true network-based system also allows switches to be placed wherever there is a cluster of displays, which vastly reduces the number of cable runs back to the server room and ensures easy future expansion of the system. Additionally, given the scope and expense of these projects, the venue owners will have confidence that the network cables they're installing can be used for many purposes, and that they'll have a useful life measured in decades.
The reasons for choosing an AV-over-IP system that uses standard Cat5e/Cat6 cabling, and that is compatible with standard switches—with no distance limitation—rather than more traditional approaches with media players and transmitters that connect via HDMI/SDI (and that require boosters, or extenders, to overcome distance limitations), are very compelling for large, complicated projects.
The type of content an AV system is able to support is paramount to creating a memorable experience and to ensuring the necessary flexibility and adaptability that modern stadiums require. Beyond traditional video and images, good display systems must be able to support live content (e.g., network streaming or live TV), scheduled content (e.g., a content management system) and interactive content (e.g., HTML5, Twitter feeds, Instagram). Real-time interactivity using external devices could also be a great way to create engagement, as with mobile device connectivity where each person can see specific content, according to his or her interests. Also advantageous is sensor-activated content (e.g., facial recognition or presence detection).
Building and extending fan loyalty by using social media is an amazing way to extend the reach and excitement of the live game beyond the stadium walls. Leveraging fan enthusiasm and the prestige of attending live events is critical to boosting demand for tickets. Social media is a growing part of modern communication, and it's a critical component of fan engagement. Having a videowall that can switch between social media feeds, the live event and prepared video segments will create a comprehensive experience.
Having fans see their tweets and Instagram photos displayed, in real time, on videowalls gives people that extra nudge to get active and post. Supporting "shared" event experiences such as these will make fans feel like they're really part of what's happening. And, digital displays can give the venue a platform to feature food and merchandise offers, season tickets, and various other promotions. So, the venue can generate revenue even as it provides fans with a wonderful experience.
With digital signage and videowall technology, venues can now create a funneled experience for the audience that starts upon approaching the venue, incorporating social media and exterior signage. Every step of the journey to the fans' seats is purposefully designed, and the experience continues throughout until they leave.
Sports and live event venues can conceivably have a different group using the venue and relying on its AV systems every night of the week. Such venues demand AV system flexibility, as they are always transforming—often within the same day—to host different types of events. Hockey, basketball, monster trucks, variety shows and concerts each have different needs, and digital signage systems must be flexible enough to handle those transformations and provide the appropriate audience experience.
Two key aspects of providing the best experience, no matter the event, are as follows: (a) have the ability to centrally manage and control the digital signage; (b) make it easy for the user/administrator to operate the system, manage the content and connect to different content sources. That means enabling switching via an intuitive interface that's capable of descriptive visual labels (e.g., a browser).
Modern venues typically deploy hundreds of displays all across the concourse, bowl and suites. Having a system that allows any staff member—who has not had weeks of training on a specialized platform—to manage the content and displays easily, from a central location, will facilitate providing the best experience for the audience.
Although technology is always changing, the economic opportunity that modern display systems present is too compelling for major live-event venues to ignore. Costs have dropped significantly with the advent of pure over-IP systems, and digital signage's ability to amplify the fan experience cost effectively is already here. Many of the ideas discussed will enable AV integrators to realize significant ROI on major projects.
Obviously, AV projects in large sports and event venues are a huge undertaking. Deploying any display system should be viewed as infrastructure. It must be future-proofed as much as possible so it will last, while also accommodating and supporting upgrades in content types, formats or resolutions, and offering the ability to scale to accommodate growth. Talk with vendors and installers who have experience in this area to ensure you're choosing the best system for the project.
Editor's Note: Tim Griffin will present "Amplifying the Fan Experience in Live Sports/Event Venues Through Digital Signage," at Digital Signage Expo 2018 (DSE 2018) on March 29 at 11am at the Las Vegas Convention Center. For more information about this or any educational program offered at DSE 2018, or to learn more about digital signage, go to www.dse2018.com.