Partnership strategies for the AV integrator.
In years past, AV integrators built highly customized systems that ran on specialized infrastructure apart from a customer's computers and information technology (IT) networks. The situation is vastly different today. Over the past decade, AV products have increasingly converged onto Internet Protocol (IP) networks. Everything from projectors to display devices now operates on the corporate network. Videoconferencing has migrated from purpose-built room systems to the desktop and, more recently, to smartphones and other mobile devices. Emerging fields like unified communications and digital signage cut across the AV, IT and telecom domains.
Opportunities Abound
The good news: There are plenty of opportunities ahead for AV integrators amid continued market growth. Audiovisual products and services are projected to become a $114 billion global industry by 2016, according to Acclaro Growth Partners' research for InfoComm International.
The challenge: Amid all that growth, AV integrators often face an IT skills gap in some very hot markets, including:
Digital signage, requiring expertise in network switches, routers, WiFi and other IP network infrastructure.
Streaming media and webcasting, requiring a knowledge of broadband environments and video over IP.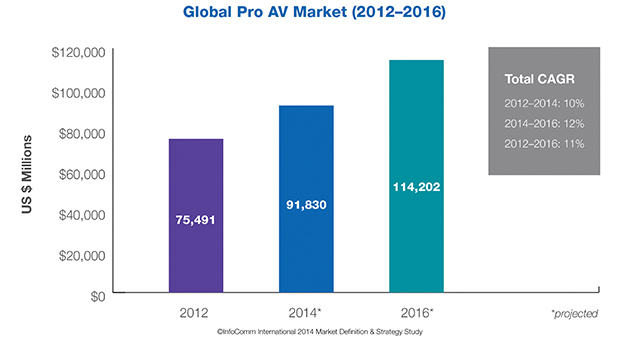 Unified communications, where voice, video, collaboration and location-based applications are married onto the network. Expertise in the configuration of iPBX and SIP support of multimedia exchanges are among the prerequisites for integration in this area.
Videoconferencing requires a broad range of expertise, from desktop applications and server solutions to compression technologies and multi-camera setup. Although sometimes called "telepresence" in the corporate IT world, videoconferencing includes everything from Skype to multi-stream boardroom systems.
Partners Fill The Gap
How can AV integrators pursue these markets and others while filling in the skills gaps? Hiring new talent often isn't a short-term option for a range of reasons, including lack of budget and uncertain sales opportunities. Instead, a wiser path forward for an AV integrator is often to partner with an IT services or solutions provider. Together, they can provide complete solutions that bridge AV offerings integrated with IP networks.
Partnering is a relatively recent development in the AV field. As the AV industry migrates to the digital world and encounters the need for more bandwidth, storage and efficiency, it is natural for AV resellers to explore IT partnerships that make business sense.
One way to begin your partner search is by checking in with IT industry associations such as CompTIA, whose communities offer opportunities to engage with potential partner companies. IT vendors and distributors that have expertise in IP communications are also excellent sources for finding potential partners.
IT service providers typically fall into one or more of the following categories:
Product resellers, including companies that sell servers, network equipment, hardware and software to customers. For AV integrators, partnering with a reseller could allow you to take on the service and support opportunity, but only if your company is qualified to do so.
Value-added resellers (VARs), including companies that wrap services such as installation, configuration and support around IT product sales. Partnering with a VAR likely means a good portion of the service revenue will flow toward the partner rather than your own company. However, that can be a welcome tradeoff if your company can gain a firsthand look at the VAR's service organization, certification strategy and support model.
Managed services providers (MSPs), including companies that charge flat monthly fees to proactively maintain customer networks, applications and end-user devices. Here, the MSP gains long-term predictable support revenue from the customer. However, by focusing on one or more specific areas of product support for the customers, the AV integrator likely can win a piece of that support revenue.
As AV integrators speak with potential IT service provider partners they should ask about revenue mixes. Specifically, ask what percentage of revenue comes from one-time product sales, consulting and support engagements, and monthly recurring revenue. The first two bullet points lean toward the reseller and VAR models, while the third leans toward the MSP model. Of course, some companies mix and match their business models, so no two partnerships will ever be exactly alike.
On the business front, many small IT service providers (10 employees and fewer) are heavy on technical skills, but light on sales, marketing and business development expertise. For AV integrators that have dedicated sales and business leaders, there are prime opportunities to pair business pros with an IT service provider's technical know-how.
There are other considerations beyond technical skill sets, as well. Look for a partner that is solution oriented and engaged in consultative sales, rather than focused on selling only hardware. Other considerations include the existence of long-term relationships with customers, and the partner's geographic reach.
Of course, partnering is a two-way street. It's not enough for AV integrators to lean on IT service providers. The integrator must also bring talent and skills to the relationship. When proving their worth to potential IT partners, integrators should leverage their database of vertical market clientele that IT service providers could not otherwise reach. Another draw is the relationships with AV vendors that the IT service provider lacks, including vendors that specialize in video and audio production equipment, power management, signal management and processing, and the basics of cables, connectors, boxes and accessories.
Once an AV integrator finds a potential IT service provider to partner with, the relationship between the two companies and the roles of all parties should be clearly defined to avoid future conflicts. Partners have to work out such details as how project revenue will be handled and who will provide customer support. The scope of work for each party should be outlined and documented, including who has responsibility for which specific tasks, and when.
Start Small
Consider starting small. Focus the first partnership on delivering on a specific customer engagement. Complete that project on time and on budget. Study your net margins, then consider steps for refinement before pursuing another partner-driven customer win.
The most immediate partner opportunities may involve networking VARs that specialize in switches, routers and converged data centers. For example, networking VARs can be a great partner on digital signage projects, which typically require expertise in both hardware and software, including: audio management; content management; content production; display technology, including mounts, enclosures and kiosks; servers, media players and appliances; and connectivity and network equipment (WiFi, routers, switches).
That's a lengthy list of expertise. Fortunately, there are plenty of networking VARs that already have this experience.
Demand for AV technology comes from a variety of vertical markets, with healthcare, education, retail and corporate customers among the fastest growing market segments. The small business market is strengthening as price points come down and features grow. There's also growth in the telecommuter markets: employees who work at home but want high-quality desktop video capabilities to connect to the corporate office.
Sticking with just IP networks or only AV will severely limit solution providers and integrators. Companies that understand how to provide one-stop integration for everything will be the ones that succeed and thrive.