Dramatic leaps in acoustic design and technology have enabled acousticians to provide clients with a myriad of options for tuning their rooms to optimal levels of musical and conversational clarity and quietude. These solutions are aesthetically pleasing, affordable and effective. Heavy draperies, ungainly wall treatments and complex technical devices have been replaced by attractive, user-friendly and virtually invisible alternatives.
Innovations Inhibit Sound Levels
Innovations, such as perforated wood surface treatments, acoustically absorbing (smooth) plaster, transparent acoustic plastic, micro-perforated (think absorbing glass!) foil, seat cushions constructed with absorptive acoustic materials and handsome acoustic diffusers, are now available to inhibit excessive sound levels. These (and other) options have proven themselves superbly capable of remedying reflective noise problems and improving speech recognition in an attractive, cost-effective manner.

On Wednesday, June 8, at InfoComm16, I will follow up my 2015 "Tuning the Room: Acoustic Design—Beautiful, Effective and Invisible" presentation with an expanded and updated 90-minute addendum (for more information, go to www.wsdg.com/infocomm-2016). Last year, I illustrated my presentation with a project WSDG developed for Harman International's flagship Listening Room at New York City's Madison Avenue and 54th Street. Designed to showcase the company's consumer and audiophile equipment, the showroom's street level is devoted to Harman's AKG, Harman Kardon, JBL and other brands. The lower level features a screening room and a private listening room outfitted with Harman's Mark Levinson amplifiers and Revel Salon2 Speakers, a CD/SACD disc player and a turntable for vinyl aficionados.
By September 2015, the showroom and its listening room were ready for a trial run in advance of their projected November opening. Surprisingly, despite meticulous planning and design, the true audiophiles in the room immediately perceived a startling absence of resonance, separation, sonic clarity and warmth.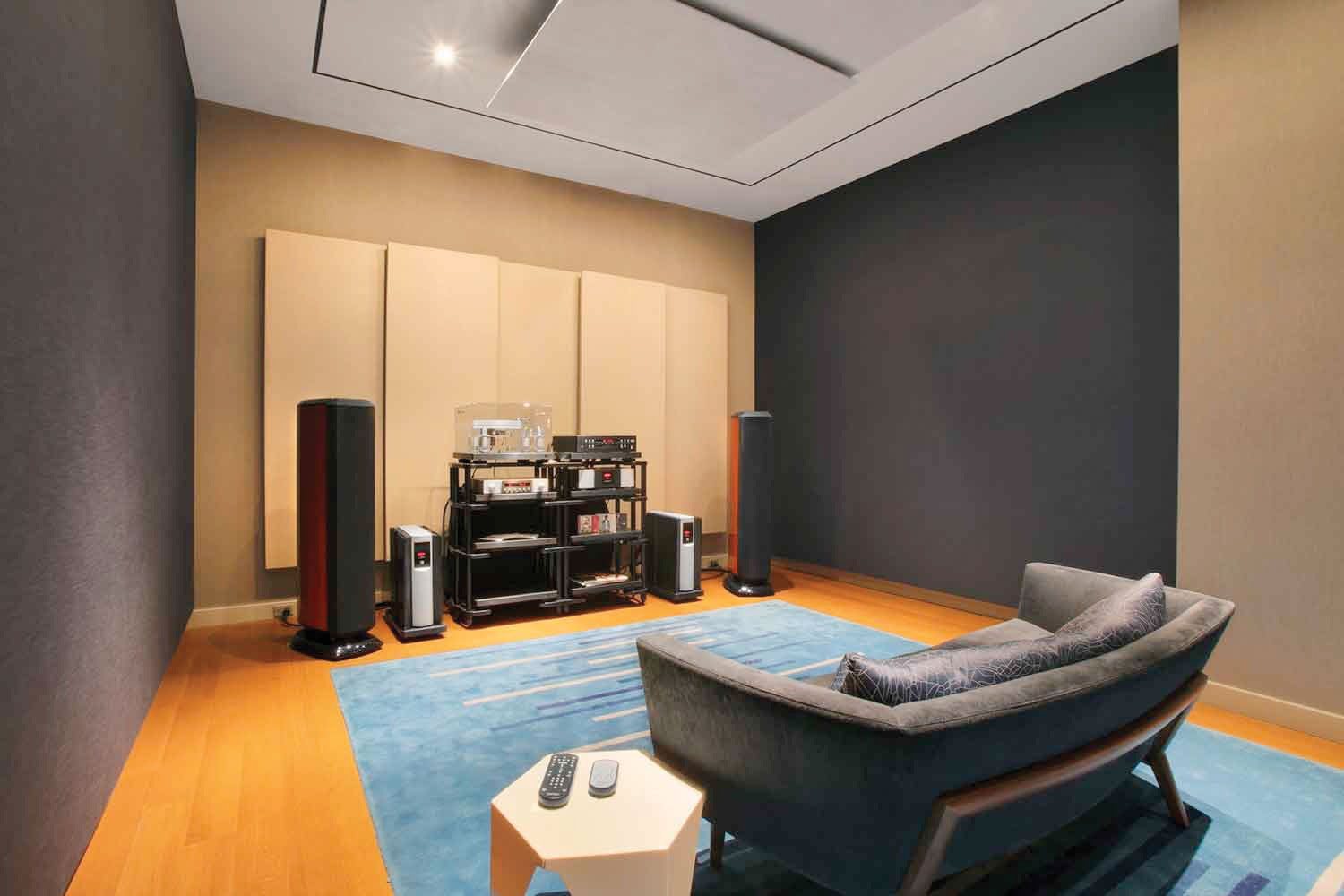 The Culprit
They knew the problem was the room's environment and not their high-end audio technology. And, they understood that the listening room had to be tuned correctly before they could properly demo their sophisticated products. WSDG Architect/Acoustician John Storyk made a site visit in September and performed a series of acoustic modeling tests and measurements. He found a total absence of bass control, and an astonishing lack of low-frequency compensation. With such credits as Jazz At Lincoln Center, Le Poisson Rouge, 54 Below and personal recording studios for Bruce Springsteen, Alicia Keys and many other major artists, WSDG was uniquely qualified to correct the problem.
Much of WSDG's work is focused on the design and construction of new recording studios and critical listening rooms. When we participate at the drawing stage, we eliminate potential diffusion, reflective sound, absorption and other acoustic problems prior to construction. Barring serious preexisting sound leakage (into or out of the room), conditions that can entail costly room-within-room construction, many of these issues can be resolved by the judicious application of custom low-frequency control applications that were the critical missing elements in the Harman space.
Uneven Spacing
As in most untreated small rooms, the interior environment's modal behavior typically results in the uneven spacing of Eigen tones (standing waves). By reordering these modes (specifically controlling their relative amplitudes) with topical treatments, WSDG was able to maximize the successful linear reproduction of sound for the Mark Levinson audio components and the Revel Ultima 2 speakers in the Harman room. We prescribed a perforated wood/Helmholtz Resonator to be fixed to the rear wall, and acoustic clouds to be suspended from the ceiling to facilitate low-frequency control. Additional broadband absorption was applied to the front wall to complement the existing carpet and to slightly reduce the room's broadband/mid-frequency reverb time (decay rate).
These surface treatments resolved all of the acoustic issues and, in addition to being acoustically efficacious, they're aesthetically pleasing. The listening room now empowers this extraordinary Harman technology to provide audiophiles with the ultimate listening experience.
Recording and broadcast studios, and high-end home-theater critical listening environments, are among the most precise and acoustically sensitive structures. During the course of more than 45 years of designing and tuning more than 3500 professional audio facilities worldwide, WSDG has developed a proven process to ensure flawless acoustics. The design process is enabled by a unique toolkit of proprietary and third-party mode calculation, acoustic prediction and simulation programs, including:
CATT Acoustic for analyzing and correcting flawed room acoustics
EASERA to provide data acquisition with a variety of stimulus signals, including Time Delay Spectrometry, sweeps and MLS/noise excitation signals
BASTIAN software to calculate airborne and impact sound transmission in building interiors and from exterior sound generation
Specific Examples
The scope of the acoustic challenges we frequently encounter ranges from intimate home listening rooms to large-scale performance environments such as:
54 Below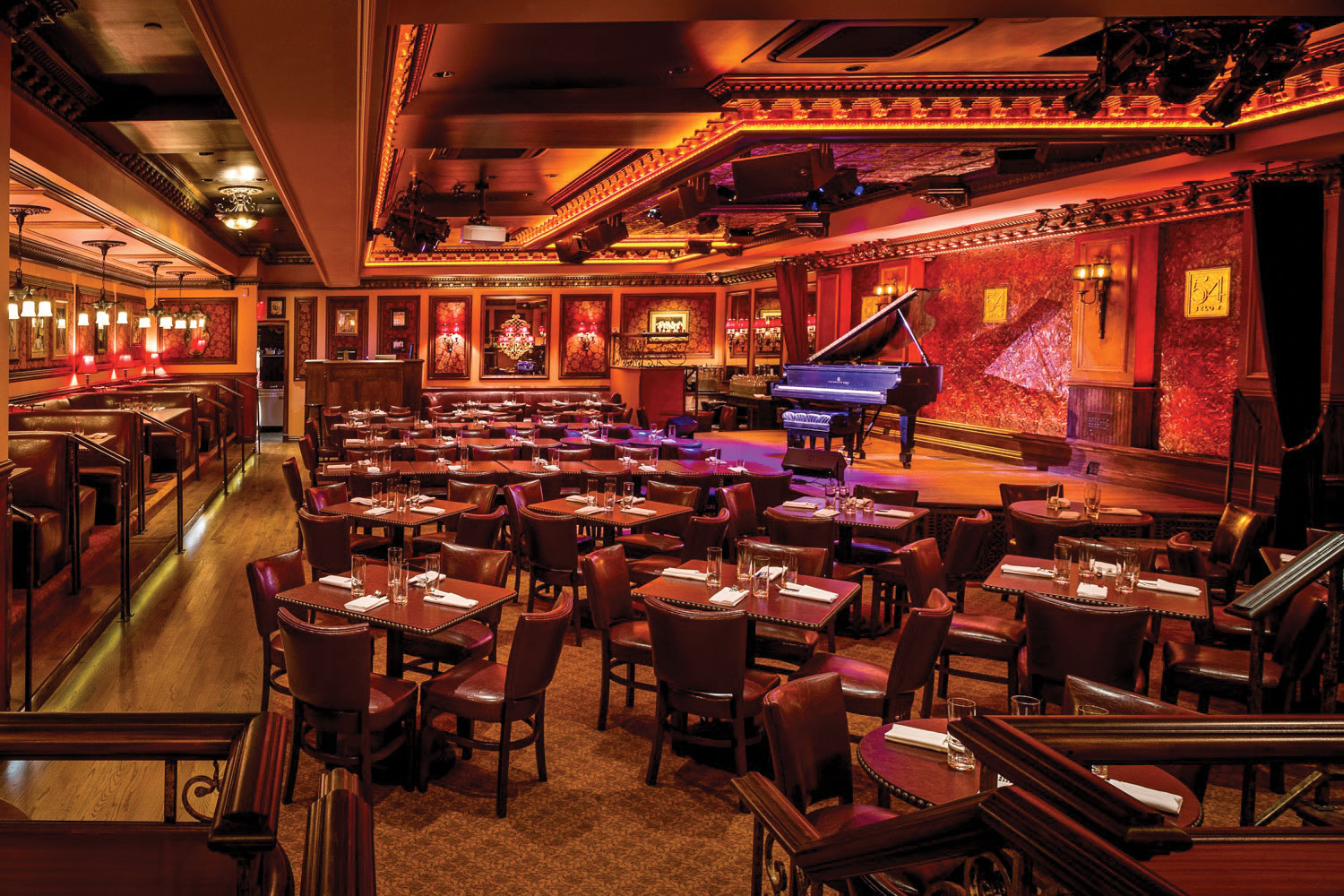 An elegant performance venue in the grand tradition of New York City nightlife, this state-of-the-art nightclub is situated directly beneath the world-famous Studio 54. Designed for audiences of up to 160 persons, this 2000-square-foot club is "sandwiched" between two of Manhattan's busiest subway corridors. The ceiling, already relatively low in this basement space, had to be covered by a new drop ceiling to conceal extensive air conditioning ductwork, waste and water pipes, and wiring troughs. The sound system features Meyer Sound UPJs, 500-HP subs and UP4XPs. A smaller distributed system was designed to cover the bar area, restrooms and hallways. A digital Avid SC48 was selected for its flexibility and ability to store snapshots of acts.
WSDG's primary goal was to create a balanced reverberation time within the limits associated with club use and industry standards, while intelligently addressing noise issues. Additional layers of gypsum board were added to the ceiling, and partitions were recommended for areas adjoining kitchen, restroom, lobby and electrical equipment closets. Acoustic door seals were stipulated to further isolate sound leaks. Custom diffusion panels covered with stretched fabric and mounted in filigreed frames enhance the room's aesthetics while simultaneously "tuning" it for maximum listening clarity and warmth. WSDG also contributed to the design of custom banquet seats that incorporate low-frequency treatments, enabling them to serve as acoustic absorption elements.
Madero Walk Eventos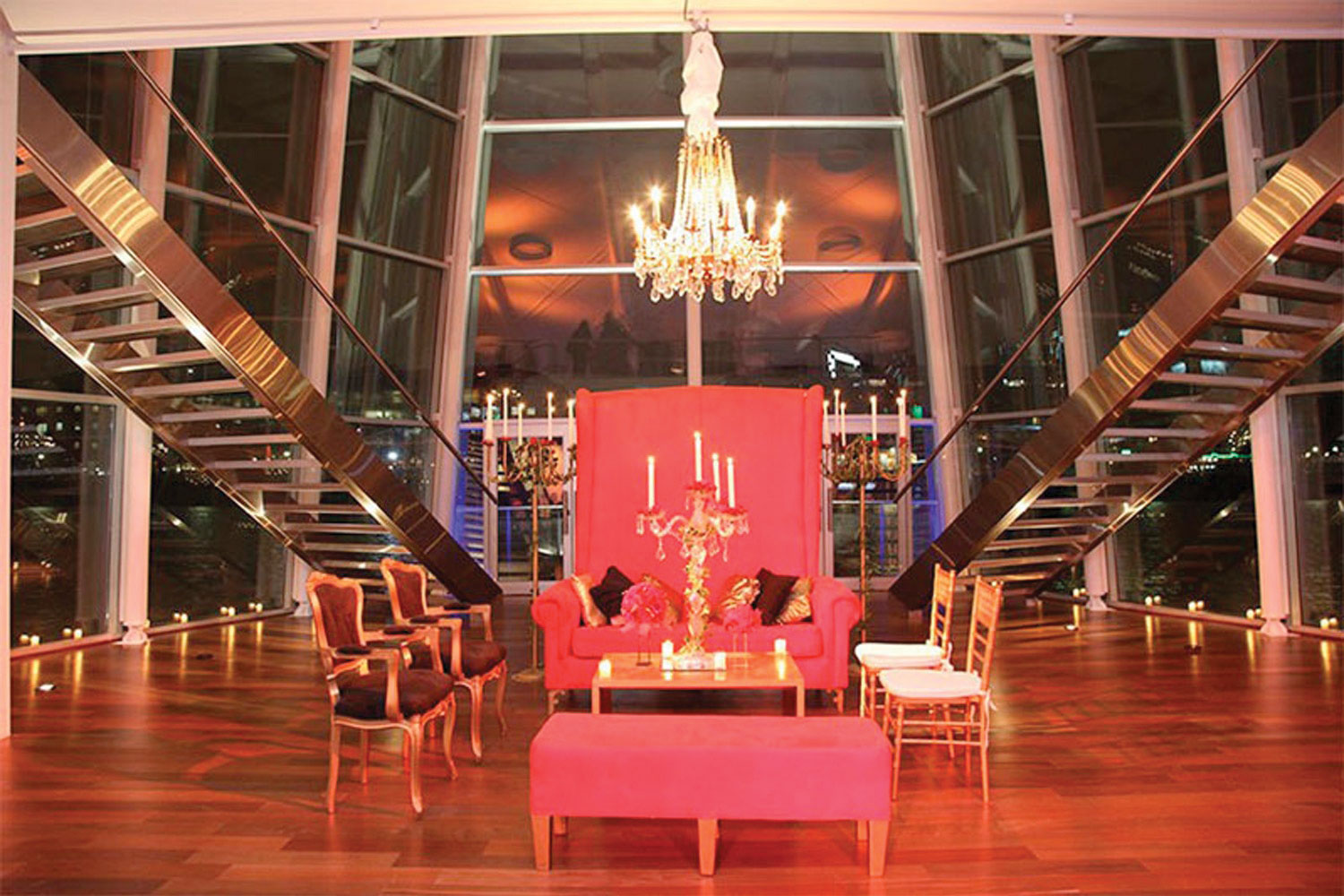 Buenos Aires' first floating ballroom, a more than $4 million investment. This sumptuous setting is designed to host three separate events simultaneously. MWE provides discrete auditory isolation for small, medium or large scale gatherings, seating as many as 450 attendees, or accommodating up to 600 party guests. It required expert acoustic design. To assure clients that neighboring events would not audibly intrude upon each other, WSDG designer/acousticians devised solutions to eliminate sound leakage and enable the complex to be constructed with absolute aural integrity. The rooms' all-glass walls were constructed of three layers of glass: a 4mm-thick layer flush-mounted against a 6mm, separated by a 12mm air lock and sealed by a 12mm glass layer. This setup enables the room to contain rock concert-level audio up to 130dBs.
Le Poisson Rouge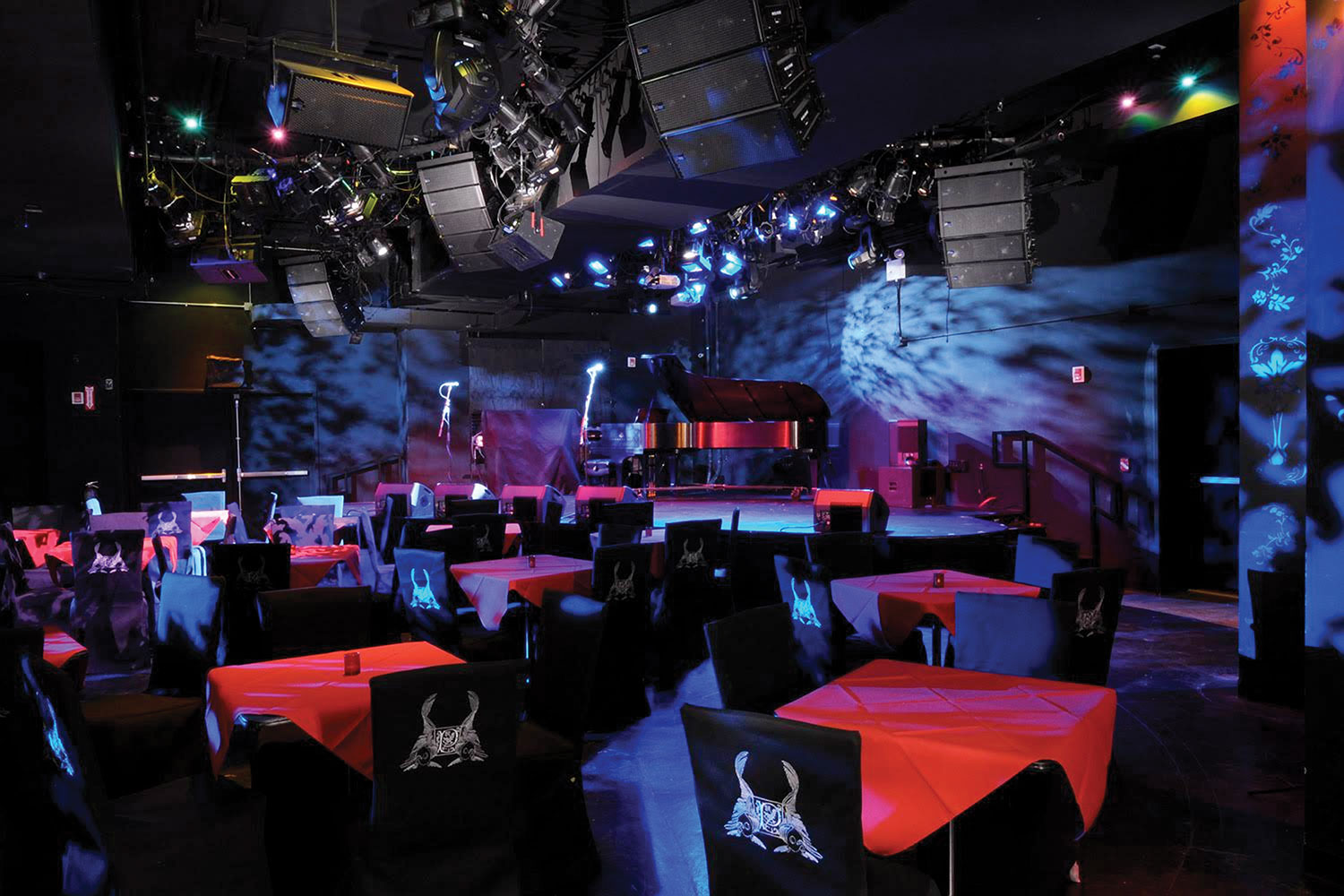 Le Poisson Rouge is a flexible, intimate performance space with a capacity of 800 people (250 seated), as well as a 23-foot-diameter hardwood sprung dance floor. The club features a 28'x21′ stage located in the corner of the room. LPR also sports two cinema-sized screens, both of which feature surround sound. A fully soundproofed lounge directly adjacent to the performance space was designed to accommodate about 130 guests. Proven recording studio construction techniques enable a private cocktail party, art exhibit or separate performance to take place simultaneously with a show in progress in the live room.
The Fenix Club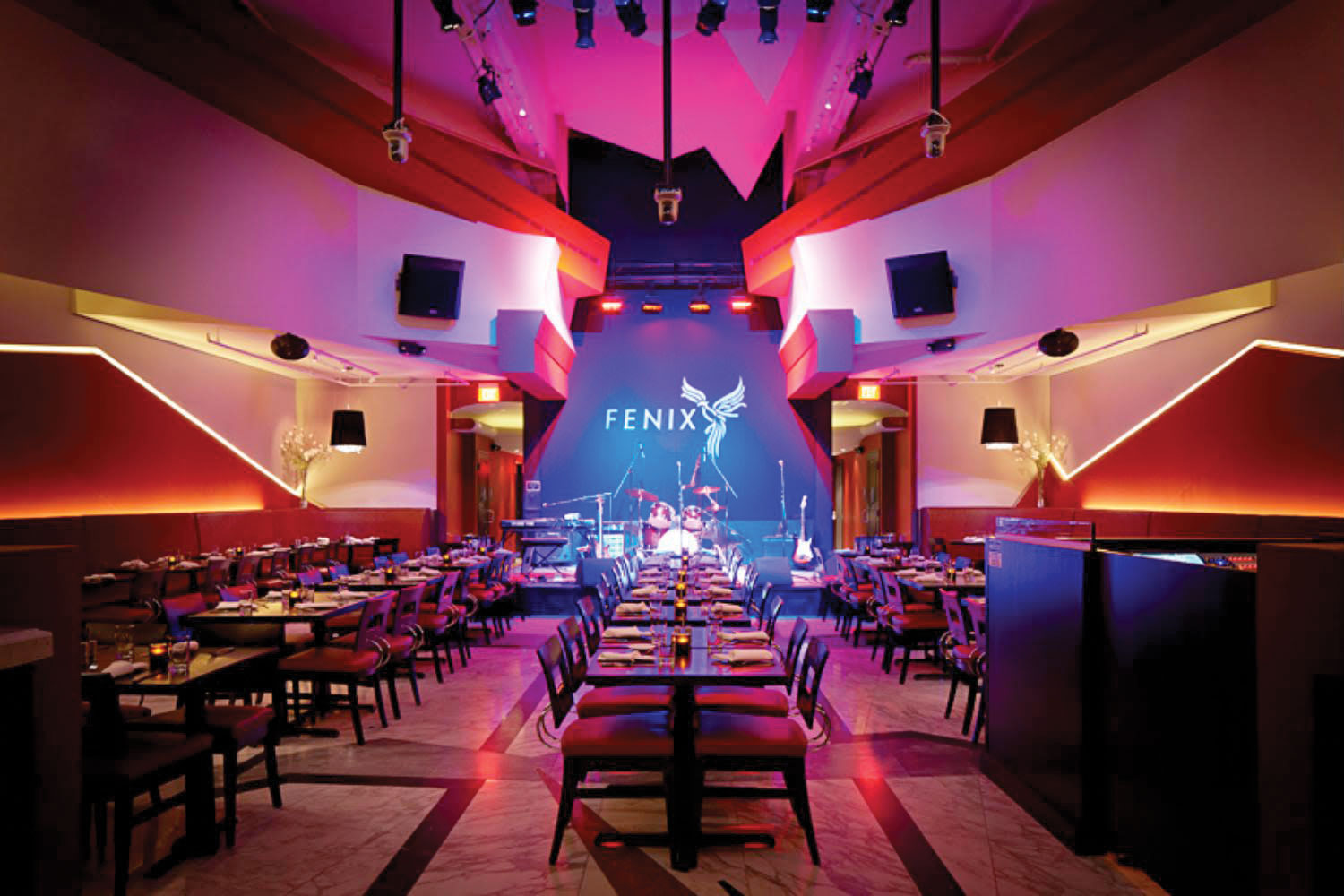 The Fenix Club is a 150-seat club in San Rafael CA has introduced a template for a new form of creative and social interaction, onsite and online. Designed to share live performances by talented artists with a local, national and eventually international audience, the venue features a two-story-high live room with great "bones." To facilitate an ideal "sweet spot" environment for the audience while simultaneously defusing audience/dining noise away from the performers, the ceiling was dropped over the front bar and dining sections. Twin recording studio-style ceiling clouds, constructed with a combination of broadband and membrane absorption, were floated over those areas. The "clouds" were angled upward from the front to the rear of the room, and augmented by aesthetically pleasing wall panels as absorptive acoustic treatments.
The clouds enhance the audio quality of the onstage performance and they inhibit intrusive patron noise. EAW QX596 mains and custom subwoofers, EAW MW12 and MW15 monitors, and Ashly KLR 5000, 4000 and 2000 power amps cap off a high-quality audio system. Positioning the FOH mixing position at the rear of the room eliminates the issue of obstructing audience view and provides the mixer with excellent line of sight.
NEO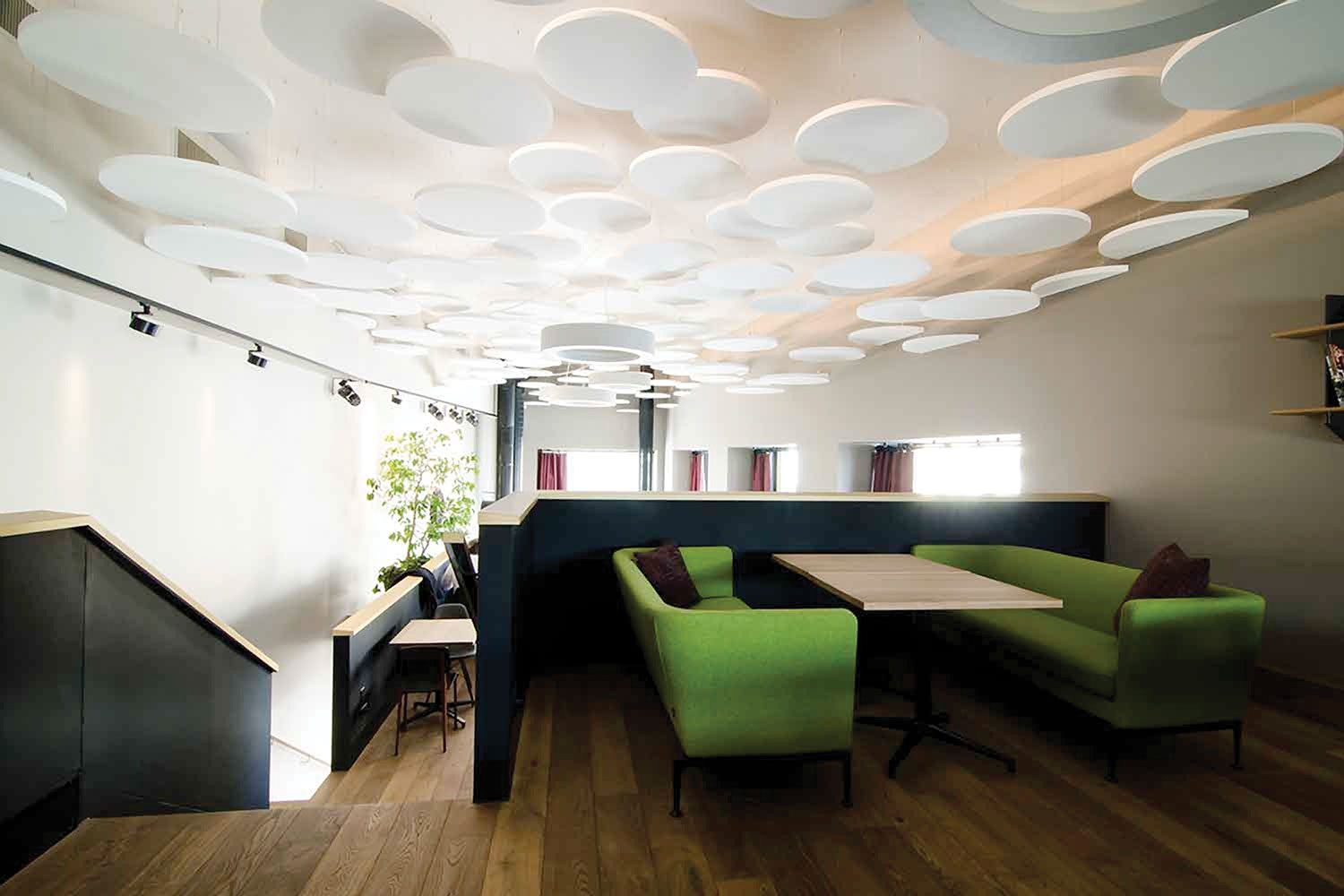 NEO is a dazzling new club/bar/restaurant located on the ground floor of an upscale high rise in Zurich. A busy restaurant during the day, after hours, NEO transforms into a double-height dance club. Oversized, motorized windows can be raised in the summer, enabling visitors to flow freely into and out of the restaurant. However, they remain closed in club mode to contain the sound. On weekend nights, the windows are lowered and a sound-absorbing curtain is drawn to safeguard local resident sleep patterns. The DJ-driven sound level slips past 11 as the young and the beautiful boogie the night away.
WSDG performed structural acoustics consulting, environmental sound impact analysis and design studies for the exciting new venue. The sound isolation challenge was to allow for a club-type frequency range and sound pressure level, while maintaining strict quietness levels for the four office floors and seven apartment floors directly above. Pristine, acoustic isolation was achieved by engaging fully decoupled floor, wall and ceiling-structure construction techniques. Interior balcony and loudspeaker columns were set on decoupled footplates to minimize sound transmission through the building's concrete structure. A series of overlapping elliptical acoustic ceiling treatments was positioned strategically over the "floating lounge" to absorb potential reflective sounds. Dirk Noy, GM, WSDG Europe, reports that the system performs precisely as intended, and permits no hint of intrusive sound into the club's residential neighborhood.
26 Sushi & Tapas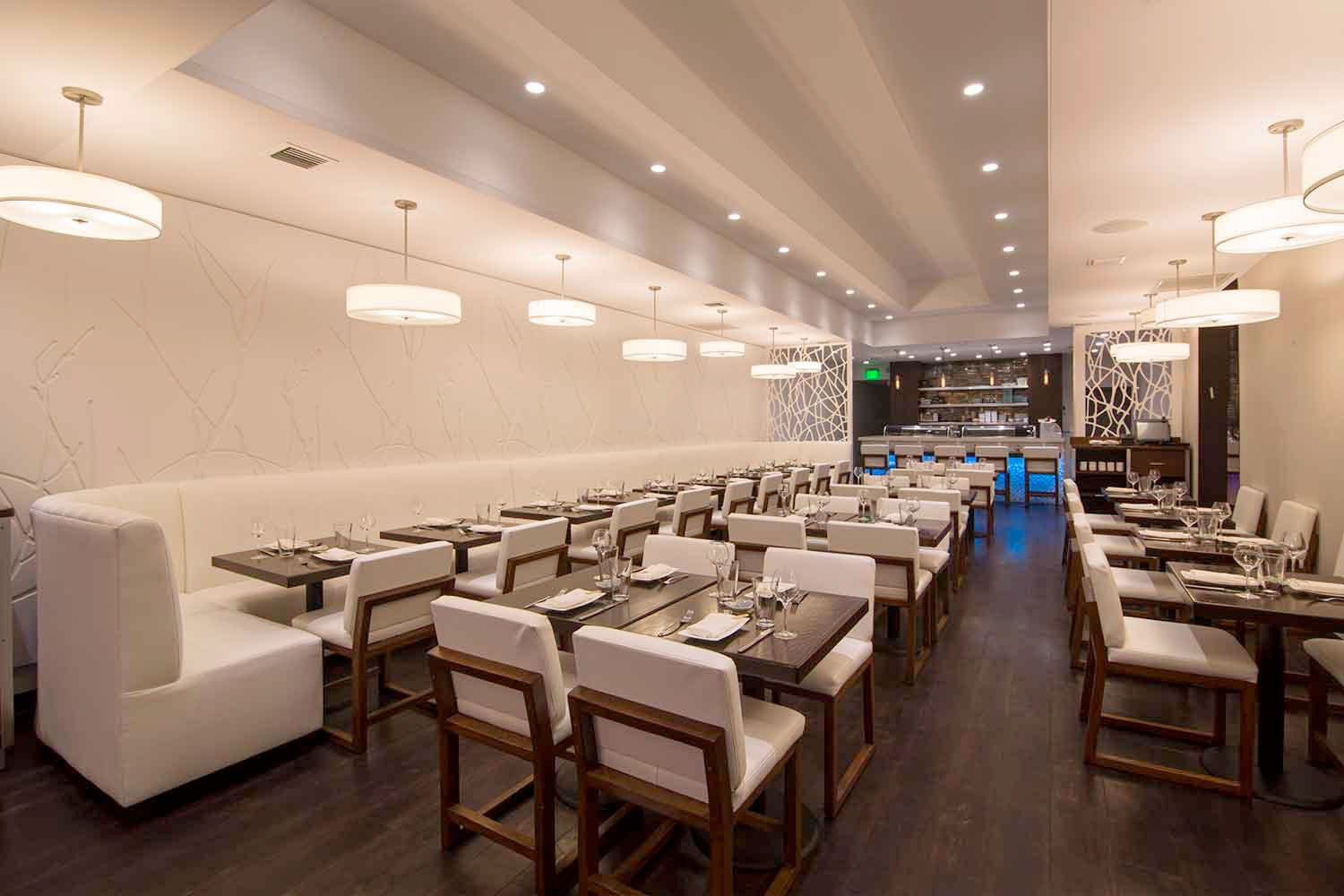 Morris J. Kaplan had three primary goals for the small, elegant restaurant he envisioned for Miami's culinary cognoscenti: There would be sushi, it would be kosher and the diners would be able to converse in normal tones rather than struggling to communicate over an inescapable restaurant din. Impressed with the acoustic modeling imagery and auralization reports developed by WSDG for two synagogues he was helping to restore, Kaplan engaged our firm to develop a comprehensive program to inhibit noise and substantially improve speech intelligibility for 26 Sushi & Tapas.
After creating computer-assisted acoustic simulations to predict methods of controlling the venue's ambient sound quality, WSDG recommended a combination of absorptive and diffusive wall and ceiling elements for 26 Sushi & Tapas. Additionally, a number of custom banquet seats with built-in broadband frequency treatments were installed to serve as acoustic absorption elements. Kaplan reports that his diners have been extolling the quality of 26's conversational atmosphere, as well as the excellence of its food.
Morro Do Chapeu Residence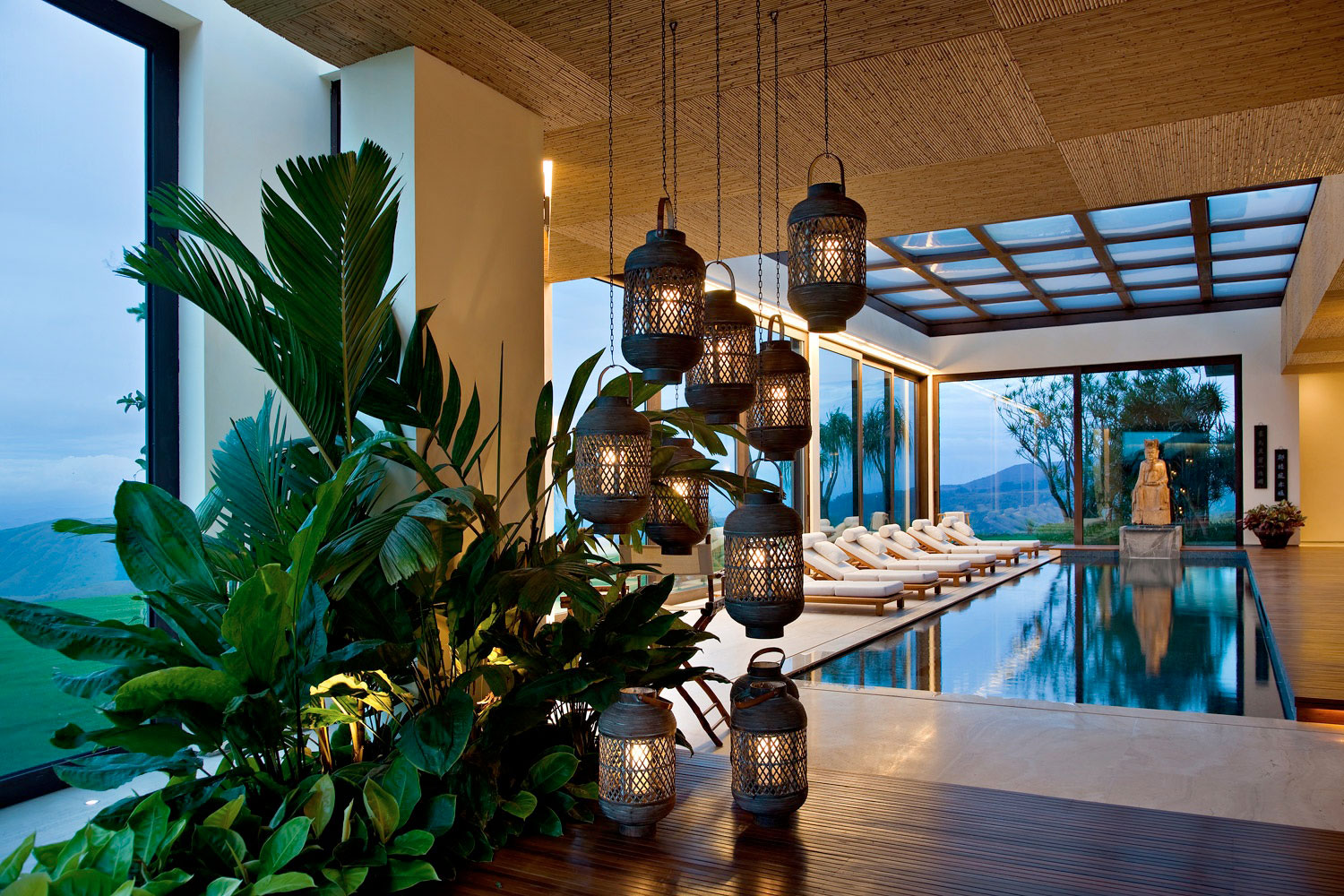 How do you keep your pool house from reverberating like a gymnasium while maintaining Brazil's spectacular mountain views? The spacious room includes a Jacuzzi and a wet bar, and is surrounded by three walls of double-height windows and a movable glass sealing system to maintain interior warmth in the cool, mountain-region evenings. Professional recording studio design techniques provided the solutions. Each window, including an expansive skylight grid of 20 individual panels, was fitted with acoustical Clearsorber Foil. These innovative translucent plastic sheets absorb medium- and high-frequency reverberation to resolve sonic reflection issues. Clearsorber also serves as a full-room UV ray filtering system! Full transparency ensures unimpeded views and conversations free of traditional pool-house reverberation.