Generically speaking, "networks" (disparate nodes or points connected by one- or two-way channels) have been around for decades. "Networked," however, changes everything. Using the term in this way connotes that these connections constitute a state of being. "Networked" is a more active and better way to express how audio, video and data have converged into a single proposition and now move as integrated entities on a common highway.
That's also been the challenge for AV systems integrators. As InfoComm expressed it in a white paper in 2014, "…the audiovisual (AV), information technology (IT) and telecommunications fields were distinct disciplines. Today, they have converged, which is not to say that one has consumed the others, but rather that large technology programs now incorporate elements of all three, interrelated and working together to achieve an enterprise goal." But integrating both the technologies and the cultures behind them has been a test for AV professionals. That process, like the technologies and products themselves, is a work in progress.
"It's an entirely different world," said Dan Gundry, Senior Control Room Specialist with integrator Vistacom, in an understatement. "The staff and knowledge-base requirements of a networked world are vastly different from what we've been used to."
The cultural shift, he said, has been led by content. That's certainly been the case in the entertainment industry, where content has been the propellant behind the rise of streaming enterprises like Netflix and Spotify, but also the underlying motivations for tectonic moves such as AT&T's acquisition of DirectTV in 2015 and its current pursuit of Time Warner. But content is just as valid a way to describe the messaging of retailers, corporations and even houses of worship. "You go where the content is," said Gundry, "and the content is on the network."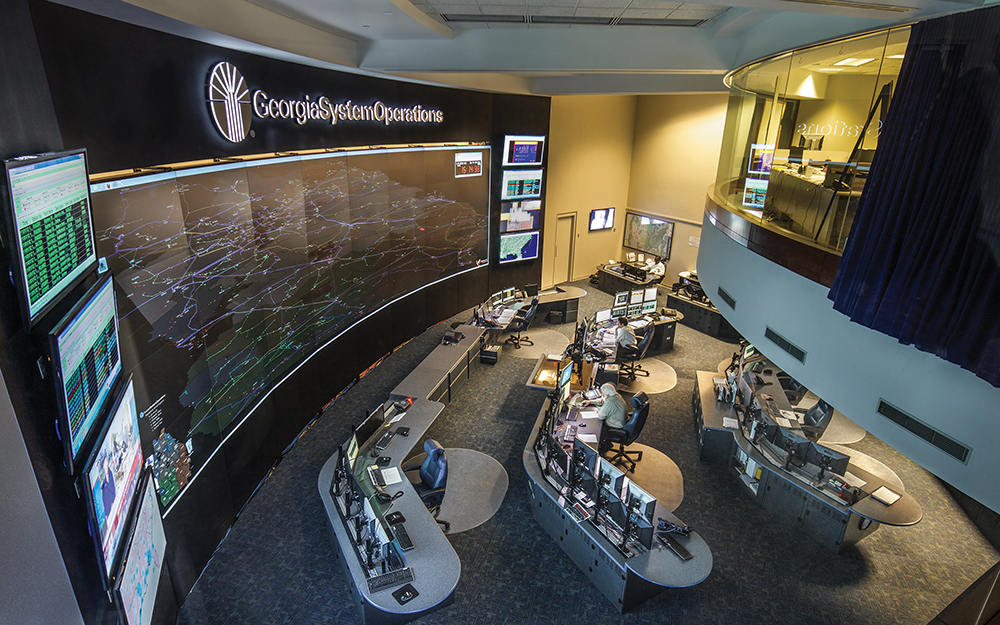 Attachments
However, content comes with any number of attachments, including security, policy and regulatory vicissitudes. That, Gundry said, is where it really gets complicated for AV integrators. "When AV becomes truly IT-centric, when it begins to live in a real-world IT environment, integrators need to be able to have the right conversations with their clients, to know the vocabulary, to be able to navigate subjects like firewalls, protocols and permissions," he said.
Integrators who have worked at bridging the cultural divide between AV and IT agree that interfacing with clients has always been a narrative, one that changes as visions and technologies to achieve them vary as a project's design evolves. But without a working knowledge of the language of IT, integrators are at a distinct disadvantage.
It's All About The Switch
"I've seen deals get lost in the sales-pitch stage, when AV isn't talking IT's language," said John Steineke, a Design Engineer at integrator CCS' Scottsdale AZ office. The most common situation he's seen that occurs is when an AV integrator's choice of network switch is determined by the other main platforms it's proposing, but doesn't conform to the switches the client's network has chosen. "If their IT is standardized on Avaya or Cisco [switches] and you propose a Pakedge or a Luxl switch because it's the one that one of your product suppliers specifies, that's a red flag," he cautioned. "You have to make sure early on in any conversation that the network switches in a system design can talk to each other, that they'll be able to handshake properly. That's a big thing: How the proposed AV solution performs on the client's network is key."
The compatibility between switches is also a trope for making sure that AV and IT are speaking a common language. "You have to be literate in IT's language from the start. If you're not, it becomes apparent pretty quickly," Steineke said. He added that most AV integrators have already become familiar with terms like the "layer" structure of networks, V-LAN segmentation and performance metrics such as Quality of Service (QoS), but that's the tip of an acronymic iceberg.
Some IT-centric concepts can seem like you need a passport. One of them is Internet Group Management Protocol (IGMP), a communications protocol used by hosts and adjacent routers on IPv4 networks (and more recently IPv6) to establish multicast group memberships for one-to-many networking applications, such as online streaming video and gaming. Another, Spanning Tree Protocol (STP), is a network protocol that builds a logical loop-free topology on Ethernet networks to prevent bridge loops and the broadcast-radiation issues.
Unicast/Multicast Divide
Then there's the unicast/multicast divide: A unicast transmission/stream sends IP packets to a single recipient on a network; a multicast transmission sends IP packets to a group of hosts on a network. Seems straight-ahead enough, and multicast has become more common in the AV world as a methodology to distribute video to multiple points on a network. However, Steineke warned, multicast is anathema to many in the IT community, where the higher degree of data security is highly prized. "IT departments whose networks have been in place for some time are the most resistant to multicasting," he said.
In fact, speaking of tropes, although the general view is that AV and IT are converging, the practical reality is that they may be doing so, but that AV is most often visiting IT's house, not the other way around. It's now unusual for IT departments to eye AV warily, with their security concerns and (not unwarranted) sense that, in their domain, AV is guest that is morphing into a tenant.
Observed Vistacom's Gundry, "It's not unreasonable to say that IT sees everything on their networks as mission critical. That's why understanding their networks and their needs is super important. The AV integrator has to be able convey credibility to them. IT departments are very protective of their networks."
Unfortunately, one thing that may not change as AV moves deeper into the IT universe is its position in the perceptual hierarchy of needs. Rick Winde, Director of Advanced Video at MCW in Columbia MD, told us that, despite the greater use and deeper integration of networked AV requirements, project managers, general contractors and architects still tend to relegate it to near-afterthought levels, particularly in greenfield building projects.
"In a typical collaboration room, the architect/MEP [mechanical/engineering/plumbing] will hardly ever show the teledata drops that sufficiently cover the AV needs in the respective rooms," he said. "There is a typical standard for the MEP that does not take into account the efficiencies of what inevitably may be required regarding voice, data, video and how it may be designed as part of the overall network topology; these are all variables that should be flushed out in advance, versus after construction documentation (CDs) are completed."
Another concern is the aversion many, if not most, IT managers have to putting AV on their core networks. Relegating AV to its own VLAN has its benefits, at least for the AV users, but, said Winde, partitioning AV separately makes it difficult to manage the entire network efficiently. He cited as an example a large government building project in which MCW engineers designed the network so any conference room could access video from any other conference node on the network.
Live Stream
However, the client wanted to be able to live stream that same video on a multicast network. "The issue became one surrounding the control of the content and the selection of the streams, as the control system resided on the enterprise network and the hardware associated with the encoding could not be accessed," he explained.
In another example, Winde offered that there are often disconnects associated with the new IT culture and the cloud initiative. This relates not only to video storage but also live conferencing and the variables that have to be respected regarding on- and off-premise assets. It's a problem he attributes to a change in IT culture, in which "CIOs have evolved into facilitators instead of IT engineers." It's a generational conflict that may become endemic as networks proliferate.
Transformational Shift
Tyler Bonner, Senior Vice President for Mission-Critical Environments at integrator Diversified, based in Kenilworth NJ, reported that his company (which merged last year with Atlanta-based integrator Technical Innovation) has been on a networked track for the better part of a decade now. Thus, it's also been through the cultural upheaval that's part and parcel with the shift to a networked point of view. He said that some substantial transformations come with the shift, affecting both technology and economics.
Perhaps most palpably, the shift to networked connectivity means a lot less cable gets pulled. The efficiencies of networked AV, where signal-transport requirements that once required hundreds of wires can now be done with a handful of Cat5 and Cat6 cables, affects one former mainstay of AV integration billing, along with the manpower needed to pull those cables. In addition, networked AV is following its clients into the cloud, where reliance on hardware-based platforms, such as AV switchers, are giving way to software solutions and network switches. Clients want to be able to use their own devices, such as smartphones and tablets, to connect to collaboration and conference spaces in offices. The company also had to implement a significant retraining program for its engineers, to prepare them for a fully networked environment.
Diminished Product Sales, Billing
Diminished product sales and related billing were felt in the first few years of the transition, Bonner acknowledged, as was the cost of training. But what was waiting on the other side was more than worth it. "What this means for the customer experience is transformative," he said. "Using a client's own device means we're extending the meeting space out to the beach. People can access it from anywhere. The meeting space is no longer just four walls. That opens AV design and integration up to far more possibilities, including recurring revenue opportunities. In fact, we're looking past the network now, on how to integrate at the applications level. There are many more possibilities through app interfaces that let clients use software tools that they could never have accessed through hardware. There are huge possibilities for streaming media in corporate and command-and-control environments, and huge requirements when it comes to security and control systems for those.
"The thing to remember about networked AV is that, when it goes on the network, it can scale, and scale very big," he concluded. "That's the thing you have to be ready for."
Mike Hancock, Vice President of Solutions at Mechdyne, based in Marshalltown IA, said that the transition to a networked frame of mind also means a shift in technology choices, affecting both products and the people who install and program them. The demand for networked video among the company's large corporate clients, including those in the suddenly faster-paced energy sector, means relying on platforms that are designed for a network. "We're regularly employing systems from ZeeVee, Barco and SVSI, which were intended to be networked systems running on Cisco or Avaya switches," he said.
Like others who have made the jump to the network, Hancock stated that it initially crimped the traditional AV integration revenue sources like pulling loads of cable, but that was more than compensated for by the wider project parameters that the network can offer. "A conference room, for instance, is no longer limited by where the sources or the participants are," he said. "We're now doing multi-location projects with 46- and 55-inch displays on the walls that are powered by PoE and have 4K video information coming over the same Cat6 cabling." Recurring revenue possibilities are there but have been adapted to the higher-security mindset of the networked environment: Although many corporate IT departments won't allow the AV to be monitored remotely for maintenance and troubleshooting purposes, Mechdyne has, in some cases, embedded its employees onsite for clients to handle those needs.
A few years from now, what is a major inflection point in the evolution of the AV integration business will have seemed inevitable. Given the rapidity with which networked AV has penetrated the consumer sector, mainly in the form of entertainment media, it already feels that way. But we're inside of the transformation at the moment, and those who are already on its front lines suggest that it's going to be a lot more complicated now than it will look in the rearview mirror a few years hence.