For a full media planner with information about Sound & Communications, print and digital properties, along with our related properties, including IT/AV Report, Blue Book and InfoCommTV News, the official TV program of InfoComm, please contact by phone or email:
John Carr
P. 516-767-2500 ext. 509
F. 516-767-9335
E.  jcarr@testa.com
Please request if you would like to be mailed or emailed the information.
Sample issues available upon request.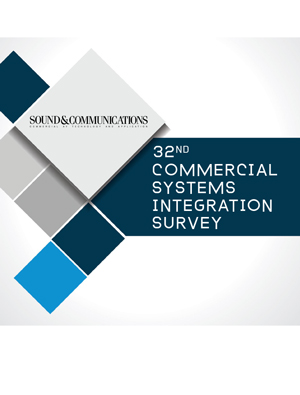 Annual Commercial Systems Integration Survey
(published each July)
A 12-page report on the commercial AV systems integration community. An extensive analysis covering business trends, venues, hardware, new technologies, job size, criteria for selecting brands, training and much more. Comparison of survey results to previous years' results helps define market trends.
READ NOW
Annual Worship Center AV Survey
(published each March)
A 12-page report on how music/AV ministers budget, plan and determine the types of audio, video and lighting systems they will employ in their house of worship. Charts and graphs that include five-year trends make this survey a must-read about this important vertical market.
READ NOW