A new energy permeated this year's NAB Show. The growing economic confidence, the exciting innovations, the inspiring keynote speeches, the fun parties and the presence of Gen-Y media producers all made for an enriching and rejuvenating event. The rapid maturation of 4K technologies was evidenced in products for every phase, from graphics creation and video capture to signal processing and display. Live video streaming, IP networking, wireless workflow and Cloud-based software solutions also kicked up activity on the show floor. However, it was the buzz of numerous camera-equipped drones that held many attendees spellbound.
Full Spectrum
Drawing attendees from the full spectrum of digital video, audio and networking communities, the show embraced all market segments that broadcast, narrowcast or distribute content, from anywhere to everywhere. There were more commercial AV end users and integrators, more independent producers, more channel operators and more sports enthusiasts than I've seen at previous NAB Shows.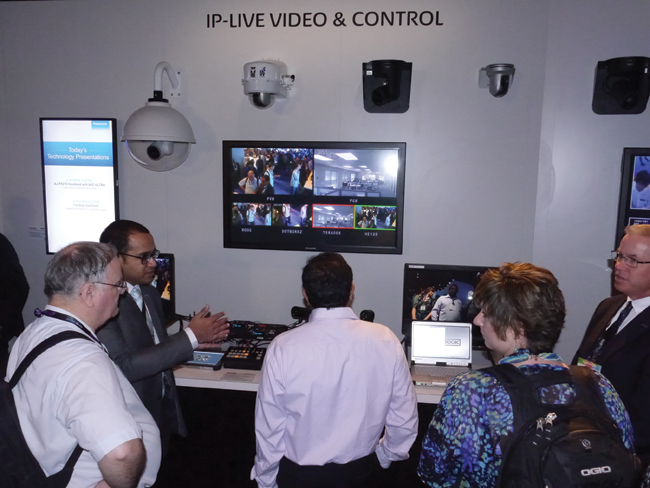 Attendance at the NAB Show 2014 held in Las Vegas in April topped 98,000, with international visitors from 159 countries accounting for 26.5% of the total. Several exhibitors webcasted "Live from NAB" presentations and also launched social media campaigns. NAB Show's reach on Twitter was nearly 41 million, and unique visitors to its website numbered more than 134K.
4K Everywhere
UltraHD/4K adoption is growing faster than many expected, with consumer flatpanels rapidly approaching the price point of premium HD screens. The difference in the 4K talk at the NAB Show was the focus on 4K video capture, processing and transport, rather than on 4K TVs. So, in addition to a plethora of new high- and low-end 4K cameras and monitors, there were many 4K switchers, processors and infrastructure gear on display. The Extron booth, for instance, had an entire section dedicated to 4K processing and distribution.
New cameras and recorders capable of 4K capture catered to the needs of a range of users from Hollywood to hobbyist. There were 4K pro-DSLRs, ENG and studio cameras, and wearable 4K cameras. Sony showed its Alpha A7 4K DSLR, and JVC showed three prototype 4K cameras, including the GY-LSX1, a 4K shoulder-mount model equipped with a Super 35mm sensor and PL lens mount.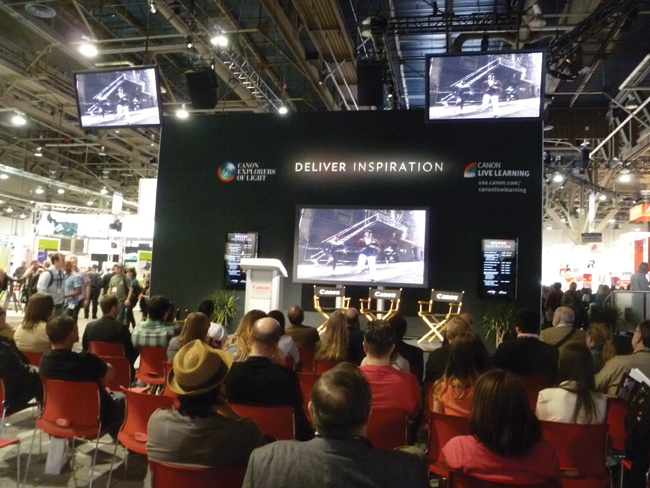 AJA introduced the CION, a camera capable of shooting at 4K/UltraHD and 2K/HD resolutions, with the ability to output 4K raw data via 4x 3G-SDI outputs and record directly to AJA Pak SSD media. Blackmagic Design unveiled the URSA, a 4K studio unit featuring a built-in 10-inch foldout monitor. Many of these 4K products intended for professional use are equipped with multiple 3G SDI connections, although several also included HDMI connectivity. Panasonic's new DMC-GH4 DSLR camera records compressed 4K on internal media, and outputs via HDMI like the Sony Alpha A7, but can also output live 4K via an optional portable docking unit with multiple 3G SDI ports.
4K recorders were also readily available, including innovative portable recorder/monitor combinations from Convergent Design and Atomos. AJA showed its Ki Pro Quad 4K/UltraHD/2K/HD solid-state recorder that mounts directly on a variety of cameras.
Many content producers seemed to already be in the market for 4K recording gear, either to future-proof their current rigs while shooting and releasing in HD, or for hybrid HD-4K production. The latter strategy involves shooting in 4K and editing for release in HD. This reportedly serves two synergetic purposes: capturing 4K content "in the can" for future release, and enabling creative cropping during post-production of 4K footage for current HD distribution.
4K Along the Way
Canon, Sony, Panasonic, TV Logic and others displayed new reference monitors for production and image-quality review. Canon showed its new 30-inch DP-V3010 LCD reference monitor with wide color gamut, and AstroDesign showed its WM-3206 waveform monitor that accepts 4K video input and displays picture, waveform, vector, histograms and other info. Cost-effective small 4K displays were also on view from Marshall and several other vendors.
On the processing side, Ross Video announced a software upgrade for its popular Carbonite switchers, while Sony's MVS-7000X and MVS-8000X production switchers also now have real-time 4K processing capabilities. Furthering its "FOR-A for a 4K Future" theme, that company showed a lineup of 4K solutions, unveiled the MV-4200, a 4K compatible multi-viewer, and announced that its HVS-XT100 portable HD/SD video switcher is now 4K-ready. Blackmagic Design also showed its compact ATEM Production Studio 4K for live switching of up to 10 HD or UltraHD sources via 6G-SDI connections. PESA highlighted the path from a 4K source to display with its EasyPort 4K CWDM routing switcher, employing 3G coax from camera to rack, and then optical fiber to/from its router I/O cards.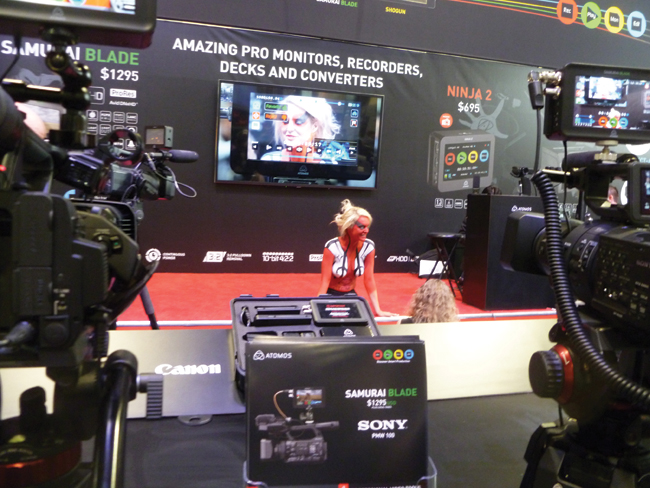 Several companies exhibited commercial-grade 4K displays for applications where image detail is critical. Visitors at Panasonic's booth were apparently amazed with the stunning images on the new super-sized 98-inch TH-98LQ70 LED-backlit LCD 4K display.
Meanwhile, In The HD World
There were also many new production tools for those of us still working in the real world of HD production and presentation. Roland Systems Group showed the portable VR-50HD, an all-in-one multi-format AV mixer for live production, presentation, recording and streaming. Broadcast Pix announced that its Fluent toolset now includes virtual set Chroma-key technology compatible with Virtualsetworks' extensive library of affordable themed virtual sets. The company's new ReVue system offers two or four channels of cost-effective slo-motion replay for sports applications.
Evertz showed the next generation of DreamCatcher, its slow motion and replay technology that is now scalable and flexible for live production and sporting broadcasts. Panasonic showed its powerful new AV-HS6000 2ME live switcher with 32 SDI and two DVI inputs and 16 SDI outputs, time-line event editing, browser control, four multi-viewers, 16 keyers, and live video preview buttons for clips and stills.
Ross Video demoed the latest features of Carbonite, its mid-size production switcher series, including MiniME and MultiScreen processing technologies, along with a new, larger, multi-ME switcher. Ross also showed XPression with Tick-it, a browser-based solution from Bannister Lake that enables branded and moderated social media feeds for live production.
New and innovative system components abounded at NAB. Decimator Design showed the ingenious portable DMON-4S Quad SDI to HDMI multi-viewer and converter. This inexpensive unit should be a real problem solver for mixed-format environments where multiple HDMI sources or outputs have to be displayed on screens with HDMI inputs.
Sierra Video introduced the Small Modular Platform Series (SMP-XX and SMP-RX) multi-viewers for AV and video production use with SDI router, plus browser configuration and control. Extron debuted the IN1604 DTP, a 1RU, HDCP-compliant scaler with three HDMI inputs, an analog video input and a DTP output. Black Box exhibited several new video extension and switching products for simplified IP, 3G-SDI, HDMI or DVI use.
Riedel announced a new version of MediorNet, the company's established fiber-based solution for networking multiple video cameras and other audio and data components in real time. MediorNet 2.0 adds video router functionality and high-speed rerouting.
New installation projectors usually debut at InfoComm, but some manufacturers showed units announced earlier this year in new applications.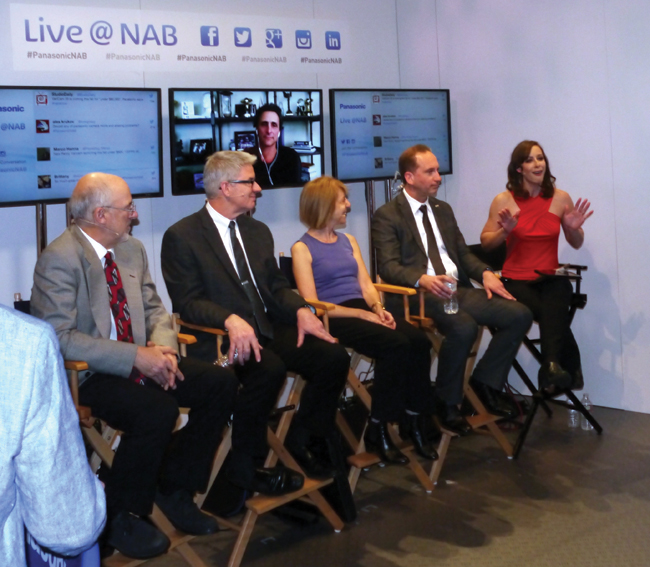 Barco showed how CinemaBarco experience could enhance the theater environment and demoed the new Barco 4K laser projector at the South Point Cinemark Century 16 theatre, a short distance from the convention center. The Barco Laser3D projector offers 60,000 lumens of brightness and is capable of showing 4K content at 60fps and 3D movies in 4K resolution.
Christie Digital demonstrated ease of presentation and collaboration in a huddle room with display options including a ceiling-mounted projector, whiteboard and the Christie Brio solution.
Huddle Room Ease
Epson showed its PowerLite Pro G-series projectors with curved edge-blending, corner and rear projection, and HDBaseT capabilities. Also on display was Epson's PowerLite Pro Z-series projectors for 3D mapping. In addition, Epson demoed its BrightLink Pro 1410Wi meeting room productivity tool for real-time interactive discussions and video analysis.
Hitachi unveiled the CP-WU13K, a three-chip DLP with 3G SDI for transferring 1080p video signal via coaxial cable. The unit delivers 13,000 lumens of brightness and offers advanced functionality such as edge-blending. In addition, it avails itself of Hitachi's PJMessenger, a software solution that allows an administrator to send real-time or stored text messages to all networked projectors.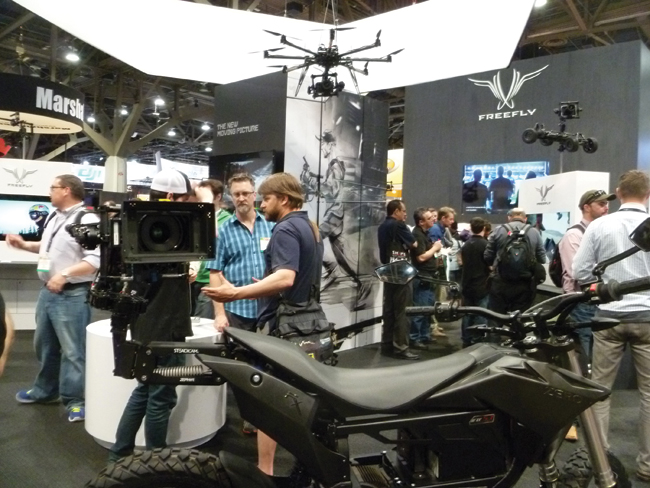 Possibly indicating the growing importance of NAB in the staging and presentation markets, Panasonic showed two projectors at NAB. The PT-DZ16KU is a three-chip DLP projector featuring 1920×1080 native resolution, 16,000 lumens of brightness, a 10,000:1 contrast ratio and a lamp life cycle of up to 3000 hours.
Expect to see the projectors mentioned here and many other new models from other manufacturers at InfoComm.
Streaming Along
It seemed like live video streaming was everywhere at this NAB Show. That may have been because dozens of companies demonstrated live streaming in their booths, with many webcasting live from the show or displaying content streamed live from remote locations. RealNetworks used Helix Broadcaster to stream live Pac-Man competitions to a set-top box and displayed on a large TV. Show attendees who played the game were entered into a drawing to win a GoPro camera. Audio-Technica hosted live streamed "Ask Me Anything" sessions in its booth, Panasonic streamed several "Live @ NAB" panel discussions and presentations from its booth, and Teradek hosted non-stop webcasts from its Plexiglas cube studio/booth.
The flood of new products for live streaming included cameras with built-in streaming from JVC and Panasonic, switchers with integrated streaming from Roland and Broadcast Pix, dozens of modular and rackmount encoders/decoders, as well as countless software and mobile apps. JVC showed its new GY-HM850 and GY-HM890 ProHD shoulder-mount camcorders with built-in streaming engine, and FTP and 4G LTE connectivity, for live HD transmission directly from the camera, while Panasonic showed the new AG-PX270 with wired and wireless networking for proxy and FTP, and AVC-Ultra recording.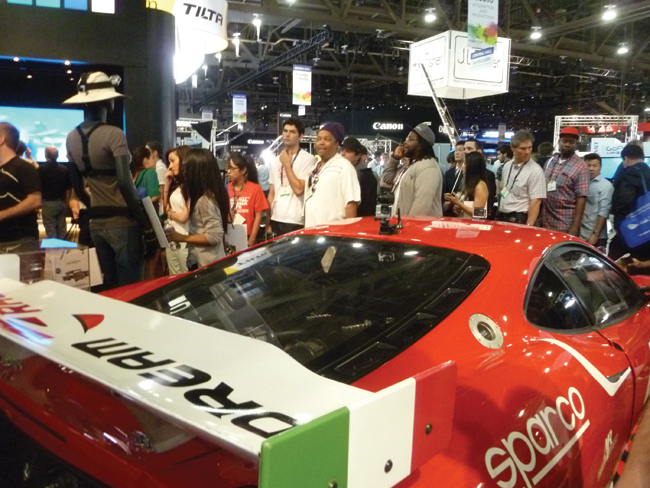 New streaming technologies first shown at NAB to users with needs and budgets powered by the distribution of commercial content are often later packaged for the professional AV markets. Haivision set up product demos at the Renaissance Hotel and in conjunction with other exhibitors at the convention center, showing new technologies that enable live 4K and HD encoding, and H.264 to HEVC or HEVC to H.264 transcoding to transport high quality video over commonly available networks. Haivision also announced that its Secure Reliable Transport (SRT) technology is now integrated within the Makito X Series encoder and decoders for optimized video transmission over the internet and other less-than-perfect networks.
In addition to bandwidth requirements, reducing latency was a hot topic at this year's NAB. Teradek showed a variety of new streaming systems focused on low latency and easy deployment. The company's new Bolt Pro transmitters and receivers deliver uncompressed video wirelessly with near zero delay over a range of up to 600 feet (line of sight), making it particularly useful for IMAG in house of worship and other applications where lip sync is critical. Teradek also debuted the T-Rax enterprise hot-swappable, rackmount system with redundant power and network connections for the integration of IP video networks using the company's Sputnik, Core, Cube and Bond products.
Also promising zero delay, but over IP networks, the MGW Sprint from Vitec is a streaming appliance with 3G, HD-SDI, DVI and HDMI interfaces. The MGW Sprint uses the company's TurboVideo 2 four-millisecond encoding/decoding technology to provide ultra-low latency content delivery over Ethernet.
Matrox Video showed Matrox Monarch HD, a cost-effective new encoder appliance with an HDMI input that can simultaneously create an H.264 stream and store a production-quality local MP4 or MOV recording on an SD card, USB or hard drive.
PESA showed PESA Xstream Live, a streaming app for iOS and Android smart devices that works with the company's C58 streaming appliance to provide mobile users with access to four independent viewing choices and synchronized audio sources, along with real-time social networking integration, for sports, signage and other applications.
Sounding Good
New at the NAB Show were free self-guided audio tours of the exhibit halls on curated topics, accessed via the myNAB Show Mobile App. What a practical new use of audio! The show also offered a wealth of new audio-centric solutions, from intercom-over-IP to wireless mics and mixing consoles.
Clear-Com expanded its product line to include end-to-end solutions for many types of installations. It introduced Eclipse HX Matrix Intercom, a four-wire, point-to-point solution, and showed ProGrid, a fiber-based system based on the open AES3 and AES10 (MADI) standards, for distribution of audio, intercom, video and control data.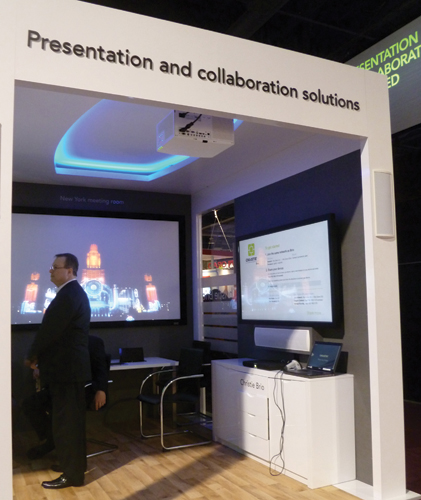 RTW demoed the TM3-Primus, a compact addition to its TouchMonitor range of audio meters. The new model includes analog and digital ports for desktop use, and a USB port for implementing a USB/plug-in hybrid mode (using a specific RTW plug-in) that enables metering to be performed right on the digital audio workstation.
Roland, in cooperation with Holophone microphones and DTS, demonstrated a 3D recording and monitoring solution using Holophone's H2-Pro 7.1 microphone to feed Roland's R88 record/monitor eight-channel field recorder, which is connected via USB to PC running a plug-in for DTS Headphone:X technology.
Sony showed its full line of pro audio products, including the PCM-D100 high-resolution audio recorder and wireless mic systems.
Yamaha Commercial Audio Systems launched the QL Series Digital Console for live mixing. The QL inherits features from the popular CL Series, including all-in-one mixing and processing for house of worship installations and corporate AV. Yamaha also announced that Version 1.5 software of the NUAGE Advanced Production System is available via free download. The new version provides enhanced efficiency and improved workflow for end users.
The Media Management in the Cloud conference hosted 17 sessions during a two-day program. Software migration to the Cloud is impacting every stage along the content chain, from production to delivery and storage. Video editing software providers have typically hosted sessions in their booths to demonstrate new features. Adobe showed updates for several software solutions, all of which will be available to Creative Cloud subscribers for free. However, the creative community buzzed most about the cost efficiencies of Adobe Anywhere, an enterprise collaboration hub empowering users of Adobe professional video solutions to work together, using centralized media, across standard networks.
Cloud Based Platform
Sony Media Cloud Services announced new Ci offerings to its cloud-based video production platform that launched last year, and presented testimonials from film and TV production teams that are using the service.
Microsoft demoed Skype TX, a hardware-software solution intended for the broadcast industry. When I met with Microsoft executives at the NAB Show, it was clear that the company does not have plans to introduce a commercial AV package anytime soon. But, for enterprise use, the company announced Microsoft Azure Media Services, a pay-by-use solution that includes Cloud-based versions of solutions for ingest, encoding and format conversion from MS media partners. "There are many benefits from moving media to the Cloud with some being the speed and flexibility with which you can integrate," said Tony Emerson, Managing Director, Worldwide Media & Cable, Microsoft Corp. "However, one of the unsung benefits is the lower cost of "failing fast." When media companies build out their own teams and infrastructure, the cost of the endeavor not panning out is much higher than utilizing a service such as Microsoft Azure Media Services to do the heavy lifting (and unloading) should things not work out, or a company decide to change directions."
Capture Anywhere
Although not practical yet for many applications, camera-equipped drones and gyro-copters buzzing around several booths and netted-off areas were a real crowd pleaser at NAB. Some attendees reported already using these flying tripods for shooting commercials and remote inspections, but regulatory uncertainty has apparently slowed deployment for widespread news, sports and other productions.
An NAB Aerial Videography Field Trip gave would-be "pilots" a chance for hands-on training with some of the latest quad-copter gear and shooting techniques, and a conference session gave less adventurous attendees a chance to get up to "air speed."
The JVC booth included two UAVs (unmanned aerial vehicles), serving to introduce the new GW-GBLS1 small-head 4K camera gimbal systems.
As in previous years, GoPro drew crowds interested in the latest developments, as well as those who wanted to avail themselves of the show specials. The GoPro Hero3+ camera was not only displayed on the company's centerpiece sports car, but also in DJI Phantom's quadcopters and at other booths. GoPro Studio Premium (previously CineForm) is still the editing software of choice for GoPro shooters.
The company's application for the SMPTE VC5 Compression Standard was adopted recently, with Elementary Bitstream standard endorsement receiving Part 1 approval last December and Conformance Specification receiving Part 2 approvals this spring. GoPro is continuing work on development of Parts 3-7, which include an MXF wrapper and additional enhancements to the codec. In addition to the DJI Phantom, other 'copter systems were on display at the very popular Quadrocopter booth.
Heavy Lift
Freefly Systems' demonstration of its CineStar Heavy Lift and MoVI gimbals attracted cinematographers and videographers to its booth. These gimbals offer smooth and stable aerial camera movement, and are available for several camera payloads and flight times. The MoVI with real-time Bluetooth connection to the gimbal enables access to performance data and allows for live adjustment of any of the gimbal parameters.
NAB 2014 was an enlightening and inspiring experience. The increasing number of 4K products, practical streaming solutions and wealth of HD video-over-IP products, and other rapidly emerging new technologies, all created the impression of an industry moving steadily into a productive and prosperous new phase of development.
For information about next year's show, set for April 11-16, go to www.nab.org.
[button type="large" color="white" link="http://viewer.zmags.com/publication/76969268#/76969268/1″ ]Read More From This Issue[/button]