Multi-campus ministries are on the rise in a major way. One motivating factor behind this trend has been the proliferation of AV technology in the worship market. Thanks to advances in video streaming and recording technology, it's easier than ever for churches to spread their message of faith through the use of high-quality video content that can be replayed at satellite campuses and streamed over the internet. But in order for churches to draw new people into their congregations using this approach, they need to be able to produce video content that can engage and inspire.
Mountain Christian Church is a congregation with a firm grasp of the importance of high-quality video to a multi-campus worship model. According to Mountain Christian's Technical Arts Pastor Bob Rufenacht, "Mountain is an old church with a fairly young feel." The church dates back to the early 19th century, having been around since 1824, but its approach to worship is staunchly 21st century, with a strong emphasis on well-produced musical performances and preaching segments bolstered by IMAG and graphical elements.
Mountain Christian boasts three separate campuses: the Joppa MD-based Mountain Road Campus, which serves as the church's central broadcast location, in addition to two smaller campuses in Bel Air MD and Edgewood MD. Rufenacht explained that, over a given weekend, "Our broadcast campus draws a little more than 4000 attendees in five services, and then we have our two other sites that run two services each, with about 500 at each site."
Like many multisite churches, Mountain Christian records video content at its central location that is subsequently replayed during services at its satellite campuses. "At the broadcast campus, we have one Saturday night service and four on Sunday. We record the Saturday service onto AJA Ki Pro hard drives and take them to the satellite sites manually overnight," explained Rufenacht. "One of our campuses is a portable church campus, so the drives simply go with the portable church equipment. The other campus is a 24/7 site that also serves as a community center, and one of our worship leaders will take the drives to Sunday morning services there. We also occasionally record our 8:05am Sunday service at our broadcast campus, and we can get that drive to our two other campuses in time for the message to go live at those sites." In addition to being screened at the satellite campuses, many of the recordings are also added to the video archive on Mountain Christian's website for on-demand streaming purposes.
What sets Mountain Christian apart from churches with similar approaches to multisite ministry is its strong emphasis on high video production values. The church's technical team consists of a core of three full-time production managers backed up by a team of more than 40 volunteers who are drawn from the church's congregation. With such a strong emphasis on video production in its worship model, church leadership recently decided to make a major investment in the technology behind its Mountain Road broadcast campus.
To carry out this major AVL upgrade, Mountain Christian once again turned to Nashville TN-based Mankin Media Systems. "We have completed multiple projects for Mountain Christian over the years, but this was the most complex and largest in value," said Mankin's Tim Corder, who led the team on the design of Mountain Christian's new system. "The primary goal of this project was to upgrade the quality of the video capture. Everything was, in one way or another, related to building a platform with a level of quality and capability that would serve them well over the coming years."
The upgrade consisted of an expansion of video capabilities, including new cameras, a new massive LED wall and construction of an all-new video control room, as well as a completely revamped sound system and a redesign of the lighting system to make it more suited to broadcast video. Mankin personnel involved in the project included Corder, Project Manager Dan Shivener, Design Director Shane Skaggs, Engineering Director Justin Neill, Lead Installer Chris Flood and Mankin's Deploy Team.
When it comes to the space itself, Mountain Christian's Mountain Road broadcast campus is unique for a modern megachurch. "The room we're in was built in 2004 originally, so it is a fairly modern building," explained Rufenacht. "It's a block-and-steel structure, a multipurpose room with a hardwood gym floor and basketball nets that come out during the week. We set up 1650 chairs every weekend and it works very well as a worship space, too."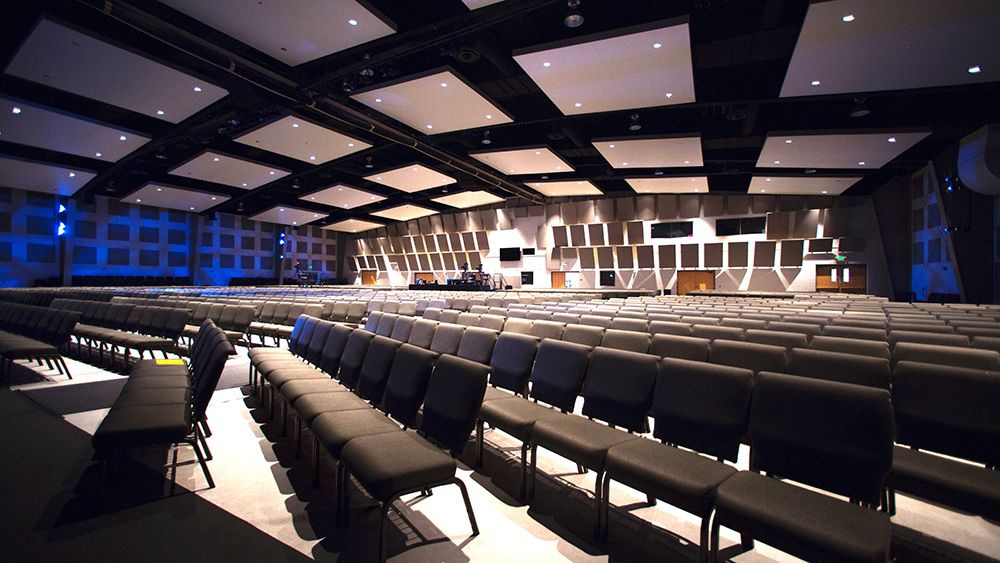 Despite the hardwood floor and rectangular construction, the room's acoustics are not as prone to the harsh reflections that typically plague worship spaces. "The room is actually built with very good acoustics. We took all of the acoustician's advice when we built the original building," offered Rufenacht, and the space does feature heavy acoustic treatment. "It is one of the best multipurpose rooms I've ever heard," said Corder. "The room has great bones to support what the church wanted to accomplish."
However, the multipurpose nature of the space did present some challenges for Mankin to work around. "The broadcast campus was unique compared to a lot of rooms that we work in," said Corder. "During the week, they clear the chairs and have all kinds of other events and activities there. So throughout the entire process, we had to remember that the room is multipurpose, whereas a lot of rooms we work in are dedicated-use auditoriums. In systems of this complexity, we typically don't have to think about a front of house that can disconnect, or camera platforms that can go away. We even had to think about balls: With sporting activities and the possibility of something hitting the equipment, we needed to have things designed in such a way that the equipment is protected." Mankin opted for disconnects using fiberoptics for all systems that need to be packed up in order to make setup and teardown quick and efficient, as well as to reduce the quantity of required interconnect cabling to the absolute minimum.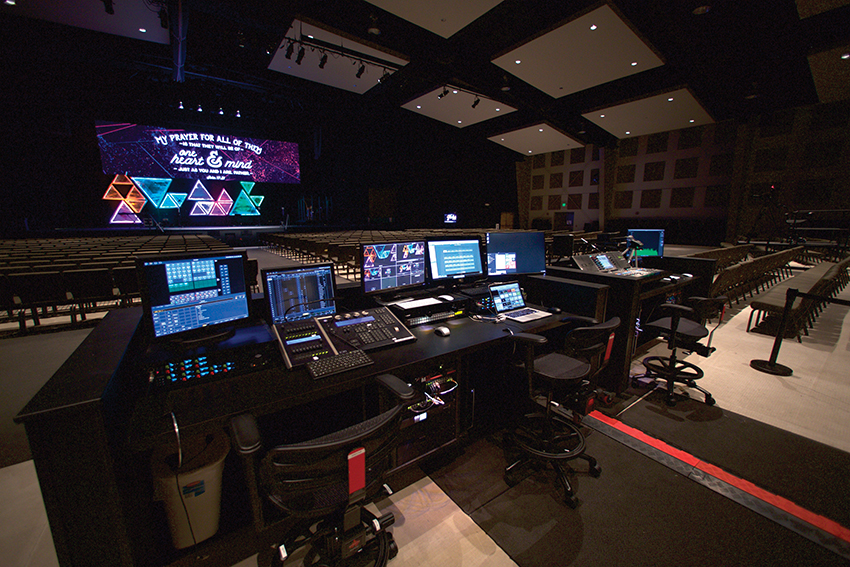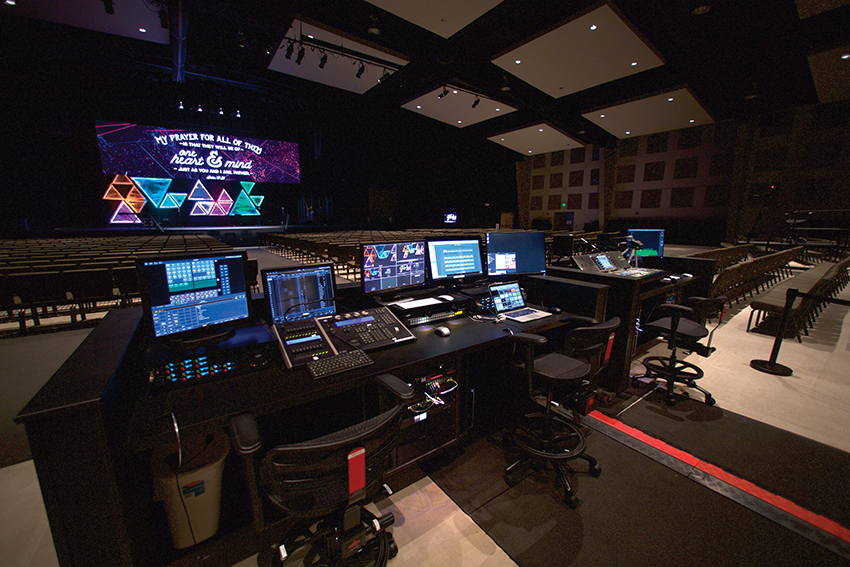 Another major hurdle early on in the project was developing production space with enough room to facilitate the new systems. This included the construction of a new machine room, control room, front of house location and millwork, and relocation of many of the facility's existing systems into these new spaces. "Our old front of house production location was not ideal," explained Mountain Christian Technical and Production Director Chris Reese. "We were back left, pretty much against the back wall. So, for a mixing location it was pretty bad. Now, with the new system, we're pretty much in the middle of the space."
"The control room was on the other side of the building, small, cramped and very noisy. All of the infrastructure and everything moved clear from one side of the facility to the other," said Corder. "The control room is now backstage. They renovated some existing offices, added data center flooring and completely changed the orientation. They also built a machine room next door to this control space with the same data center flooring. All of the technical systems for the auditorium, all of the machine equipment, were relocated to those new spaces. It was a pretty significant back-end change to facilitate the new system."
The new control room contains everything Mountain Christian's full-time production staff and dedicated team of volunteers needs to produce its high-end video content each week. A Ross 72×72 Ultrix routing system serves as the backbone of the venue's video system, while a Ross Carbonite+ 2ME switching system handles switching of cameras and video sources. The Ross router package also includes two Ultriscape licenses and an Ultrimix license. "This was a big deal, because this was one of the first implementations of the Ross Ultrix router in the United States," said Corder. "During the design process, the client decided pretty quickly that they really liked the Ross ecosystem and the way Dashboard software tied all of the video systems together. Ultrix provided a level of functionality previously unheard of for the price point. As a result, the client was very open to being one of those early adopters of the system."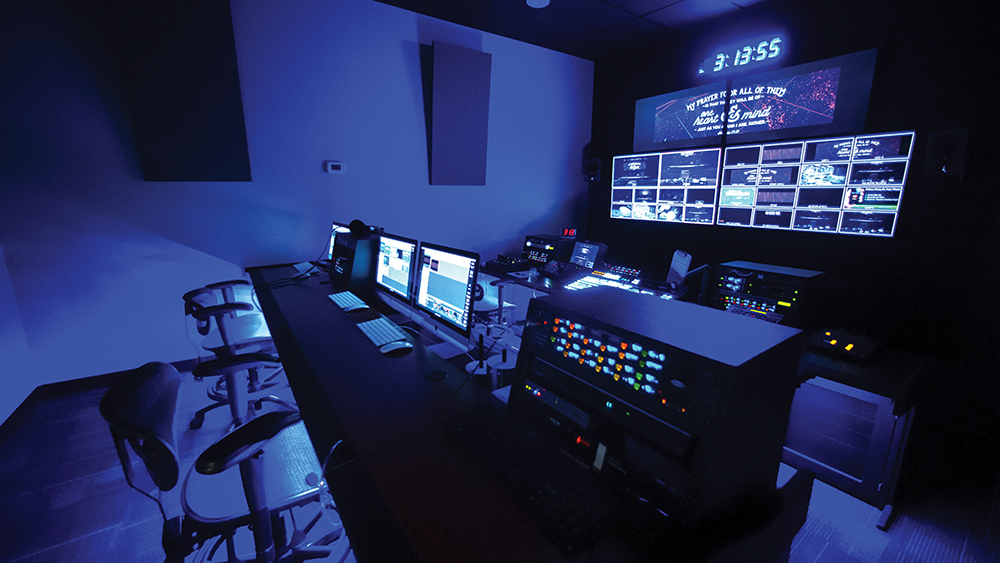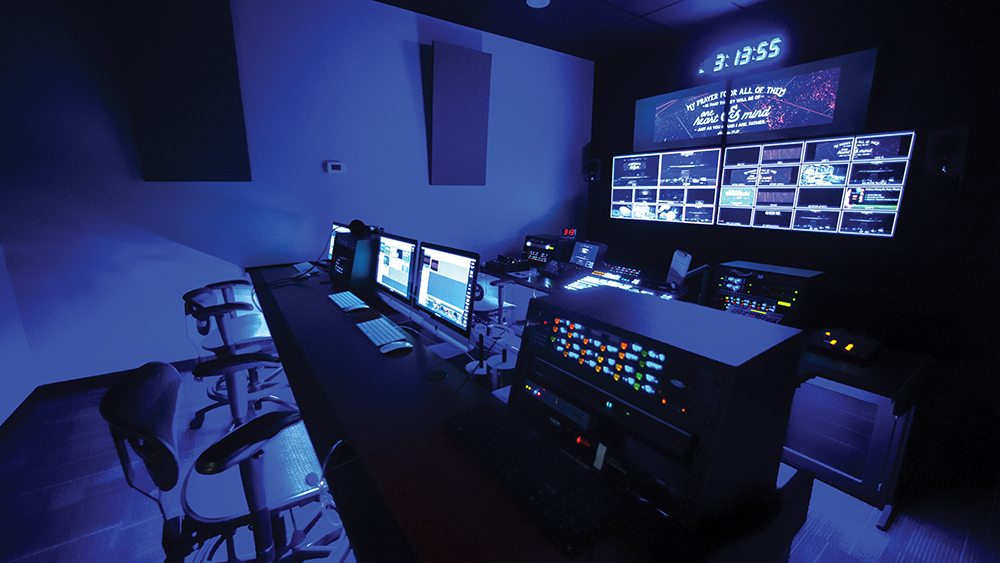 Five graphics computers, which include Apple CPUs and Blackmagic Design and AJA I/Os, run Renewed Vision ProPresenter software to produce onscreen lyrics, lower-third chyrons, and full-screen graphics and video. Video capture is handled by AJA Ki Pro systems. Equipment is housed in Middle Atlantic racks or Gator Cases road cases, with power management handled by Furman Sound products and Middle Atlantic UPS.
Another major step Mountain Christian took toward bringing its video production to the next level involved increasing the amount of cameras in use at the Mountain Road campus. "We've been doing a multi-campus approach for six years now, and basically we've been pulling that off with only one camera," said Rufenacht. "So we added three manned cameras on tripods, and we have three smaller cameras onstage, as well. Now we can get much better quality video, we're able to cover a lot more things happening in the service with our cameras, and we can translate that to our remote campuses." The three new manned cameras are Ikegami HC-HD300/BSF7s. According to Corder, two of the new Ikegamis are located in the center of the room, with one used as a "slash camera off on a 25° angle to the stage." An Ikegami box camera on a PTZ robotic head provides a locked-off center wide shot of the stage. In addition, three Marshall Electronics CV500-MB-2s are strategically placed onstage and clamped to instruments such as the drum set and keyboard to provide dramatic shots of musical performances.
While the additional cameras add a lot of "oomph" to Mountain Christian's recorded videos, they also created some challenges for the church's AV staff in terms of training. "It's a pretty drastic difference in the capability of the shoot," offered Corder. "A big concern for them was needing to grow their team to add more volunteer camera operators, plus lots of training ahead of time in order to have the people be able to successfully execute a shoot like this." Corder explained that, when working with houses of worship that want to add more cameras, it is important for integrators to temper their expectations. "We take it for granted in corporate world, and we think 'Oh, you're just gonna hire five new camera operators.' Well, in the worship world, if you only have three camera operators currently, and you want to add more, then you have to take the time to train and grow more people."
Mountain Christian Technical and Production Director Alan Stengel described the process by which Mountain Road's volunteer camera operators were trained. "For cameras, we did about two months of camera training every Thursday night, starting from how you set up a camera and learning the terminology," he explained. "Mankin sent us one of our cameras early, so we started running with two cameras in our old video setup, and we were able to start scheduling one extra camera person each weekend so they could learn how to use the new camera. By the time we went live with the new system, we had three camera people on. The first Saturday night might have been a little rough, but by the fourth service on Sunday, they pretty much had it down."
Stengel also emphasized that a fair amount of training went into acclimating the media team to the new video switching system. "We realized that, for a few positions, those being the video director who's operating the switcher, the audio mixer and the production director who's calling the cues, this new upgrade was going to surpass what those positions did before," he said. "We contacted those volunteers and talked to them about serving in different positions until we could get them fully trained up. Those are the three critical positions that require a large skill set, so they were going to need a lot more training. They all understood that, and happily served in other positions on the team until we had the opportunity to train them and get them ready for that capacity." While those volunteers were being trained, Stengel, Reese and Rufenacht largely handled the more intensive AV production tasks. "The three of us flew down to Mankin's headquarters with two volunteers, and we did get to work with the video switcher and the router and some of the gear setup prior to them coming up to install it," Stengel recalled.
Another aspect of the installation that was geared toward boosting the quality of recorded video content was a complete overhaul of the venue's existing lighting plot. Many preexisting lighting fixtures were reconfigured to allow for a more visually impactful approach to lighting the stage. "The church did not purchase any new lighting fixtures as part of this process, but we did complete a new lighting plot," said Corder. "Our lighting designer came onsite and focused everything and did a lot of work to make sure the lighting system supports the cameras. I think in the past the lighting system wasn't as intentional as it could have been. So, it was a great opportunity to make everybody's job easier by making sure the lighting system and the video system work well together."
In addition to boosting its video production capabilities, Mountain Christian also wanted to add some new visual elements to the Mountain Road campus that would elicit the same "Wow!" reaction from in-person attendees that their more polished prerecorded content now elicits from online streamers and attendees at the satellite campuses. Mankin and Mountain Christian considered a few different ways to accomplish this. "Originally, we were anticipating doing projection and three screens," said Rufenacht, describing the ubiquitous house of worship display setup involving a central projection screen and two smaller side screens. "Mankin did a 3D model of the room, and when everybody looked at the 3D model, we all said 'That's underwhelming,' so we went back and reconfigured things to get a little more punch and a little more for our money."
Ultimately, church leadership decided to incorporate a massive, stage-dominating LED videowall that serves as the central focal point in the space. The LED screen measures 38 feet wide by 10 feet tall and is comprised of 138 CreateLED AirMAG-3 panels. Content is fed to the LED screen from the broadcast system, including the control room graphics computers, as well as an AJA Ki Pro playback system.
According to Corder, there are several unique features to Mountain Christian's LED wall. "The LED wall has dual functions. One purpose is for lyrics and IMAG during worship and allowing for people to better engage in the room," said Corder. "But the other side of that experience is the ability to use the space as a virtual teaching environment during the weekends. One of the goals for this room was to introduce the ability to play back the message from video the same way the remote campuses do. Thus, the screen was designed in such a way that there are elements of it that can move down to stage level, because they wanted it to look like the pastor was walking around live onstage and create that virtual presence. That functionality is what inspired us to add the ability to split the screen into three different sections."
A Kinesys motor control system allows for the LED screens to move up and down to pre-programmed positions, either all together or independently. This ability to split the LED wall into three distinct sections enables the media team to approach services with a lot more flexibility. As Stengel described it, "We have three video drivers that allow us to actually split the LED wall up and manipulate it how we would like." Corder broke down how recent advances in LED technology have enabled this approach. "Because we're using LED walls, we're not bound by traditional aspect ratio," he explained. "We have the ability to configure the screen in different ways. As a result, we created two square video sections on the outsides of the wall that can show IMAG (a close-up shot of the pastor as he's preaching) and then a 16×9 focused center section of the wall that could mechanically move down to stage level and make it look very convincingly like the pastor is actually there live onstage as a virtual presence. It's a very interesting, modern implementation of technology that wasn't possible a few years ago. LED really makes that possible."
The central LED screen is far from the only display that was added to the venue. Several Samsung flatscreens have been placed throughout the venue to serve as confidence monitors and to provide a view of the stage for a few limited patches of obstructed-view seating.
Mountain Christian also wanted to up its audio game in a major way. The venue's old audio system was an exploded point-source speaker system with two clusters hung on either side of the stage. "When we built the building in 2004, line arrays were really just starting out and weren't fully cooked, and none of the vendors we asked recommended that we go with them at that point," recalled Rufenacht. This time around, Mankin's team modeled several line arrays for Mountain Christian's media team, and the winner was L-Acoustics' KARAi loudspeakers. Mankin installed a system comprised of two arrays of eight KARAi two-way modular enclosures arranged in left/right configuration, one on each downstage corner of the main stage, with four SB18i subwoofers flown in each array. "Mountain Christian's style isn't really super rock 'n' roll, so they didn't want the thumping low-end percussive bass. The congregation is not used to feeling the kick drum," explained Corder. "So this rig actually has all of the subs flown alongside the main PA. There are no ground-stacked subs, which is unique. L-Acoustics subwoofers still sound nice and punchy even when flown, so that made us very comfortable recommending this implementation."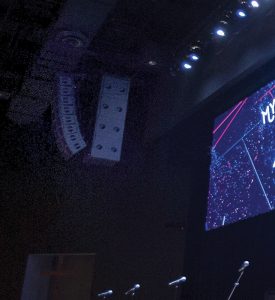 In addition to the line arrays, there are a few supplemental speakers. "There are front-fill speakers, and then there are three flown speakers: a little down-center fill and a couple of outside-center fills, just because the room is so wide," said Corder. Front fills are L-Acoustics 5XTs, while flown fills are L-Acoustics X12s and X8s. The mix is controlled via a Yamaha CL5 console that's connected to a Mac Mini for virtual sound check using Waves TRACKS software. A Yamaha TF3 console handles monitoring of six Shure PSM wireless personal mixing systems, and the venue also uses preexisting Shure UHF-R microphone systems.
Another intriguing aspect of the Mountain Road campus' audio system, and one that serves to broaden the church's appeal to new demographics of worshippers, is the ability to provide attendees with Spanish-language translation of certain services in real time, in a similar fashion to a typical assistive listening system. "Basically, we're using the same type of system that churches use for hearing assist," explained Rufenacht. "We do have a hearing assist system, but we have a second system alongside of it. People can stop by the welcome desk and pick up a bodypack with earbuds, and are able to listen to the Spanish translation in real time during the service."
A Dante-based infrastructure supports the audio system. In addition to Yamaha RIO stage boxes for all stage inputs and outputs, a Focusrite RedNet D-16 feeds digital signals to the loudspeaker system, an Aviom D800 Dante-based distributor feeds personal monitoring systems, and a Focusrite D64R Dante-to-MADI bridge interfaces the audio and video systems. "Every physical mic port onstage ultimately ends up on the Dante network," explained Corder. "Dante is even used to interface in and out of the video world thanks to the Ultrix router's onboard embedding and de-embedding via MADI I/O. We were able to convert MADI to and from Dante. And now their entire audio infrastructure lives inside of Dante Network Manager. All of the patching and configuration is highly configurable in software."
Another aspect of the upgrade that served to streamline production was the implementation of a Clear-Com Matrix intercom system. "A high priority to improve the volunteer experience was the Matrix intercom, and that is specifically because there are so many team members that having less chatter on the comm makes such a difference in the ability of volunteers to communicate with each other. It enables them to do their job at a higher level," said Corder. "People only hear what's addressed to them, rather than hearing things that are being told to another department or another operator."
Stengel echoed the effectiveness of the new intercom. "The Clear-Com system and the flexibility it gives us have been my favorite part of this new upgrade," said Stengel. "Before, there was a lot of cross chat. We also have a new stage announce feature that allows our production director and video director to be able to communicate with the band onstage through their in-ear monitor system and all the headsets on production. It really does save time in our rehearsals."
With this new, overhauled system, Mountain Christian is well positioned to provide its satellite campuses with polished prerecorded content and to expand its online ministry thanks to attention-grabbing streaming video. Other churches that would like to achieve the same goals would be wise to follow their example and invest in getting the most out of their video production.