Technology is taking over malls, corporate buildings, broadcast studios, security control rooms and Houses of Worship (HOWs). With 300,000-plus churches in the US alone, it's imperative for systems integrators, consultants, manufacturers and church decision makers to understand that the fundamental goal of technology within HOWs is to enhance the experience.
The dilemma: Is it appropriate for a church to have digital signage, satellite venues and portable applications? Many argue that digital media is simply a distraction and "forsakes the purpose of being at a church" but, on the other hand, these could intrigue Christian millennials and Generation Z. Budget could be a potential roadblock to adoption of digital media, as could the steep operating learning curve for more complex systems.
According to Eric Cummings, CTS-I, and technology designer at RPH Consulting Group, "RPH has seen AV trends in [HOWs] shift toward reliable and proven technology that can be deconstructed in a way that allows the novice end user to perform tasks that, before, could only be handled by professionals. This shift highlights manufacturers' acknowledgement that they need to sculpt their products and software in a direction that entices and gives confidence in end users to successfully use their newly acquired AV systems without hesitation."
Technology enables members and attendees to enhance their discipleship experience at church. Integrators should embrace the trend toward more digital media in public spaces and try to understand the needs of different houses of worship so they can provide solutions that address these needs.
"LED panels and multichannel digital media networking technologies have created ease of use with minimal upkeep costs while maintaining the futureproof integrity of the HOW AV system," said Cummings. "We have seen digital media networking technologies within HOWs become the trend due to the versatility and approachability of the software, and ease of integration with various digital media applications and manufacturers. [For example,] Dante is the preferred networking platform at RPH, and we work extensively with end users to create a network that will fit their level of expertise, as well as assist in the infinite customization that allows them to be comfortable with their audio and digital media system."
"As a technology consulting firm," Cummings added, "the last thing we ever want to hear from an end user is that the system is not being used because 'It's too complicated' or 'It's too intimidating' or 'I didn't want to break anything.' This hesitation is one thing that we strive to control from the initial design meeting with the client, by detailing how networked audio performs and the advantages over a traditional analog system. We have had great success with our clients for being transparent from day one and helping them to be confident in providing a futureproof design for the HOW platform."
Today, people are used to having culture packaged in visually attractive ways, making "visual learning" more of a common trait. Thus, having technology in this environment will benefit these generations who are proven to be visual learners.
Some churches create interactive exhibits with games to keep children occupied. Is this a healthy distraction? However you feel about it, the adoption rate of interactivity within churches has continued to surpass industry expectations and, at the end of the day, it's about enhancing the overall experience, whatever the HOW leaders decide the right path to be.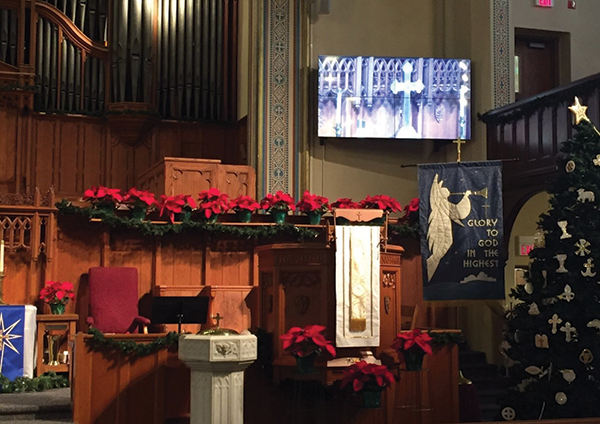 Aside from the rock 'n' roll-style churches, display technology in a HOW is something most people are not used to, but is something that, in the long run, will enhance each church member's experience. Some may argue that, without the use of new technologies, bringing new members into the congregation will be harder to achieve. By adding display technology to a HOW environment, we are essentially changing with the culture. Displays with images are a huge addition to communicating a story.
Although some preachers continue to communicate by simply reading from a sheet of paper, a display would make what is being presented verbally clearer by communicating in visual forms. Electronic media can project colors, images and videos that can move congregations to a deep worship experience, and it allows for a greater sense of community without the demand for proximity.
There are some wonderful benefits of technology that further enable the mission of the church outside the sanctuary. Display technology can be used to enable communication, community and discipleship. We have seen kiosks used to inform about scheduling and upcoming events.
"LED panels have also been a HOW trend that we are shifting to, versus standard projection applications, due to minimal maintenance costs and versatility of the products," explained Cummings "They eliminate rear-projection rooms that require large square footage or highly technical mirror systems, as well as the need for a technician to use a lift to change a projector lamp. As a result, the trend toward LED has been emerging slowly."
In addition, lighting and audio enhance prayers by adding sensory content that can produce an emotional reaction. Any type of audio, live or recorded, can help mask other background voices to keep everyone focused. And, proper lighting can change the environment completely, providing church members more of a holy ambiance.